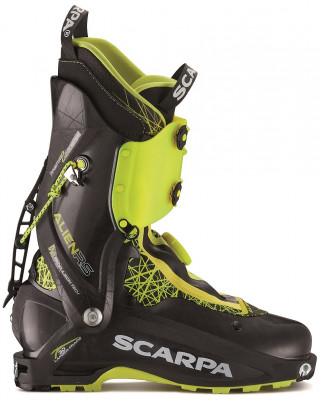 SCARPA Alien RS Boot
23 reviews
Every so often a company will debut a category-shattering display of engineering that seems to break all kinds of rules, defy stereotypes, and spearhead a different generation of skiing. This ain't your grandpa's ski-day! Behold: the Alien RS. Holding true to the da Vinci mantra that "simplicity is the ultimate sophistication," the Alien RS is a delightfully simple boot. A stiff carbon-infused Grilamid cuff is mated to a stiff carbon-infused Grilamid lower by way of an unbelievably dexterous pivot that again, defies stereotypes. A Boa closure on the lower shell wraps around your foot to create a secure and precise fit. Racers, say hello to your everyday boot light enough to sneak in 40,000ft of dawn patrols per week; freeriders, mountaineers, and steep skiers, say hello to your beefy race boot capable of taking you further than ever before.
Carbon Grilamid LFT Shell and Cuff blend industry-leading power-to-weight ratio with industry-leading price.
Lower Shell is built around a 3D Lambda Torsion Frame to increase lateral stability and power transfer.
Speed Cam Lock ski/walk mechanism is reliable, durable, and precise.
A waterproof, zippered gaiter tempts snow to even try to get into this boot.
Offset toe lugs promote a more natural walking motion to increase touring efficiency.
Specifications
Weight
convert to ounces
920g [27]
983g [28]
Weight (pair)
1840g [27]
1966g [28]
Buckles
1 + BOA, Single Throw Speed Cam Lock
Boot Sole Length
270mm [24]
278mm [25]
286mm [26]
294mm [27]
302mm [28]
310mm [29]
318mm [30]
327mm [31]
Binding Compatibility
Tech only
Cuff Rotation
72°
Forward Lean(s)
7°, 9°, 11°, 13°
Specs Verified
Yes
Design
Materials
Carbon Grilamid LFT
Liner
Intuition Cross Fit Tour
Sole
Vibram UFO RS
Skimo Co Says
Usage
Speed touring, high performance ski mountaineering, exceeding expectations
Notes
Grilamid infused with long strands of carbon fiber increase torsional stability and precision. A zippered, waterproof gaiter invites you to use your imagination when accessing lines
Bottom Line
If the Holy Grail was a ski boot
Compare to other Race Boots
Questions & Reviews
Can this lower accept any widening techniques or is it too risky?
Hey Jesse, the carbon Grilamid tends to crack when attempting to widen or stretch. With that said it has been done but it is very risky.
Answer this question:


In the end I went with a different boot for fit reasons. I found the boa couldn't clamp down enough on my shallow instep and the cable system could synch down enough on a skinny calves (coming from TLTs in same mondo size which fit great). Otherwise I really liked the weight and stiffness which can't be beat.
Comment on this review:


What is the boot sole length on a size 31? is not listed on the specs.
Hi Ben, the BSL on the size 31 is 327mm!
Answer this question:


Would Alien RS boots work with S/Lab shift 13 binding?
thanks
Hi Sergio,
The Scarpa Alien RS is a very lightweight "race plus" touring boot that is best paired with lighter and narrower skis. It is not designed to work with an MNC style binding like the
Salomon Shift 13
, and is unfortunately not compatible.
Answer this question:


These boots are a game-changer. They're stupidly light for how well they ski. I've got about 30 big days on my pair and haven't had any durability issues other than the gaiter starting to work slightly loose, but I know others have had some issues with the BOA/dyneema cord.

My current touring boot quiver is these guys and a Maestrale RS, which I think pretty well covers all the ground - Maestrales for more aggressive skiing and Alien RS for the big days.

The walk mode on these is not even comparable to the Maestrale its so good. I've had a pair of F1s in the past, and it's also significantly better than them. I used to mess around with my risers all the time, but with the RSs I just switch to the middle riser and the ROM is good enough that I never have to change (even for a long sustained flat).

On the down, these are definitely nowhere close to skiing as well as the Maestrale, but they are just about stiff enough. In good snow they're totally fine (I've used them on pow days with a 108 underfoot ski and felt very happy jumping off of ~5 footers) but I don't feel comfortable jumping off anything bigger in these, and I they definitely don't drive a ski the same way when the snow gets funky. That being said, these are pretty much the perfect boot for long days to ski big lines. Jump turns in 50+ degree couloirs don't feel any different to me than in my Maestrales - I just have to remember not to cruise out the apron at the end!

I have skinny calves so I have to have the dyneema cord quite tight, which makes locking the boot into ski mode take a decent amount of effort. The cord would not lock in place until I tied a knot in it (at which point the camming mechanism might as well not exist). But now that it has the knot in it, it doesn't slip at all, which I think will greatly increase the life of the cord (it seems bomber to me, so I can't see how anything other than abrasion would cause it to snap).
Comment on this review:


These boots are the do-it-all, take-them-anywhere boot I had hoped they would be. Every glowing review you'll find if you're thinking of investing in these bad boys is spot on.

Pros: Truly as light and frictionless as advertised. The RS is wicked fast to transition from skiing to touring. I don't come from a skimo background, moreso a freeride skier, and so obviously was curious/skeptical of my ability to drive these on more aggressive lines and slightly wider skis. While Scarpa says not too (you'll void your warranty skiing skis above 85cm underfoot), I can easily use these boots to drive my Mythic 97's (184cm, ~1400 grams) through all sorts of snow at various levels of aggressive skiing. The lateral stiffness is enough to put skis of that size on edge without losing confidence. But they are better paired with a light ski mountaineering ski, for me th K2 Wayback 80 (170 cm, ~1090 grams). While the dynema tightening system looks uninspiring, it works. Obviously touring in them is a dream, as is booting and cramponing. The soles (like most scarpa boots) are a fantastic vibram that makes rock scrambling or roped missions in them much less scary. ROM is greater than my abused ankles so I can't even really find their limit. I am a wide-footer with a high arch, and these boots are the best fitting boots I've ever worn, good for Hobbits like myself. The BOA system is simple and effective, and has held up durability wise for me thus far.

Cons: Durability concerns that other have noted are real. After one full season (~80 days in them) the gaiter has come unattached from its connection to the lower boot near the ankle. This isn't a huge deal, as some Tenacious tape and a bit of superglue is enough to repair it sufficiently. Purchase some extra dynema of the right width for both boots and carry it with you in your pack, just in case--I haven't had mine snap or even fray yet, but others have. The sole is also chipping off in small bits and pieces near the edges, but a below average snow year in western MT left some exposed rock for much of the year so I can't blame them too much there. These boots also take some dialing in, both in terms of skiing and fit. As to the skiing, they require a more engaged, balanced and boxer-like stance to ski them right I found. They have an obvious wall of stiffness in the front of the boot when engaging forward--keeping pressure on this wall (but not too much due to its less-than-progressive nature) take time to understand, but you'll get it. This balance is key to effective power transfers and also not getting thrown into the backseat, where you will feel the limitations of the boot. This boot asks you to float like a butterfly and sting like a bee. I did attach an additional booster strap (from Skimo Strap here in MT) to gain a bit of forward stiffness and slight increase in progressivity. I find this has enhanced the boot performance to be worth the extra 30 grams, but it does slow down transition times a hair. The camming mechanism for the dynema tightening system can also be a bit slippery, but simply find the right length of cord for your preferred tightness and then throw some knots behind it the cam.

This boot rocks. If SkimoCo still has this boot in stock while you're reading this review, get them, especially if you can find a good price due to their discontinued status.
Comment on this review:


I can start in races and do vertical training with this boot? Or i should buy Scarpa Alien for that?
Hello, thanks for reaching out! While the Alien RS is a fantastic boot, the Alien is more specialized for skimo racing and would likely give you more range of motion and less friction. Feel free to fill out our online
Boot Fitting Form
and we'd be happy to continue brainstorm boot ideas with you!
Answer this question:


So, I used these for several outings and the fit wasn't right. I had to sell. Here's what I can say about these bad boys. They are light. I felt like I was in a tennis shoe up hill. However, I could not crank down enough and felt a lot of flex when trying to drive these. The new FL LT I got a better fit and would highly recommend those over these. Worth the slight weight penalty and much better on the down.
Comment on this review:


Not a very reliable boot for everyday use and abuse. BOA has broken a couple of times now, the fasteners that hold the BOA in place have broken twice now, the guides the BOA run through within the boot have broken in 2 places. I go out on these boots never quite knowing what is going to break next. Scarpa's customer service is extremely difficult to deal with as well. If you are looking for a light part time use boot this will probably work. If you are looking for something to use with regularity you might want to consider something more sturdy. Not sure I will ever own another Scarpa product due to the their poor customer service. Lots of these on sale for great prices right now but be aware they do have their flaws.
Comment on this review:


I've had this boot in size 29 for several seasons and by now developed a deep and perhaps slightly unhealthy attraction to this item. Just yesterday, for fitness training, I booted over 6K vertical feet and it was way better than hiking in my regular hiking boots!

Question: what should I use for a replacement liner? I love the original Scarpa liner but it can't last forever and the Scarpa replacement liner is unavailable. What's the closest? Thanks.
Answer this question:


Great boot that worked well for me as a daily driver in a continental snow pack and a 95-102 wasted ski. If your not worried about dialing in the stiffness just right at every transition, the ease of boa and walk mech tightening is pretty great. They are a little narrower than the F1 last and I will admit that after I had put a few seasons on them I dropped a F1 liner in them to give them a little more stiffness but if you can race 1 day and then drive your daily driver the next with the same boot, that says something. SCARPA says that you shouldnt ski fatter skis with these but Ive seen a good skier drive 130 wasted Voile Drifters many days without issue.
Comment on this review:


I wear a 26 in Alien 1.0 (279mm). Do I wear a 25 (278mm) in the RS? Or the longer 26 (286mm)? Is this a longer boot?
Hi Jordan, you would still be a 26 in the RS. It does have a longer boot sole, but that doesn't equate to internal length.
Answer this question:


Really an impressive boot. feels more like a shoe than any boot I had had. Great performance on almost all snow. On Rock hard crud it begins to show its limitations. Fits perfectly into my "quiver" of boots as the lighter of two. Thanks for the great boot.
Comment on this review:


I didn't really need to wait so long to review. Have been using for over a year, I knew they were the boot for me before I bought and have lived up to it every day. I am lucky that I fit Scarpa length perfectly and have a narrow with no issues foot.
Performance - They are plenty stiff, yes they don't have a very progressive flex but I quickly got used to them and isn't a thought anymore. Skiing powder is not a problem for my daily 100mm ski. And to the chagrin of Scarpa, I can drive my bigger powder ski.
Walk mode- no need to discuss, they are awesome. Hiking is so much less a chore. The ski/walk mode is excellent as is, hate to see it go. I can easily flip open and close with my ski pole. No bending over and messing with buckles and powerstraps. The cord slipping doesn't seem to be an issue for me and I do have it knotted. If you are one who really cranks buckles and power straps, you may not like, but for me, no problem
Durability-zero problems to date. I believe if properly fitted, and I have custom footbeds, you do not need to tighten the BOA much. For the majority of people, the BOA hasn't been an issue. Same with the cord, I don't overtighten and I don't even have any fraying yet. There does seem to be some wear points between the shell and liner. I have been trying to use the patches on the shell and tape to keep ahead of it.
From powder to suncupped summer snow I couldn't expect more from these. And seriously thinking of getting another pair before they become the LT
Comment on this review:


Do you guys know if the BSL of the new F1 LT will be more like the Alien RS or F1? I see that's it's not a huge difference anyways and could just adjust my bindings. Just curious. Thanks!
Hello Shane, the lowers on the F1 LT are almost identical to the Alien RS, and believe they will be similar if not exact to its BSL.
Answer this question: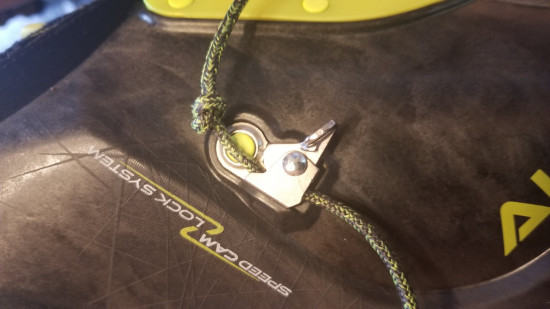 Finally bought the boots!!! Just use them for a couple of days before returning home. On the uphill they have wings!!! Didn't have the oportunity to try them in a descent powder day yet, but so far happy on the downhill.
Had to tie a knot on the dyneema cord, the stopping mechanism kept losing tension.
Comment on this review:


Hi, do this boots work with marker kingpin bindings?
Hey Marcos, unfortunately they do not, the overhanging shell plastic above the heel lip interferes with the alpine-style heel on the Kingpin. For a lighter boot that fits nicely with Kingpins, check out the
La Sportiva Skorpius
.
What about the La Sportiva Sytron or the Dynafit PDG 2? The LS Skorpius are over my kilogram per boot limit...
Hey Marcos, you are unfortunately out of luck if you are looking to pair a sub-1kg boot with an almost-1kg binding. The Skorpius is your best bet for weight-to-compatibility ratio (it's even compatible with the mythical
Ski Trab TR2 binding
).
Answer this question:


The comments thread indicates that the Alien RS will be discontinued after this season. Can you shed any light on this? I've been using the Maestrale RS/ Alien RS as the boot quiver and find it to be a fantastic combo. Hope that the Alien RS sticks around!
Albert, c'est vrai, the death of the Alien (RS) is imminent! Upon its discontinuation we plan to send a ceremonial pair out upon the Great Salt Lake in a boat assembled from Scarpa boot boxes, Grilamid-infused cannoli shells, and empty bottles of grappa. Stay tuned for Scarpa's next iteration in the "race-plus" category, though, which we hear will be an exciting blend of tradition and innovation, racing and touring, passion and temperance (and, supposedly, will have the same lower fit as the Alien RS).
Answer this question:


I got these boots thinking I would use them for long tours in the Cascades paired with Voile Objectives. They are certainly light and go uphill very well, but I think I had unrealistic expectations for the downhill performance. I'm sure they are good for the weight (I haven't skied other boots in this weight class), but don't expect them to be much fun in difficult snow conditions. If you ski nice light snow with a conservative style then they will do great. I usually opt for a heavier boot and bring these out for climbing focused objectives where skiing is more of an efficient way to get down than the main goal. Great boot for what it is, but don't expect a miracle. They make a lot of sacrifices to get a boot this light.

A few notes:
- Cord closure requires a stopper knot to prevent slipping which makes it difficult to dial in the tension or adjust throughout the day. The knot wears down one section and will probably break the cord eventually, but it looks easy to replace.
- Fit is much narrower than other Scarpa boots. All other Scarpa boots I have tried are way too wide for me but these fit well.
- Booster strap can be installed by drilling a hole in the back of the cuff. This helps the downhill performance a bit. I haven't broken the cuff yet, fingers crossed.
Hey Lane, thanks for your review! We haven't seen an epidemic of broken cords due to wear, so I wouldn't be too concerned (though it never hurts to pack an extra for those monthlong American Alps traverses). On the other hand, the power-strap mod is fully endorsed by ski tourers
north
and south (though it voids the warranty, of course).
Comment on this review:


The Alien RS represents a huge step forward in the world of ski touring equipment. They are very lightweight, have excellent cuff articulation, and they ski very well. Full stop. Although they do take some getting used to, once you are familiar with the way these boots ski I do not see why you couldn't drive a fairly large ski at decent speeds. I highly recommend tuning the forward lean to suit your skiing style and going with as aggressive of a fit as is comfortable (you need a medium to narrow foot with high volume).

I will attempt to address few of the concerns many people seem to have about this boot. First, "it isn't going to be warm enough on cold winter days". In my experience, this boot is adequately warm for most very cold days (single digits F) especially when you are moving fast, and this boot should inspire you to do so. Second, "this boot isn't going to be durable or reliable". This boot is like many other ultra-light pieces of gear, I wouldn't advise wailing on it. I did break my right cuff about an inch above the pivot while skiing one day, luckily Scarpa replaced the cuff for me in a (somewhat) timely fashion.

The Alien RS will become an absolute cult classic of a ski boot. Much like the TLT-6. Its performance greatly outweighs its mass, and I think that is the idea with most of the gear on this site. Get yourself a pair before they are gone. -Scarpa is canning the Alien RS for next season… :(

(Full disclosure: I did not but these boots from skimo.co but I really like this site and I think this is a great place to post and read reviews.)
Comment on this review:


Earn store credit by writing reviews. Learn more.

Model: Alien RS