Les Batons d'Alain
6 reviews
$109.95
In Stock & Ships Today
The Chamonix ski mountaineering pole. Coming to us from across the pond and made in the shadow of the great and icy Mont Blanc, these unorthodox ski poles offer many small yet meaningful solutions to many small yet meaningful problems ski mountaineers face in the mountains. Made by mountain guide Alain Desez, the 18mm aluminum poles feature long ribbed foam grips which extend nearly halfway down each pole. Alain's Sticks are durable and allow you to grip anywhere along the top half of each pole without slipping. Also, no wrist straps! Straps can make ordinary falls rather dangerous and can make activating your airbag difficult in the event of an avalanche. Without them, you can more easily plunge the tops of the poles into snow. Proven by Chamoniard mountain guides on steep north faces and by American ski alpinists on routes like Foraker's Archangel Ridge, the highest level of pole design is now available to the powder-hunting, couloir-dropping, European-flag-loving masses.
18mm 7075 anodized aluminum makes up the shaft for great strength.
The pommels (the plastic caps on the top) have a strap attachment point.
Reflective strips adorn these poles for improved visibility at night.
Includes easily swappable powder and piste baskets.
Tungsten carbide tips are slightly flexible.
Comes in lots of fun grip colors.
Specifications
Lengths (cm)
115, 125, 135
Weight
convert to ounces
212g [125]
225g [135]
Weight (pair)
424g [125]
450g [135]
Sections
1
Grip
70cm long extended foam
Basket & Tip
85mm Powder baskets and 38mm mini baskets
Specs Verified
Yes
Design
Materials
7075 aluminum, EVA foam, polymer, carbide
Skimo Co Says
Usage
Steep skiing, mountain running
Notes
Infinite handle position
Bottom Line
Burly, basic ski poles with limitless grip options.
Compare to other Fixed Length Ski Poles
Questions & Reviews
I've wanted these but concerned about sizing. I'm 6'1", am I am a 125cm or 135cm?
Hey Cam, I might recommend the 135cm! Luckily, with the seemingly endless grip length, it's nearly impossible to go "too long".
Answer this question:


I'm looking for 135cm but not super excited about the in-stock color options. What color combos are you expecting to receive this fall? Anything not pictured?
Thanks for your question, Patrick. We should be receiving Red, Black, Brown, Grey, Italian Flag, French Flag, and Blue colorways in the 135cm length this upcoming fall. If you wish, we can sign you up to be notified when they arrive in stock. To do that, please give us a call or send us an email to help@skimo.co Cheers!
Answer this question:


hi,
do you have the Alain de baton in the Blue/white/red? in 125cm. As shown on your picture. Thank you.
Hey Thomas, we will be getting more Les Batons d'Alain this fall.
Answer this question:


After having mercilessly mocked Brian H all season for carrying jellybean-colored majorette batons, I came to the realization that I was just jealous and should probably try them before I continued to rag on them.

The poles I replaced were BD traverse adjustables from 2010 (the orange ones with the rubber choke grip that you still see everywhere). I stuck with them as long as I did out of a pragmatic belief that if something isn't broken, don't fix it. My BD poles took me to some great places, but the almost 200g weight savings was hard to ignore and the Skimo restock of the pink color seemed like a sign that it was time to try something different.

While determining what size to purchase, I set my BDs to 115 and 125cm and took them for a few tours at each length. I opted for the smaller size in part because I tend to palm the top of the grip while skinning and the shorter length just felt more comfortable. When skiing downhill, I grab them somewhere in the vicinity of a 105-110 cm pole (my usual touring length) and I haven't been bothered by the excess material above my hands. For reference, I am 160 cm tall.

I knew I would appreciate the lighter weight and bright colors of the batons, but what I didn't expect was to find them so freeing to ski with: no more fussing with hand placement or grabbing the cold metal shaft of the BD's. I can adjust my grip on the fly without even thinking about it. That is something I never knew I would want to do, but now that I can, I don't want to go back to the old way! Yes, the top of the grip is a little rough on the palms if you are skiing sans gloves, but no more so than the BD grips. I have small hands, so your experience may vary in that regard.

Bonus: apparently this year's 115 cm size is coming with neon pink baskets and tips instead of the gray. Fab-u-lous!

TL;dr: you know you want a pair, just do it.
Comment on this review:


Recommendation on a pole length for someone 5'10"?
Also wondering if these come with straps, or if not, are they able to take straps somehow?
Amanda, thanks for reaching out! I would recommend the 125cm pole for your height. They do not come with straps but they do accept straps and you can find them under Les Pieces d'Alain on our website. Here is a link to the accessories,
here
Answer this question:


Hi,
Do you ship to Norway?
I'm looking for this pole in 135cm.
AS far AS I can see - you only have this length in brown. Com you please send me a picture!
Nils, We do ship to Norway. I sent you a picture of the brown pole to your email.
Answer this question:


Any idea on recommended lengths? I'm roughly 5'7" and tend to ski with a pole a little longer. I've been using a typical DH pole with bike bar tape on it for the last year but looking for something new!
Hey Scott! I would go for the 125cm length. As Dane alludes to in his review, it's hard to go "too long" with this pole since you can grasp it anywhere on the shaft. With the national tricolor (French/Italian flag) versions, you can even use the different color blocks to judge where to put your hands in different situations (skinning vs skiing vs sidehilling vs jump turning). That said, if you like a shorter pole that you can put your hands on top of while skinning, and use like a traditional alpine pole when descending, 115cm would also work.
Answer this question: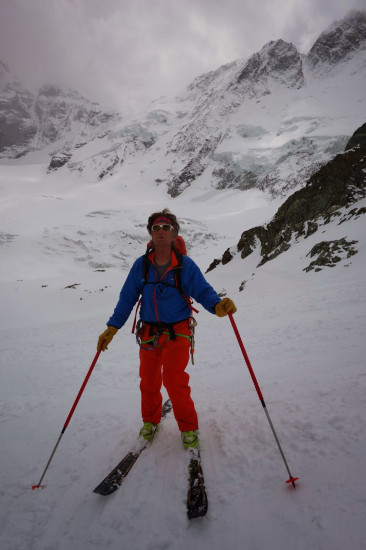 These are fun poles. More useful than you would first think. My first pair from 2013 did have the foam grips start moving around after a lot of miles. Alain replaced them the next Spring when I got back to Cham. I tried the more common and available in Chamonix, Black Crow (too heavy and thick) and Cober (too light and skinny) versions as well that season. And I have made more than one pair that are similar all on my own back here in the States. Alain's are by far the best of the bunch from that mix for my own skiing. Yes I have dropped a pole and had to hike to get it back. But that was so little effort compared to what this pole saves you on a long tour. And I have only dropped a pole once! When the European Guides are asking you what your poles are on the Haute Route and where did you buy them, likely you have a winner. If I am touring this is the pole I use. FWIW I don't think you can buy one too long. Might take you some effort to wrap your head around that idea but worth a try.
See
here
for more than anyone needs to know on this style of pole :)
Comment on this review:


I have broken a tip on my beloved Batons, a souvenir from a Chamonix trip 2 years ago. For anyone wondering about buying these, yes you should. I'd echo all the positives that other reviewers have mentioned.

I'm guessing the tip is not replaceable? Also, do you have spare baskets for these? Might be time to just get another pair...
Comment on this review:


i know i'm late, but is my assumption correct that these won't be back in stock until next fall? thanks!
Hi Bradley, we anxiously await the announcement of the next shipment of beaux-arts batons from Monsieur Desez, though it may not be until next fall, sorry to say!
Answer this question:


Any chance of these in a longer length? 145 or even 155?
Hey Justin, they are only available in 115, 125, and 135, my apologies!
Hi justin, fyi Alain snuck in a few 140s for us this season.
Answer this question:


Any thoughts when these are coming back in stock? Especially that fancy magenta color - maybe in 125 or 135?
Hey Nick! Unfortunately the man (Alain) behind the poles (batons) is busy being a mountain guide right now, so no poles until the beginning of next season, most likely. We'll keep you updated!
Answer this question:


I can attest to the trail-running/hiking and ski-touring performance of these bad boys. They are pretty awesome. I'd been looking at something with like these or the Black Crows Furtis for the big adjustability factor that comes with such a long grip section. After reading Brian H's review (link in the review above this) on his blog, I was really close to ordering these directly from the inventor/manufacturer in Chamonix. I was glad that I held off for a week or so on that decision, because I spotted them during a visit to Skimo Co. for another product in mid November. Grabbed the 135cm grey/pink ones and have been cruising around with them every day or two since.

Highlights: Lightweight even after 10+ miles, durable, strong and comfortable to place between pack and back during on-the-fly stowage, hands stay warm during colder hikes without gloves during carry sections because the foam extends to the middle balance point of the poles (read: no cold aluminum to grab), the two different baskets are super easy to swap on/off, and neon tip/top color is easy to spot (even in low-light conditions—see photo).

Considerations: If you're used to palming the top of a traditional pole frequently (BD adjustable, for instance), the shape of these is slightly less ergonomic by comparison. That can make them somewhat uncomfortable in that orientation during gloveless wear. But, I find that I rarely use that "top" hand position because I sized up 5cm from my usual pole length (I'm not from a nordic background, so I wasn't super, super long) and my hands move around a lot more than they used to.

Other thoughts: I haven't made straps to put into the slots on the top caps, but I plan to create some like Brian H. did (and so nicely explained/depicted on his site) for long flat sections where the hand loop would be useful. The powder baskets seem really flexible, so I don't think they'll get in the way of good pole plants while descending firm steeps.
Comment on this review:


Maybe silly question, but are these sold as a pair or singles? Thanks!
Pairs! Or, as they say in Cham, par deux!
Answer this question:


Are you able to cut these poles down If I wanted to buy the 135's and shorten to around 130cm?
Hey Ben, we have not attempted to cut these poles down so we can't quite say for sure. The main question would be how strong the adhesive is for the plastic top cap, as it'll be a simple procedure once that cap is removed. I think the fastest and simplest method may be just adjusting hand placement on the grip, but send us a few photos if you end up performing ski pole surgery!
Because the grip is so long, another thought is maybe 5mm of fudge is OK?
Answer this question:


Any chance you'll be getting more of these in stock in the near future?
Hi Sam, yes, a 100% chance! 1-2 weeks likely.
Thanks for the response! Can't wait to finally get my hands on a pair.
Hi Sam, just letting you know lots more fun colors arrived!
Answer this question:


I was very doubtful, and don't ski 55 degree couloirs, but they are fine for punting around and a heck of a lot more. I wouldn't want them around in very tight terrain: bushwacking, tight trees, etc. I tend to go a bit starfish in those situations, and if skis or poles are too long I'll hit whatever cage I'm rattling. I do love that they are like an ice axe (absent the sharp stuff): you don't generally use a strap, so you just don't drop them (you can thread a strap on my old 135 cm yellow version). I might go down to a 125 or 130, but have used the full length of mine over time

They are at their best putting them between your shoulder straps/blades like a piolet: strapped and adjustable poles always hang up, these don't. I did put powder baskets on mine, the little discs seem like they are for summer. I've never heard of anyone breaking them, which is a plus if you've ever broken a pole (or a few).

They will stick in the snow either end down (little known plus). I will admit a friend once loaned me a Whippet on a tricky descent instead of one of these and I was grateful, but that could hold for any pole. And Brian H can clearly ski things I can't look at with them, so they work for those at that end of the spectrum too. I have enjoyed them for everything from ski mountaineering to casual punting around the woods. It makes the question of where to put your hands irrelevant: you grab them and go.
Comment on this review:


Earn store credit by writing reviews. Learn more.

Model: Alain's A2-16 Sticks