Tecnica Zero G Tour Pro Boot
11 reviews
$899.95
From $499.94
In Stock
The Tecnica Zero G Tour Pro could easily be overlooked due to its typical ski-boot-like appearance. It sports a four-buckle overlap design, rockered Vibram rubber sole, and ski/walk mechanism on the spine. Just a checklist beef boot with nothing to see here, right?
Wrong! The Tour Pro is elegantly simple and refined to such a degree that this boot will become the elusive one-boot quiver for many aggressive backcountry skiers. Four supportive buckles, one Light Lock Power Strap, and a Double Blocking ski/walk latch provide a true 130 flex. A 55-degree range of motion and relatively free cuff movement give it walk-ability to rival lighter boots. Tecnica also managed to get the weight of the Zero G Tour Pro so low that we don't know whether to categorize this as a Beef Boot or a Touring Boot.
Tecnica didn't set out to change the touring game with gimmickry, but the Zero G Tour Pro has been masterfully refined to a higher level.
Extra-light magnesium buckles keep it locked down without weight penalty.
Grilamid shell with a carbon cuff delivers uncompromising ski performance.
Double Blocking ski/walk latch means no play in your mech.
Vibram sole offers secure footing when boot packing and scrambling.
Dynafit certified inserts provide confident tech-binding operation.
Update 2020/21: Zero G Pro Tour boot has gotten a color change with the same great design but an eye-catching black and red shell.
Update 2022/23: A minor graphics update and a tweak to the power strap are the only changes necessary this season.
Specifications
Weight
convert to ounces
1374g [27.5]
Weight (pair)
2748g [27.5]
Buckles
4 + Power Strap
Boot Sole Length
273mm [22.5]
273mm [23.5]
283mm [24.5]
293mm [25.5]
303mm [26.5]
313mm [27.5]
323mm [28.5]
333mm [29.5]
343mm [30.5]
Binding Compatibility
Tech, Hybrid, ISO 9523
Cuff Rotation
55°
Forward Lean(s)
12°, 13°
Specs Verified
Yes
Design
Materials
Carbon fiber, Grilamid, magnesium buckles
Liner
Light-Fit thermomoldable
Sole
Vibram
Skimo Co Says
Usage
Free touring, mountaineering
Notes
Unique double locking ski/walk mechanism
Bottom Line
Clash of the categories: touring and freeride
Compare to other Freeride Boots
Questions & Reviews
Will you be carrying the zero g peak and peak carbon boots?
If so, can they be preordered?
Hello IGA, thanks for reaching out. We will be carrying the Peak Carbon boots in men's sizes and the non-carbon version in women's. They should be available to preorder sometime at the beginning of August.
Answer this question:


Great boot! Love for all of my back country missions. Unfortunately, they are not ISO 9523 rated(Confirmed with Tecnica) so they would not mount my shift bindings for these bad boys. Tecnica said it is the same geometry and compatible with Shift. I have seen lots of reviews of the combination of this boot and shifts and have not seen any issues with binding release posted.
Reply to this comment:


I own the Zero G Pro 19/20 (yellow). Now I'm looking for a new liner (Palau). I have a wide but flat foot and my alpine boots are low volume (Technica Mach 1). In the Zero G I have a little bit too much volume. Can you recommend a liner to reduce the volume of my touring boots?
Thanks
Answer this question:


What is the forward lean out of the box? 12 or the 13? Also, any do's and don'ts with these boots and the ZipFit GFT liners?
Hi Ryan, the forward lean out of the box is 12 degrees. You can get some additional forward lean with an in-shell fix such as adding some boot foam to the heel. No specific recommendations re: the ZipFits--they sound like a great swap-in for these boots!
Answer this question:


For the weight weenies out there: the 28.5 weighs just over 1500g with the stock liner and insole out of the box. I wanted to get a lighter replacement for my Maestrale RS but these are not lighter than my 28 sadly.
If anyone has a comparison in how they ski and walk (progressive flex?) and whether this trade is worth it i'm all ears. Thinking of returning since I fit pretty well in the Scarpas out of the box.
Reply to this comment:


Hello, I'm helping my girlfriend look for ski boots. It looks like the BSL on the 22.5s and the 23.5s are the same, is this just the same shell with a bigger liner? Thanks as always!

-Ben
Answer this question:


How do these compare on the downhill to Salomon MTN?
Hey Jordan, overall the Zero G boot is a fairly big step up in performance than the Salomon MTN boot. Weight, range of motion, and stiffness definitely have the Zero G on top, but of course, it all comes down to fit primarily. Let us know if you have any more questions!
Answer this question:


Will these boots be compatible with the Look Pivot 15's?
Thanks for your question, Bekka. These unfortunately are not compatible with the Pivot 15. It will work with any binding that has an "MNC" label, though.
Answer this question:


What is the difference between the men's and women's versions of these Zero G boots? If you have a size for my wife in the men's and the flex is right, is there any big difference?
Thanks for your question, Aaron. The women's boot will have a shorter cuff, larger calf, and lower flex rating when compared to the unisex boot. Please let us know if you have any other questions!
Answer this question:


Skier: 5'9", 145 lbs, 25.5 cm foot, mostly ski sidecountry and backcountry in all but the worst conditions, chutes up to ~50º, drops up to ~10 ft

Pros: red (must be fast), very progressive flex, fairly stiff for the weight, walk very well for the stifness, tight heel cup

Cons: honestly not as stiff I was expecting (compared to, say, Beast Carbon boots), somewhat annoying wire buckles, liner is o-k, power strap slips

Fit: I have a narrow and low volume foot and I'm just barely making this boot work with a 1 mm shim and masterfit, heel cup for me is great and toe box gives a reasonable amount of space for warmth whereas the midfoot feels most voluminous
Comment on this review:


Great sturdy, yet lightweight, boot. After punching the shell outwards a bit (guess these are narrow boots / I have a wider foot) the fit was dialed in. First few days I had hotspots on 5th metatarsal but worked with boot fitters to resolve mentioned issue.

Yes -- they are hard to get in, but the liner fits snuggly/securely and the downhill performance is second to none.

If your feet get cold, this may be a liner issue as the liners are indeed lacking in warmth; however, I'm a sweaty betty (especially in the feet) so I throw some antiperspirant on my feet and this prevents blisters caused by said sweaty feet.
I also found the liners to be cold and uncomfortable. Changed the liners. Used liners from a pair of Cochise boots and now Zero G's are great. Warmer and more comfortable.
Comment on this review: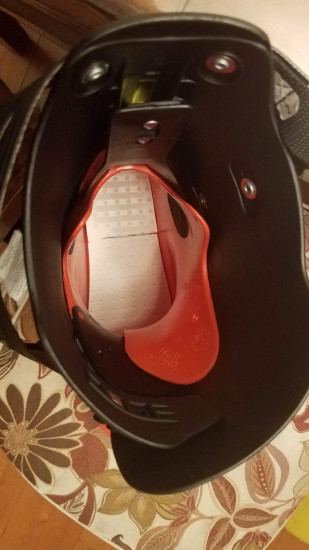 I only received these boots today and tried at home. Very disappointed.
1. They are insanely difficult to get in. And that's at room temp in the comfort of home. I can't imagine doing that in freezing temps in a tent or snow. I am surprised nobody reported this. I've been renting various boots, most were the same overlap type, and none were as difficult. At first I thought I won't be able to put the inset in, with my foot in it or without.
2. They are tight. Length-wise Ok, with some room to spare. But tight everywhere around the foot, such that they restrict blood circulation.
3. The porous plastic insole in one of the boots broke in half within minutes, while I was walking around the house. The other insole started sliding back and forth, clicking every time.
I don't think these will work for me. I hope I can return.
Hi Evgen,
I am sorry to hear that you have had issues with your Zero Gs. We are happy to help you with any issues that you have experienced with your boot boards, as well as the return process!
Also, it sounds like the fit on this boot is not very compatible with your foot. If you would like help finding a boot that will be more comfortable for you, I recommend our
Boot Fitter
tool.
If you have any further questions, reach out to us at help@skimo.co.
Comment on this review:


I bought these boots this summer, and I have already put close to 40 days in them. By far the best of both worlds. I give them 4 stars because the stock liner is flimsy, cold and doesnt ski very well. The transitions can be a little fiddley, but once you get your buckles dialed, it really doesnt take much longer than 2 buckle type touring boot. I upgraded to a an Intuition Pro Tour Liner, which have made these, the best boots I have ever owned. I feel like I can ski anything in them and they tour just as good as the F1s I came from.
Awesome! I'm about at the same spot with mine and I feel the exact same way. I'm also contemplating new liners.

Do you feel like you lost and ROM with the Intuitions? I've owned Intuitions before and have loved them (came stock in a previous pair of Maestrales) but I'm a bit scared that they won't tour as well as some other options.
With Pro Tour, I honestly felt it increased the ROM. Or at least made skinning more comfortable. I think if you went w/ a Tour Wrap liner you'd see a decrease in ROM but probably better downhill performance.
hi waht size of pro tour liner did you go for and LV , MV or HV ? - what's your shell size - thanks
I went with MV. The shell size is a 26.5. If you check the intuition site, it will tell you house to size the liner.
Hi thanks for the quick response

I've been reading various forums and some are rounding down and up

Did you go with a 26 or 27 liner ?

I'm going to see a boot fitter when covid allows and also take guidance from the intuition site

Thanks
All of these comments on the liners are right on! The Zero G's were uncomfortable as hell with the thin liners in them. Once I switched liners I was shouting, "Yeah baby!" I was happy. So - definitely consider switching out the thin liners that come with these boots.
Comment on this review:


can you use these boots on a basic alpine binding as well?
Hi Keri,

The Tecnica Zero G Tour Pro will not be compatible with a standard alpine binding. However, it will be compatible with an MNC binding!
Answer this question:


Hi, I'm very interested to know your opinion, because I'm up to buy new boots and I am hesitant: 2021 Tecnica Zero G Tour Pro or Fischer Travers CS?
I rather prefer performant/rigid boots downhill than saving weight uphill.
My previous boots were the Scarpa Maestrale 4 buckles.
I think I know your answer reading your post....
Thanks
Hi Walter, the Zero G is the way to go for a more rigid, downhill boot.
Answer this question:


I'm onto my second season skiing this boot and am super impressed. I upgraded from Dynafit TLT 6M boots. Both boots fit my foot quite well. The increased weight is noticeable, but so is the increased performance. Paired with sturdy skis I am able to blast through wind affected/funky snow much better than I could with the TLTs and the same skis. Not every powder day is 100% powder right?

As others have noted, a little fiddly on transitions. Besides having to loosen the top two buckles and the power strap, I also find loosening the instep buckle is necessary for comfortable skinning. No worse than messing with the removeable tongues on the TLT 6Ms though.

They require a lot of effort to get into as well. Not a big deal in the car or indoors, but could be a factor on a winter multiday tour.

Compared to the TLTs they are not as well suited for a lot of dry hiking or rock scrambling, but they're darn fine ski boots.
Comment on this review:


I own a pair of Dynafit Neo 23,5 which are near perfect fit. I often feel Scarpa models, as well as other Dynafit models are too narrow. I need a thick, comfortable liner, the thin, hard liner in Atomic Backland Carbon was gnawling away at my ancle. I would like something more stiff than the Neos, are the Zeros worth looking into?
Vipi- It depends on what Scarpa and Dynafit boots you have compared to before. The boots are always changing fits between years and models. This boot is probably slightly narrower than your Neo's. I would fill out our online
boot fitter
and we can dive deeper into what might be a good boot choice for you.
Answer this question:


Hi...in keen on buying these butunfortunately font have an oportunity to tedy them on (nowadays when shops are closed due to COV sh- ID). My Question is : what Are they comparwd to cochise 130 in terms of fit? Thanks for any comments ;-)
Hey Martin,

Check out Julieana's awesome response below!
Answer this question:


Getting ready to order - is the fit the same or similar to the Cochise? The mondo sizing? Thanks!
Hey Rob, the liners are thicker in the Cochise but the shells are the same shape and size.
I own both boots. I would say both from feel and looking at them the end of the toe box is narrower on the Zero G than on the Cochise. Not the width across the metatarsals, but the ends of the toes. Otherwise very similar.
Ditch the liners in the Zero G's. That is my finding. I bought the Zero G's because I found the Cochise to fit me very well. The Zero G's almost got returned but switching to the Cochise liners, same size boot as Zero G, was the ticket. Great feeling boots now.
Answer this question:


I just stepped up to these from some old Maestrales (~2014). The difference in stiffness and downhill performance is incredible! And they weigh a full 20% less than the older Maestrales (1614g vs 2004g). I'm sure new Maestrales would be a more fair comparison, but I'm pretty sure the ZGTP is still lighter than them and the rest of the 4 buckle pack. If you're looking for the best performance to weight ratio in a touring boot, this has to be it.

The one major downside of the boot is the the fiddlyness. In order to get anywhere near an acceptable ROM, you have to loosen both buckles and the power strap on the top cuff which will slow down your transitions. Furthermore, when open, the top cuff is quite large, which could be problematic for some gaiters. Likewise, I could see it getting in the way of delicate footwork for proper climbing (rock or ice).

It's also worth noting that the stock liner is surprisingly thin. I generally run pretty warm yet I've already noticed some cold feet on colder tours. I do plan to ride lifts with these and it'll be interesting to see how they hold up on a chair on a cold, windy day. More than likely I'll run the stock liner for a season and then upgrade to Intuitions next season.
Comment on this review:


Earn store credit by writing reviews. Learn more.

Model: Zero G Tour Pro