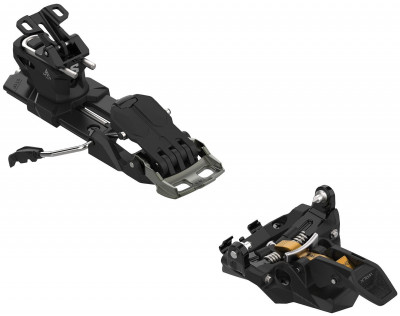 Salomon MTN Summit 9 Binding & Brake
0 reviews
What light upon yonder ridgeline breaks? It is the East (face), and the Salomon MTN Summit Binding is the sun. Arise, fair Summit 9, and kill the envious competition, who is already sick and pale with lust for your features, lightweight construction, and durable materials.
This likely is how Shakespeare would describe the featureful MTN Summit 9. Inspired by the Salomon MTN Tour, the MTN Summit inherits many of the features that make its concurrent progenitor so popular: full riser access from flat, simple yet burly brakes, the patented Step-In Aid on the toepiece, and the ability to enter/exit tour mode without twisting the heel. Taking their design to the next level, Salomon added fore/aft elasticity and an adjustable lateral release, both in the heel, helping to keep the binding reliable in variable terrain. The binding is made using a unique fiberglass polyamide that offers better shock absorbency without compromising weight or strength, firmly placing it on the cutting edge of alpine touring bindings. One run on Salomon MTN Summit 9 Binding with brakes and you'll be asking yourself: "Did my heart love till now? forswear it, sight! For I ne'er saw true beauty till this night."
PA-Glass composite construction is lightweight, durable, and absorbs shock well, yielding a smoother downhill ride.
Lateral release is adjustable from 4-9 to accommodate a wide range of skiers.
AutoFlex system allows for forward and backward travel of the heel piece, helping prevent pre-release.
Step-in Aid makes entering the toe piece as easy as could be.
Can tour on the engaged brake lock for the quickest possible transition.
Two heel risers can be accessed without turning the heel turret.
Literary references date back to 1597.
Specifications
Weight
convert to ounces
395g
Weight (pair)
790g
Boot Compatibility
Tech
Brakes (mm)
80, 90, 100, 110
BSL Adjustment
50mm
Riser Heights
2 + flat
Vertical Release
Fixed
Lateral Release
4-9
Crampon Ready
Yes
Specs Verified
Design
Materials
Fiberglass PA, aluminum
Skimo Co Says
Usage
All-mountain touring and skiing
Notes
Activating risers and transitioning to ski-mode can be done without rotating the heel tower
Bottom Line
Light on release but not performance
Compare to other Lean Bindings
Questions & Reviews
Earn store credit by writing reviews. Learn more.

Model: MTN SUMMIT 9 BR