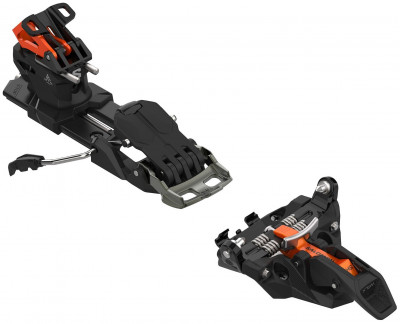 Salomon MTN Summit 12 & Brake
0 reviews
Challenge any summit with the MTN Summit 12 Binding. Built to complement the popular MTN, the MTN Summit 12 includes the easy-to-use brakes and intuitive heel risers found on its sibling. In contrast to the MTN, the Summit 12 has an adjustable lateral release that can be set anywhere between 6-12 as well as the AutoFlex system, which allows for elasticity in the heel to accommodate the flexing of the ski. For ease of use, there is never a need to rotate the heel tower while skinning, skiing, or switching between. To keep the weight low, Salomon has built the MTN Summit 12 out of fiberglass-infused polyamide - a widely used thermoplastic that is combined with glass fibers for the perfect cross-section of lightness, durability, and rigidity. Take a good look at the Salomon MTN Summit 12 Binding now, you'll be seeing it a for a while to come.
AutoFlex system provides fore/aft elasticity in the heel to help prevent pre-release while the ski flexes.
Glass-PA construction is light, durable, and dampens vibration from the ski.
Adjustable lateral release values between 6-12 allow you to finetune your lateral release.
Flip through your risers and transition without having to reach back and rotate the heel.
Brakes keep the ski in place when you exit binding in ski mode (intentionally or otherwise).
Step-In Aid makes it easy to step into the toe piece.
Specifications
Weight
convert to ounces
395g
Weight (pair)
790g
Boot Compatibility
Tech
Brakes (mm)
80, 90, 100, 110, 120
BSL Adjustment
50mm
Riser Heights
2 + flat
Vertical Release
Fixed
Lateral Release
6-12
Crampon Ready
Yes
Specs Verified
No
Design
Materials
PA Fiberglass, aluminum
Skimo Co Says
Usage
Everyday touring with confidence
Notes
Full riser access and fast transitions without needing to twist the heel
Bottom Line
Well-thought-out touring binding
Compare to other Lean Bindings
Questions & Reviews
Earn store credit by writing reviews. Learn more.

Model: MTN SUMMIT 12 BR