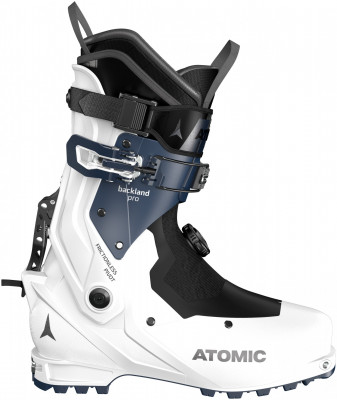 Atomic Backland Pro Boot - Women
2 reviews
$699.95
From $449.95
In Stock
Atomic has long been known for their high quality on-piste ski boots, but the Backland backcountry boot line has made waves in a category dominated by European lightweight gear specialists. True to Backland boot form, the women's Backland Pro provides high-end performance on the ups and downs and near limitless customization options in the shop, with both the liner and the shell being heat moldable. This updated women's model is packed with most of the same technology as the carbon version, but with a softer flex and better color (because color is secretly every skimo-er's #1 priority). New this year to the Backland boot lineup is the Boa system, which replaces the bottom buckles and provides a snug, even fit along the whole foot. To add some power, Atomic threw a beefier 40mm power strap on to this 95 flex boot, a small yet noticeable change that skiers will notice and appreciate. To top it off, all of this great tech and customizability is still centered around the smooth Frictionless Pivots, so you can motor uphill without even noticing that you've got boots on. If you want a lightweight, high-end, customizable ski boot, look no further! The womens Atomic Backlands Pro has all the features you need for many seasons of backcountry skiing.
Efficient Frictionless Pivot means you have the foot articulation to drive to the trailhead in ski boots and helmet, just like all the cool skimo masters.
The legendary customization of Backland boots lives on, with Memory Fit/Memory Fit 3D liners and shells so even the ugliest of feet can feel loved and comfortable.
The Quick Click tongue is known (by folks who know too much about ski boots) to strike a fantastic balance between flexibility for walking and support for skiing.
A gently rockered sole covered in Skywalk rubber comes in handy when you ski out the wrong drainage and have to walk back to the car.
Simple and reliable Free/Lock 2.0 lever makes transitions quicker than ever, and is easy to grab when wearing gloves.
Update 2020/21: With the new season hot on our tails, Atomic gave the Backland Pro Women's Boot a fierce new look with a strong white and black color change!
Update 2021/22: An upgrade to the cam lock on the power strap makes it just a touch easier to loosen.
Specifications
Weight
convert to ounces
1020g [25/25.5]
Weight (pair)
2040g [25/25.5]
Buckles
The Boa System and 40mm Cam strap with Buckle
Boot Sole Length
248mm [22/22.5]
258mm [23/23.5]
268mm [24/24.5]
278mm [25/25.5]
288mm [26/26.5]
298mm [27/27.5]
Binding Compatibility
Tech only
Cuff Rotation
74°
Forward Lean(s)
13°, 15°
Specs Verified
Yes
Design
Materials
Prolite, Energy Backbone, True
Flex, Memory Fit, Carbon infused lower
Liner
Memory Fit 3D Platinum Light Women
Sole
Skywalk Full Rubber
Skimo Co Says
Usage
Lightweight touring
Notes
Breatheable Liner
Bottom Line
A easy-fitting, streamlined touring boot
Compare to other Womens Boots
Questions & Reviews
Can I heat mold these boots to my feel at home & if so how would you recommend I go about doing it?
Hi Nicole, Yes, you can heat mold the liner at home. If needing to take advantage of Atomics moldable shell, that is best done at an Atomic Dealer.
Answer this question:


After trying on nearly every boot I could get my hands on for the past few seasons these are what I chose (bless the heart of all the ski shop workers that helped me, but especially the guy at SkimoCo, which I can't remember his name but he was the best one, so kudos!). First off they fit my feet like a glove, like I put them on and just knew they were the ones. They feel more like a hiking boot at times but perform excellent on the uphill and downhill. I forget I'm wearing them sometimes due to how comfy and lightweight they are. I would agree that they are built for narrower feet but that's what I got so no issue for me. I love the simplicity of them. The Boa system is super slick and I find I keep it cranked down on the up and down (which I didn't do before on my old boots with the buckles on the bottom). The walk mode is literally like the flick of a switch, only issue I've had with it is that it occasionally ices up while touring and I have to chip the ice out but nothing crazy. I do wish the gaiter was slightly longer because it does slip out at times but I usually just leave it. I have last seasons color which Atomic claims is purple/coral, but they are a smoky black-purple color. I ended up getting these boots from another spot in the salt lake area but wanted to tell y'all about how much I have enjoyed them. I seriously could go on and on about how cool these boots are but I won't because hopefully you'll buy them and pass on the praise. I have already convinced one person to get them and they would agree on how awesome theses boots are.
Comment on this review:


Picked up a pair to use with my splitboard and phantom bindings and loving it so far! I was a bit concerned the boot would be too narrow as I don't really have a narrow foot, more medium to slightly wide but the fit is great for me
Comment on this review:


Earn store credit by writing reviews. Learn more.

Model: Backland Pro Women