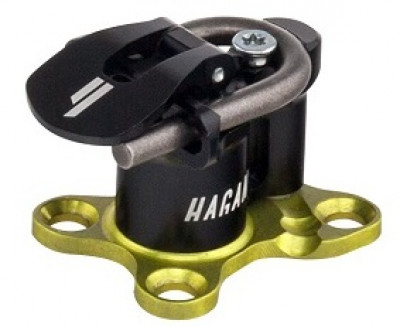 Hagan Heel Pieces
0 reviews
If you did in fact have your bindings mounted when you lost your toes, that means you also lost a heel piece. Get a replacement for that here.
| | |
| --- | --- |
| Binding | Weight |
| ZR | 39g (1.4oz) |
| Ultra | 40g (1.4oz) |
Questions & Reviews
I managed to snap the heel flap. Is it possible to buy replacements? Thanks!
Ed,

We do have replacements, looks like we're out at the moment. They're the same as the ATK ones.
Answer this question:


Any chance you can get core 10 or 12 pro heels by themselves?
Hey Anthony, unfortunately we cannot get just the heel pieces for the core binding.
Hey Anthony,

It turns out we may be able to help! Shoot us an email at help@skimo.co
Answer this question:


I'm building a Frankenbinding and need to the height of heel pins. Are the all the same? Standard? I'm having a difficult time finding that info even on manufacturer websites. Any help would be appreciated.
Hey Jim, which heel piece are you looking at in particular -- the Ultra? That particular binding sports a 27.5mm heel height. You can find all our pin heights
in this article
.
Answer this question:


Thanks guys (and you look great in the background). I just ordered these from you. Looking forward to tinkering. One comment made on Hagan's website (https://www.haganskimountaineering.com/collections/bindings/products/ultra-binding) mentions that you have to mount this heel further back than the specifications (i.e. 5.5 mm rather than 4 mm) for it to work properly in flat mode (to allow for some 'squeeze' space during compression). Has this also been your experience?
Hi Yann, yes you can mount those back to get more clearance in flat mode (otherwise it only works well on hard snow). It may drop the release value somewhat.
Answer this question:


Hi, I'm trying to put together a Franken-binding. I'm looking for the smallest possible heel piece that still rotates 90 degrees for flat mode. More specifically, I need to know how wide the top of the heel piece is when rotated in flat mode. I'm hoping to find one that is no more than about 38 mm wide (with the riser flap down), and, ideally, protruding out no more then 20 mm off to either the side relative to ski center... La Sportiva's RSR looks tiny, but I gather that those are discontinued. The Hagan option looks promising. Would it fit my requirements? Thanks for all your amazing, detailed help!
Hi Yann, the Hagan Ultra is the skinniest in terms of "flat mode width".
You guys are awesome! Yeah: the 52 mm measurement is what I needed to know!
Follow-up question: is the 52 mm axis centered on the ski when in flat mode (i.e. does the top part protrude 26 mm to each side relative to ski center)? When in flat mode (turned 90 degrees), I suspect that the pin end might protrude out further to one side than the U end. Does it?
Answer this question:


Earn store credit by writing reviews. Learn more.