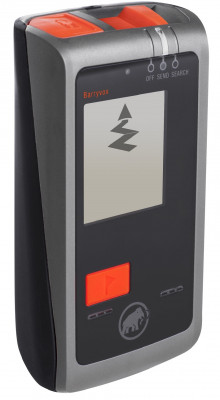 Mammut Barryvox Avalanche Beacon
3 reviews
$384.95
In Stock & Ships Today
Mammut Barryvox is a classic name in the digital transceiver realm. However, this beacon is not the same old transceiver your uncle used. It has been completely revamped with the intention of being the simplest and most user-friendly beacon to date. Mammut nailed it. The user interface has been improved so one button handles all navigation through the concise menus. The exterior switch has been designed to prevent unwanted mode changes. The large, back-lit screen is easy to read, even if wearing polarized goggles. A 70-meter range and blazing processing speed means that searching is faster and possible from further away than all previous beacons in its class. Improved signaling helps better prevent overlap and eases handling in multiple burial situations. The package is rounded out by one of the nicest harnesses on the market. If you want easy, fast, and effective, add the Mammut Barryvox beacon to your cart.
70m digital search radius so you can find your friends fast.
Acoustic and visual guidance makes navigation a breeze.
Large 2" back-lit display can be read by the sun or moon.
Group check function eliminates forgetful partners.
Safelock switch prevents accidental switching.
5-year rock-solid warranty.
Includes chest harness (120g), an elastic tether (6g), and 3 alkaline AAA batteries (34g)
Specifications
Weight
convert to ounces
208g w/ 3 AAA batteries
Antennas
3 digital
Transmit Range
70m
Search Range
70m
Number of Victims
3+
Battery Life
300+ hours transmit
Specs Verified
Yes
Skimo Co Says
Usage
Finding other buried beacons from far away
Notes
Large back-lit screen
Bottom Line
Huge range, one handed operation
Compare to other Beacons
Questions & Reviews
Full discloser I have only used the beacon for status checks and not full scale burial scenarios. That being said, I enjoy the user friendliness and comfortability of carry which makes it easy to carry. I like the harness it comes with and the Barryvox carries nice in a pocket too.
Comment on this review:


Great beacon. Simple to use, intuitive features, great battery life. I would buy a mammut again in a heartbeat. Intrigued by the S version but the price difference is steep. If you're on the fence between beacons just buy this one. You'll love it.
Comment on this review:


I have had my Barryvox for about a year. The range is excellent, intuitive controls, clearly built for years of use. My go to recommendation for anyone in the market right now
Comment on this review:


Can you get dog collars? To locate your dog under ground?
Hi Brian, yes we can get the Pieps TX 600 transmitter for dogs and equipment. Send us an e-mail to help@skimo.co and we'll get you sorted.
Answer this question:


Earn store credit by writing reviews. Learn more.

Model: Barryvox
MPN: 2710-00150-1012-1
UPC: 7613357078566