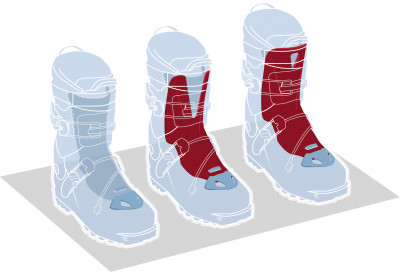 Atomic Backland Tongues
0 reviews
The Atomic Quick-Click tongue system allows you to transform your Backland boots from excellent up-hillers to excellent down-hillers. Or you can get a compromise tongue to handle a little of each. Choose from the options below, which are interchangeable amongst all the Backland models. The tongues are divided into groups of two shell sizes, e.g. one tongue will work from size 26-27.
Stiff Orange – The performance tongues found in the Backland Carbon boot
Soft Black – The soft flexing touring tongues that ship with the Backland Carbon Light.
Questions & Reviews
will you get the stiff orange tongues back in stock at some point? looking for size 26--27.5
Hi Anna. We don't have any on order at the moment but do reach out to us at help@skimo.co and I think we can try and get those for you.
you guys are amazing for sourcing these when they're sold out absolutely everywhere, and for boots that aren't even made anymore! I was sooooo happy to finally receive mine in the mail, THANK YOU!!!!!
Answer this question:


Hey, can this tongue fit the Backland Sport model?
The tongue that comes in it seems it is not removable. thanks
Marc,

The 21/22 Backland Sport does have a removable tongue. I, unfortunately, don't have any other years to verify with. If you'd like, send us an email at help@skimo.co with a photo of the boot and we can let you know whether the tongues are removable or not.
Answer this question:


Do you know if you will be getting any of the stiffer orange tongues back in stock this year? Specifically in the 22-23.5 range
Hi Allegra,

The orange tongues are for a long-discontinued boot... We have been struggling to find any of them. It's possible but unlikely that we'll see any this year, but if you'd like, send us an email at help@skimo.co and I can sign you up for a notification list for if we do get any in stock!
Answer this question:


Hey all,

Do you know is there a place you can purchase the slot the stiffener goes in? i cracked one and can replace it if i got a new part.

Thanks,
Alex
Hi Alex, we are not aware of anywhere that stocks them at this time, but shoot us an email at help@skimo.co and we can see if we have an old scrap boot that we could salvage from.
Answer this question:


I have the women's backland pro boots (20-21 model) and wondering if these will fit in that model.
Thanks!
Hi Emily, there are for the slightly older Backland (<= 2019) models that had removable tongues.
Answer this question:


Hi, I have 2018 backland carbon for splitboarding. I have 28-28.5 size boots. Do you know if the Soft tongue on size 30 will fit on my boots as the size 28 are not available?
Thanks for reaching out, Guillaume. It won't work with the size 28 (at least optimally), sorry about that! Please let us know if you have any other questions.
Answer this question:


Not sure if this question was asked above. I have the older model of the backland carbons with the removable tongue, and have been trying to figure out what flex the orange tongue is supposed to be? Does atomic make any stiffer tongues?
Thanks for your question, Pete. The orange tongue is the stiffest they made and shipped stock with the Backland Carbon. The Backland Carbon Light shipped with the softest (black) tongue and may benefit from using the stiffer orange tongue. Please let us know if you have any further questions!
Answer this question:


I am needing tongues for my Backland Carbon 2018-2019 boots. First a question: how soft are the soft tongues compared to the hard tongues? If say the hard tongues have a 130 stiffness, what stiffness would the soft tongues be?

And when will you have size 28.5 in stock for either soft or hard.

Thanks!
Hi Larry, the soft tongues are noticeably softer, probably something like 85 vs 110. You can tour with the soft tongues in without much issue, whereas your ankle articulation is quite restricted with the stiff tongues.
Answer this question:


I lost the orange hard tongue for my size 26/27 Atomic Backland Carbon boots (fell off my pack today while ascending Kachina Peak in Taos NM). I think the boots are 2 years old (purchased in spring, 2018). I'm trying to squeeze a few more days in this spring and hoping you can help me find a pair of tongues that will fit in those boots. Thanks!
Hey Mark, at the moment we are sold out of the orange tongues in your size, but if you would like to email us at help@skimo.co we can either special order a pair for you or put you on a notification list when we get them in. If time is of the essence and any tongue will do, the black ones will also fit in your boot, they'll just be a softer flex.
Answer this question:


Hey guys!

Do you think you'll be getting re-stocked on the 28/29 soft tongue, or is that all she wrote now that they've changed the design up?

Thanks!
Chris, We got some in April. We will try to get some more. We can put your email on a notification list if you wish.
That would be awesome. I just added them to my wishlist as well, if that helps. Thanks a lot, Jeff. Much appreciated.

Cheers.
Hi Chris, we just got more 28-295 soft tongues in!
Answer this question:


I've got a 26.5 boot. Which of size do I need? There seems to be a gap in sizing.
Mike, We are sold out of the Stiff 26-27.5 tongue. If you are looking for the Soft tongue it would be the 26-27.
Answer this question:


When will you get the 29-29.5 soft tongue back in stock please?
Hi Art, it looks like we have none scheduled to arrive, but hopefully we'll see some again!
Answer this question:


When do you anticipate having the hard tongues for 26.0-26.5 boots back in stock? Thanks, Bill
Hi Bill, we have some on order and expect to see them in the next week or so.
Answer this question:


Would the stiff tongues also work on the women's Backland?
Answer this question:


Any chance you will be getting the soft black tongue in size 28?
Hi Tom, we should have these within the next 7-10 days.
Answer this question:


Will skimo get any more 29.5 soft black tongues in stock this season? If so, when? Thanks.
Hi Marcus, we should have these within the next 7-10 days.
Answer this question:


Are the backland tongues sold as pairs? If so, is it possible to buy a single tongue? I bought a pair of backlands from a store and they came with one stiff Orange and one flexible black tongue. Ideally I would like to order one of each.
Thanks. Marcus
Oh boy. Yeah, they come as pairs. I'm assuming you have already but I'd try talking with the store you purchased them from.
Hey Marcus! I bought a pair used with only 1 orange tongue. If you still have a spare orange tongue I would possibly buy it off of you or sell it to you. Where you at?
Answer this question:


Earn store credit by writing reviews. Learn more.

Model: Quick Click