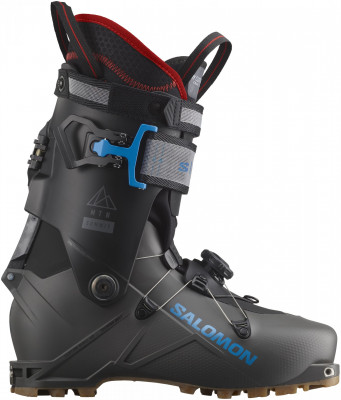 Salomon S/Lab MTN Summit Boot
0 reviews
"To get down, one first has to get there." This sage observation from an unnamed but exceptionally handsome staffer here at Skimo Co sums up the age-old conundrum in the backcountry community. That is, one must earn their turns. To help make the battle against gravity less lopsided, Salomon made the S/Lab MTN Summit. Utilizing an Ultramid + shell with a carbon fiber-charged spine, the MTN Summit is more than ready for that long slog to the top and demanding descent through variable snow. Featuring an innovative Touring Belt, the MTN Summit can keep its pants on while providing an adaptable heel lock, reducing blisters and increasing skiability. Trying to lessen their environmental impact, Salomon uses 30% recycled material in the outsole to accomplish that goal without impacting durability or functionality. From galivanting to distant peaks, lapping your favorite powder stash, and everything in between, step into the MTN Summit.
Custom Shell HD allows for full customization of the shell for an unparalleled fit.
70° range of motion is ultra-flexible, letting you skin to your ankle's content.
Touring Belt provides exceptional heel hold, helping reduce problems with blisters.
Surelock Ski Walk Mechanism is easy, unobtrusive, and offers a progressive flex.
Adjustable forward lean lets you dial in your stance.
Outsole is made with 30% recycled material.
Specifications
Weight
convert to ounces
1050g [27.5]
Weight (pair)
2100g [27.5]
Buckles
1 + Boa
Boot Sole Length
Binding Compatibility
Tech only
Cuff Rotation
70°
Forward Lean(s)
Design
Materials
Ultramid custom shell, carbon fiber spine
Liner
My Custom Fit Tour light
Sole
30% recycled Outsole
Skimo Co Says
Usage
Ski mountaineering, fast & light touring
Notes
Cody Townsend approved
Bottom Line
Salomon is back on the summit
Compare to other Touring Boots
Questions & Reviews
Jbo, trying to see how low I can go in mass before how I want to ski starts to suffer. Currently seems 1400g will still plow thru chunder. What what I've read people are saying this is the best skiing boot of the new releases (compared to tltx, tecnica etc) and apparently weighs 1200ish in a 27. Do you think with a wrap liner that this could provide close to the chargeability of a dynafit radical? And or, is this more of a boot than the skorpius? Currently I can ski a 2000g ski (191 katana v werks) with my modified dalbellos that weigh 1450g. But even I will admit my franken boots walk atrociously. I would probably be trying to ski 16-1700g skis with this boot. Up to the task? if it is stronger than the skorpius I'll try it.
Hey Anthony, sadly I do not think this is a category breaker boot that you are looking for. The ski performance is in line with the others in the weight class, and not up to Radical Pro nor Skorpius level, imo.
Answer this question:


Are the BSLs out yet?
HI Anthony, Not yet. I can't see it in any of the pictures either. And we have not received a sample yet.
Hi Anthony, sorry I didn't record it when I skied it!
Answer this question:


Earn store credit by writing reviews. Learn more.

Model: S/Lab MTN Summit