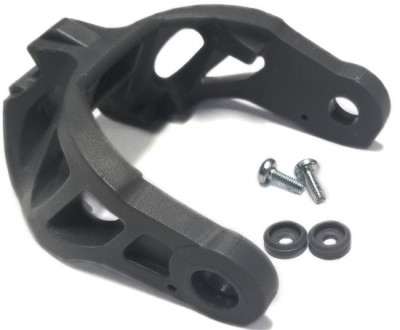 Dynafit Risers & Roofs
1 review
Here lie various parts you may find on top of your Dynafit binding heels. For older TLT models, see our used parts page Used Dynafit parts.
Radical Roof - Complete roof for Speed Radical, and Radical ST/FT 1.0 bindings.
Speed Turn Nubbin - The little plastic knob on top of the climbing aid. Associated bolt and nut included. Also works with older TLT Speed bindings.
Beast Low Heel Riser - The lower flip up/down heel riser built for the Beast binding. Also known as Climbing Aid 1.
Beast High Heel Riser - The high riser for the Dynafit Beast. Also known as Climbing Aid 2.
All these parts are sold individually (x1).
Questions & Reviews
Looking for a Beast High Heel Riser, thanks.
And sorry I asked on another place first...
Hi Eduardo,
Are you looking for a beast insert? We have them on our
boot inserts
page. Currently, we are out of stock of the beast inserts but are looking to get more in the fall/beginning of next season.
Lenny // Skimo Co.
Hi Lenny, thanks but no, I am looking for a beast's high heel riser.
Hi Eduardo, we now have confirmation of what parts we're receiving this season. Sadly, we don't expect to see any more Beast risers.
Answer this question:


The top piece (that the heel risers attach to) on one of my Dynafit Radical ST heel bindings is cracked. Do you sell replacement pieces? If so, how do I get one? See photo.
Hey Jesse! Bummer. Sorry to hear that. Best bet for a replacement part is either from our
Dynafit Heel Pieces
listing or hopefully we have something in our
Used Dynafit Parts
listing. Spare roofs for that binding are not available as a replacement part unfortunately, so scavenging something or buying a new heel is your best bet.
Thanks for the quick reply! I see the roofs listed in the used Dynafit Parts section, but they're not one of the items in the pull-down menu. Do you have one in stock or is it implicitly telling me you don't?
Hey Jesse! The little description below the images that tells you what the used part is and then if it's available, it'll be available for purchase in the drop-down menu. Sorry for the confusion there.
Answer this question:


Eric, do you sell the spring with the Beast high heel riser?
Eric- Sorry, we don't have any heel risers at the moment either.
Answer this question:


I broke the lower heel riser on a Dynafit Beast 16. I bought a replacement but when I went to put it on the spring was to bent to reattached. I tried to bend it back but it broke. Do you sell the spring?
Cole- Sorry we do not have the spring individually.
Answer this question:


Can I replace a broken Beast 14 Heel Lifter myself? Thanks.
Hey Joe, absolutely, you have my blessing.
Answer this question:


Hi there, I would love to ask you.
Is it possible to orded the high heel riser (spare part) for Beast 16?
Mine got broken this weekend and i see you offer only the low.
Hi Jakub, unfortunately those are out for the season.
Answer this question:


Hello,
Do you guys know where I could find tlt st climbing aid?
Thanks,
kawika
Hey Kawika! I think you're referring to the Radical ST, correct? If the roof is broken you'll likely need a new heel piece. Send me an email at help@skimo.co with a picture of the part you are referring to and I might be able to get you some more info!
Answer this question:


Are the higher risers available for the beast heel piece?
Hi bmcches, unfortunately we have no availability on those.
Answer this question:


Skimoco's provision of parted down binding pieces and screws is such a great service. Fast shipping and immediate, knowledgeable responses to questions. Thank you guys and keep up the good work.
Comment on this review:


Where can I find the screws that secure the heel top plate on the radical st? 4 black #10 torx, plastic thread
Hi Philippe. Dynafit doesn't sell those separately but we have a couple
used
sets (Radical roof screws).
Answer this question:


Earn store credit by writing reviews. Learn more.

» Browse other
Dynafit Binding Parts