Dynafit Boot Inserts
0 reviews
From $19.95
In Stock & Ships Today
Dynafit invented tech fittings which revolutionized ski touring. Get your replacement fittings here. Well, the heel fittings since generally the toe fittings are not replaceable as they are molded into the boots.
Boot Heel Inserts x2 - AKA Heel Tech Inserts, these are the bits of metal that allow alpine touring ski boots to click into Dynafit and other pintech heels. Fits older style Dynafit boots with one-screw installation.
Power / Beast Heel Inserts x2 - The kit to retrofit a boot for use with the Dynafit Beast bindings. Includes metal horseshoes and screws.
TLT 7 Heel Inserts x2 - Lightweight "Master Fit" inserts for TLT7 & PDG2 boots.
Hoji Heel Inserts x2 - Replacement inserts for Hoji boots only.
Khion Heel Inserts x2 - Repleacement heel inserts for Khion and Beast boots only.
Questions & Reviews
Hi, I'm looking for "Power / Beast Heel Inserts" - any idea if those will be restocked?

Thanks
Peter,

Unfortunately, it doesn't look like these heel inserts are still available.
Answer this question:


looking for replacement dynafit heel fittings for scarpa f3 boots. Do you have them? How can I order a pair? thanks in advance.
Thanks for reaching out, Jeff. You're looking for "Rear Tech Fittings," which can be found in the drop-down menu,
here
.
Answer this question:


Hi. I have tx pro scarpa 2018 NTN boots without heel inserts and I want to use them with Meidjo NTN heel piece. Could you please tell me which insert I need to order? Thanks!
Thanks for reaching out, Tom. After conferring with our resident telemark skier, we wouldn't recommend trying this as you'd have to do major modifications to your boot. If you do decide to undertake these modifications, however, the "Boot Heel Inserts x2" from the dropdown menu above would work. Please let us know if you have any other questions!
Answer this question:


If you're rocking the dynafit power inserts on a cross over boot, will it interfere with normal alpine bindings?
Hi Eric,
There is no reason that tech fittings would interfere with a traditional alpine binding. However, it is important to make sure that your boot and binding combination are compatible in other ways. For example, a traditional alpine binding is only compatible with boots that meet ISO 5355, which excludes all touring boots. Bindings with an MNC rating can accommodate boots that meet ISO 9523 (some touring boots), Walk To Ride (WTR) boots, and ISO 5355 boots, and would be a better option. For a deeper dive into boot / binding compatibility, Blister has a great article, which you can find at this
link
.
Answer this question:


I'm looking to add a tech heel to a pair of TX Pros. I've got mad Dremel skills. Is this possible? Thanks!
Hey Kevin, thanks for the inquiry! Unfortunately, we haven't modified any tele boots for heel inserts, so honestly not sure how easily it could be done but I guess in theory it could be done.
Answer this question:


I picked up an old pair of Black Diamond Factor 110s and apparently lost the heel tech insert off a boot yesterday.
Mine have a small notch in them but I feel like I can shave it off if needed with a dremmel tool.
Thanks!
Hey James, send us photos of both boot heels to "help@skimo.co" and we'll see what the best solution is! Also, what bindings are you planning on using with those boots?
I'm skiing Dynafit STs from 2015/16...they are pretty solid bindings... The missing metal reinforcement on the boot tech insert is what's missing. I think I'm going to get a set of inserts and grind down the boot...ill try and grab some.pics and upload them tomorrow... Just finished a 4 mile hike to my local firetower summit with my pup and I'm beat.
Hi, it looks like you have non-Dynafit fittings. It's possible you can get some to work using a Dremmel like you suggest, but unfortunately there isn't an easy out-of-the-box fix for those discontinued boots.
That's what I figured... And now the Dynafit insert is out of stock... Oh well, got to tour once this season... Ill keep looking for the tech insert somewhere and try to make it work...or have my dad fabricate something.
Quick bump...would the Hoji inserts fit? Are they a similar size or do different tech inserts come in different sizes? Thanks
Hi, the Hoji inserts are pictured...they also do not have room for that bump on your boot.
Reply to this comment:


Hi, anyone tried to mount Beast Heel Inserts on a Hoji Free? I know there's a little bit of plastic cutting & 2 xtra drilling holes, but would be thankful for any story on this. I would like to keep using my Beast bindings a few years more on my ski pair no2. I know what Dynafit will answer but it seems absolutely doable :)
Thanks for your question, Espen! We haven't tried it, however, please keep us posted as we would love to know how it works out!
Answer this question:


Hello,

I am looking for the Power Insert for the beast binding- Any idea when it will be back in stock? Thank you so much!
Hi Noah, we are expecting more later this week.
Answer this question: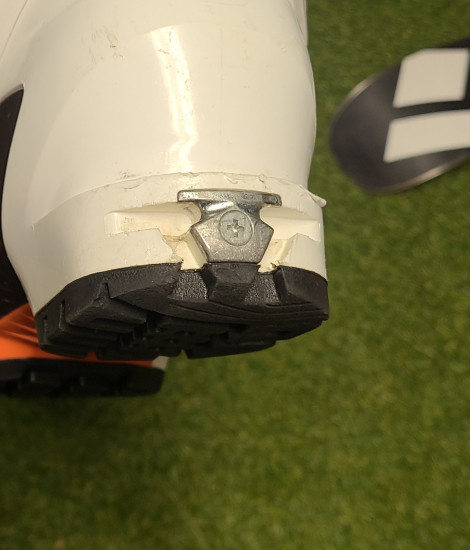 Is there any way I can make my Black Diamond Prime, work with my Beast 14's?
The power insert looks like it won't mount to the heel, at first glance. Thanks
Hey Jeff, thanks for reaching out! Once you remove the existing metal heel fitting from your boots, then you'll be able to install the power insert. You can reuse the center screw from the original fitting, and the two new screws will be used to screw the left and right sides of the power insert into the plastic.
Did you end up removing the old inserts? If so I'd love to buy them from you for my BD boots! Let me know! Thanks...Jim
Answer this question:


Hi Guys, I have a Beast 14 bindings and Garmont Cosmos boots will your heel inserts work on this combination?

Thanks for your help on this.
Hi Denver, the Dynafit Power / Beast Heel Inserts X2 should work with the Garmont Cosmos boots. Just double-check and make sure that you have the "traditional" heel fittings, and not the Master Step heel fittings on that boot.
Answer this question:


Obviously the manufacturers would not recommend it. But... Is it possible to use the older Marker Kingpin adapter (the adapter that allows pins) with the Dynafit Beast 16 binding? I am aware that the Kingpin adapter is intended for a boot with a smaller radius heel (TLT, Backlands, etc). However, I'm thinking it would not take much to modify either the boot, or the adapter, to work with each other. What I'm concerned about, is there anything about design of the Marker adapter that would prevent a clean binding release or adequate retention?
Hi Notu,

I would not recommend mixing brands in this instance. If you are going to use the Dynafit Beast 16 Binding, I recommend that you use the Dynafit Power/Beast Heel inserts listed above!
Answer this question: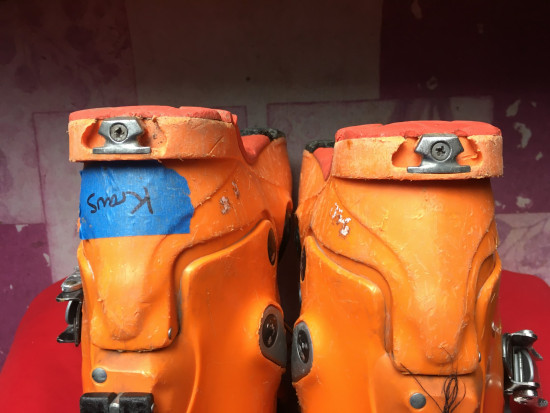 A ski shop told me my heel pieces were about to fail because of wear Near the screw.
they warned that failure would be catastrophic.

I don't understand why. If they failed I would just skin home using the toe attachment only

I have attached a picture Of the heel pieces on my Scarpa laser boots

To me, it looks like there is plenty of metal left before the screw is compromised.
What is your opinion, please?

Which of the heel pieces on your website would replace these?
Could I do this replacement in the field with a Phillips screwdriver?
Hey David, thanks for reaching out! Based on this photo, the metal heel insert looks like it is in fine condition, but the screw and the shell plastic may be worn a bit. There's a chance that you might heel-strike onto the metal heel insert while walking around on rock/pavement if the sole rubber is worn down in that spot, and that could risk shearing the screw. I also notice the Phillips head of the screw is slightly beginning to strip, which makes me wonder if the threads in the plastic shell hole may be slightly stripped as well.

Replacing a heel fitting in the field is possible, as long as the screw didn't break off and leave a piece inside, and as long as the threads in the plastic shell aren't stripped.
Answer this question:


This is a follow up question that Jeff M answered about the Scott Voodoo NTN boots.

Question - by "insert" - do you mean the black plastic insert that is on the heal of the boot?
When looking at my new pair of Voodoo NTN boots - it looks like I could take out that insert - but I am uncertain if the heal underneath the black insert is "shaped" to take the tech insert or not. Will I be looking at micro carving out the plastic heal to make the insert work? Thanks.
Thanks Spin, I could only find pictures that didn't show the black insert that was vaguely shaped like a tech inset. Scarpa no longer has inserts or a cutout on their NTN boot. As i mentioned the rocker and bellows will not give a solid sole and would at best be unsafe.
Answer this question:


Will the heal inserts work with Scott voodo ntn boots
Michael, if your boots have the cutout to put in a heel insert, these will work. Tele boots with the bellows and rocker are not a good match for a full tech binding set up.
Answer this question: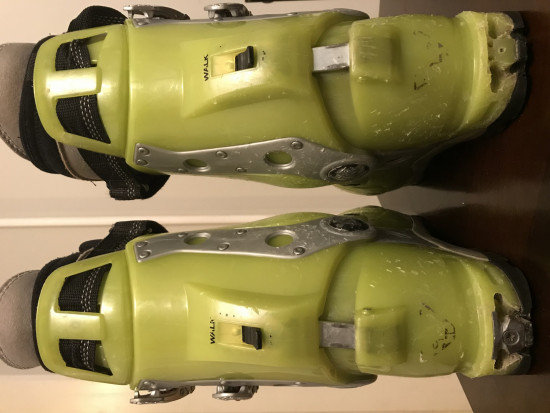 Hi, the heel piece ripped out of the heel plastic in my old zzeros. Is this salvageable with a new piece?
Hey Peter, luckily this is a quick repair! You'll want to purchase the "Boot Heel Insert" option in the drop down menu.
Hi Teddy, thanks for this. It looks like the last insert sheered off, leaving part of it in the plastic, so I might have to drill it out. Not sure if the new screw will still hold (might have to epoxy it in?). Thanks!
Answer this question:


I have a pair of Dynafit Beast 14 bindings that I am trying to set up with an older pair of Scarpa TX Pro (Blk/Org)boots.
I have been unable to adjust the bindings to get the boot to click in the heel. The boots I have, have the smaller standard tech heel inserts, not the horseshoe version shown above.

My question(s): Do I need to replace the heel inserts with the horseshoe inserts? If I do this will I be able to get the binding adjusted right for the TX Pros? Or am I missing something? Any help will be greatly appreciated.
Pete, sorry, we would not recommend using the TX Pro boots with Tech bindings.
Answer this question:


In response to the last question. The Beast Carbon ski boot has the insert that is screwed from the inside. The Beast/power horseshoe adapter seems to only screw from the outside. Can I still somehow attach it? Or is there a different adapter?
Thanks.
Tomas, Dynafit has moved the Masterstep fittings since the Beast Binding came out (and left). You should be able to screw that center screw in just fine.
Answer this question:


I was wondering if there is an insert for the Dynafit Beast Carbon ski boot to make it compatible with the Beast 16 bindings?
Thank you,
Tomas
Hey Tomas, you can pick the Power / Beast Heel Insert in the drop down menu on this listing.
Answer this question:


Would the heel inserts fit on a La Sportiva Spectre 2.0?

Thanks!
Hey Eddie, they certainly would. Sorry for the delayed reply!
Reply to this comment:


Hi,

I can't see « boot heel insert » in the list so I guess it s not available at the present time.
Any hope to order this item in the next few days?

Thanks!
Hi Xavier, you can get it on the SCARPA listing, linked a couple times in answers below.
Answer this question:


Earn store credit by writing reviews. Learn more.

» Browse other
Dynafit Boot Parts