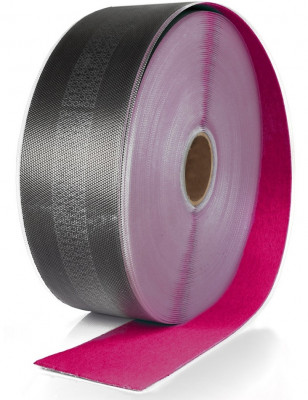 Pomoca Race Pro Grip Per CM
1 review
$0.36
In Stock & Ships Today
This is the Race Pro Grip skin off the roll. Buy just the amount of grippy goodness you need. Pomoca made this formula to ensure you have the most grip on icy courses. It's also great for folks getting started with racing that are still working on their technique. Or for pros who want increased resistance when training and not worry about breaking rythym with a slip-out. This is the Race Pro formula with fibers that tack better to the snow. Sold by the centimeter; it's likely that you have two skis so factor that in unless you're building a single backup skin. 62mm wide, as long as you want.
ORDERING NOTE: These skins are sold by the centimeter (cm), meaning you should type in the Qty field the length (in cm) of skin you want for one ski "times two" for a PAIR. Unless you are making a backup skin, then just times it by one.
Questions & Reviews
Bought this on a recommendation from Skimo to diy some skins for my new light setup, I badly wanted this Pomoca race grip but with a Ski Trab tab instead of one of those notch tips (versus the orange Pom that comes preset with Ski Trab tabs). The grip is unbelievable, it is the first skins I've had that uphill performance is noticeably different. I didn't notice a lack of glide, even on the first time out. The con on these from my perspective is, if you get a dab of snow on the very tail of the skin during a transition, it will not restick, thus kicking off a peel off. This is a good reason not to bring race skins on a powder tour, which is a lesson I've had to learn a few times (face palm) but I was surprised I couldn't get them to retack by warming them up in the chest of my jacket/licking them (gross but you do what you can to get another lap in). Seemed like once they were wet, there was 0 chance they were going to restick. Definitely not a deal breaker and a big part was user error, but I've gotten some stray snow on my Pomoca Climb Pro skins (among others) and it didn't end the day. I just know now to be very very careful not to let these touch snow during transitions!
Thanks Sarah. FYI race skin aficionados often carry two pair and cycle them in/out of their jacket to warm up. I usually get by with an extra dollop of BD Gold Label glue on the last couple inches of material to prevent peeling from the tail.
I never really noticed this as a problem. Brush off the snow and keep them warm between laps.
Comment on this review:


What is the width? What is the width? need 5 words :-)
Hey Albert! Sorry about that! The width is 62mm!
Answer this question:


Earn store credit by writing reviews. Learn more.

Model: Race Pro Grip Roll
UPC: 4053865799943