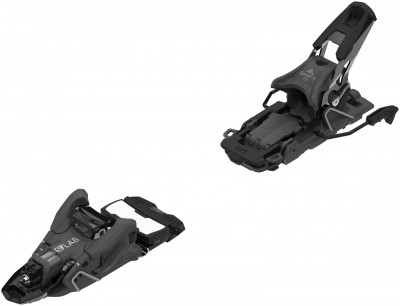 Salomon Shift MNC 10 Binding
1 review
$549.95
In Stock & Ships Today
Typically, the "reliability" of a ski binding refers to its consistency of retention and release of your ski boots. When it comes to touring bindings, the Salomon MNC Shift is among the most reliable that you can find, and with a DIN certification to back it up! This level of consistency is something formerly considered unachievable in the backcountry, except for frame bindings (but we don't talk about those here). However, for some smaller and lighter skiers the original Shift MNC 13 is sub-ideal since the release value of the binding is higher than the release value of their tibia. Enter the Shift MNC 10: with a lower range of release values than its forebear, this is the binding that Salomon presents to backcountry skiers who demand lower release values for a greater sense of confidence avoiding leg injuries, or big mountain skiers who are simply smaller and lack enough inertia to hit the release threshold of the original Shift. If you want a binding that has all of the uphill speed of a full-featured touring binding and the downhill confidence of a DIN-certified alpine binding that will eject you before twisting your tibia into pieces, then the Salomon Shift MNC 10 may be the binding for you.
Pin-based touring toe converts to DIN-certified alpine binding toe for charging downhill.
Release value range of 4-10 for lighter skiers or wider safety margins.
MNC boot compatibility means the binding can support a plethora of different boots.
Great option for skiers who frequent both backcountry and in-bounds terrain.
Sleek and sexy all-black paint job.
Specifications
Weight
convert to ounces
875g [90mm]
Weight (pair)
1750g [90mm]
Boot Compatibility
Alpine Multi-Norm Compatible (MNC)
Brakes
90mm, 100mm, 110mm, 120mm
BSL Adjustment
30mm
Riser Heights
1 + flat
Vertical Release
4-10
Lateral Release
4-10
Crampon Ready
Yes, Shift-specific
Specs Verified
Yes
Design
Materials
Carbon-infused PA, combined with aluminum and steel
Skimo Co Says
Usage
Lighter freeride oriented backcountry skiers, or dipping in and out of bounds.
Notes
A full-fledged alpine binding on the way down and a tech-toe free pivot on the way up.
Bottom Line
Alpine binding release safety for your sidecountry or backcountry freeride setup.
Compare to other Full-featured Bindings
Questions & Reviews
I haven't used "downhill style" bindings in 20 years or so, and generally prefer light tech bindings. But I bought a pair of skis this year with primarily inbounds and slackcountry use in mind, and figured "why not" put these on since weight isn't much of a consideration. So far so good. I'm not really convinced they are any safer than something like the Dynafit Rotation 12/10/7 series, and they are not nearly as elegant. It's possible to step in and have the heal slightly off-kilter, something that's impossible with tech bindings, hence: 4 stars, not 5.
Comment on this review:


Could you clarify whether older Dynafit boots (TLT 6 Mountain; Zzeus alpine/touring soles) are compatible with the Shift binding? Thanks.
Hey Roger, the old Zeus will be compatible with the Shift binding, the TLT6 Mountain will not.
Answer this question:


Earn store credit by writing reviews. Learn more.

Model: S/LAB SHIFT MNC 10