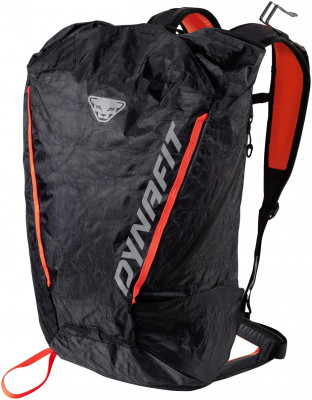 Dynafit Blacklight Pro Pack
0 reviews
The Blacklight Pro Pack is a rugged touring accessory for those who need a lightweight, all-day, touring pack. The straps have an anatomical fit to reduce unwanted pull on your shoulders and back, a common problem with backpacks. This pack also provides attachments and room for all your necessary equipment. There is an internal waterproof pocket for your valuables, a built-in crampon safety case, an aluminum ski hook, and attachments for a helmet, ice axe, and ropes. If you're interested in having quick access to your water bottle, sunscreen, and what have you, the pack also has a few extra daisy chains just for this reason. Possibly the biggest standout feature of this pack is the durable material. The Blacklight Pro is made from a Dyneema material, which happens to have 15x more tensile strength than steel! Compared to your average nylon material, the Dyneema material will hold up against rocks, jostling gear, even a simple case of overstuffing. If you're interested in a good looking, lightweight pack that's made for all-day touring and reliable durability, the Blacklight Pro is a fabulous choice!
Made of tear-resistant Dyneema material to hold up in rough conditions.
Great volume and weight for an all-day touring pack.
Fully featured pack with a built-in crampon case/safety box.
External helmet and rope attachments for ease of access.
Internal waterproofed pocket for your valuables.
Anatomical cut straps to reduce pull on your shoulders and spine.
External daisy chain and aluminum ski hook.
30 litre capacity to hold a big day's worth of gear.
Specifications
Weight
convert to ounces
540g
Volume
30L
Access
Roll top and velcro crampon pocket on side
Hydration
No
Ski Carry
Aluminium ski hook
Shovel / Probe
Inside
Ice Axe
Yes
Stash Pockets
No
Security Pocket
Waterproof pocket inside pack
Design
Materials
Dyneema (extreme tear resistance)
Skimo Co Says
Usage
Mountaineering, winter tours
Notes
Every feature you need for a long day in the mountains
Bottom Line
Dynafits toughest mountaineering pack to date
Compare to other Backpacks
Questions & Reviews
How big is the ski carry loop? Also, what kind of water carry options are there on the shoulder straps?
Hi Aaron, we haven't gotten this pack in the shop yet so I can't measure the width of the ski carry loop or verify all of the water carry options. However, if you'd like to email us at help@skimo.co we can put you on a notification list for when they do come in and if you reach back at that time we'll answer those questions for you.
Answer this question:


Does the Blacklight Pro (540 gms?) really only weigh 20-grams less than it's non-Dynema look-alike? Seems a pack this size would have a bigger weight difference between Dynema and nylon construction.
Kerry, I was wondering the same thing as I made up this page. The weights are what Dynafit has in the workbook. Skimo will weigh them when we get in stock and adjust as needed.
Answer this question:


Earn store credit by writing reviews. Learn more.

Model: Blacklight Pro Backpack
MPN: 48952
UPC: 4046402082479