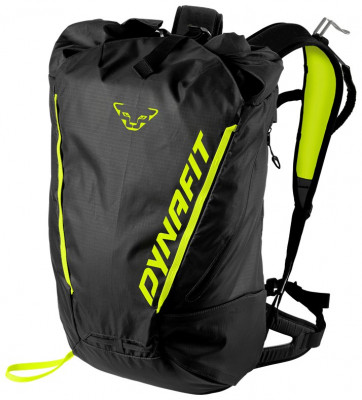 Dynafit Expedition 30 Pack
0 reviews
$174.95
In Stock & Ships Today
We know you want to look good and be an efficient skier when you're touring the backcountry. Now you can don a sleek backpack for those dawn patrols because Dynafit has made a lightweight, anatomically shaped, fully featured, water-repellent backpack that is also quite svelte. The Expedition 30 Backpack is designed for all-day touring and comfort, for you and your gear. The top of this pack is rolled and waterproofed, ensuring that even if you take a tumble, or get caught in a storm, your valuables will stay safe and dry. This pack is dressed to the nines and will house all your necessary touring accessories both inside and out. This 30 litre pack includes an internal waterproof pocket, an aluminum ski hook, and comes with a crampon safety box. With attachments for a helmet, rope, and some extra daisy chains for whatever suits your fancy, this pack was constructed to offer you the necessities and durability of a pack that you can take out for pleasant or stormy trips. Additionally, the Expedition 30 Backpack has anatomically cut straps that fit close to your body and reduce unnecessary pull on your shoulders and back, a problem that tends to plague the esteemed backpack world. The Expedition 30 Backpack is a great choice for anyone looking for a lightweight pack with great volume for backcountry touring, especially on those days when the snow is falling fast and deep.
Built-in crampon safety box keeps your accessories organized and safe.
Anatomically cut and fit straps help prevent unwanted strain and pull on your shoulders and spine.
Attachments for a helmet, axes, and rope allows for easy access to your accessories.
Aluminum ski hook for quick transitions.
External daisy chain gives quick access to whatever you deem worthy to bring along.
Water repellent and tear-resistant nylon material holds up in snowy, pack scraping conditions.
Roll top creates a better seal to protect items stored inside.
Ideal 30 litre volume and lightweight construction make for a perfect, all-day touring pack.
Specifications
Weight
convert to ounces
715g
Volume
30L
Access
Roll top access, safety box compartment with access from side
Hydration
No
Ski Carry
Aluminium ski hook
Shovel / Probe
Inside
Ice Axe
Yes
Stash Pockets
No
Security Pocket
Waterproof pocket inside pack
Team Tether
No
Whistle
No
Specs Verified
Yes
Design
Materials
Water resistant nylon 210/D Ripstop
Skimo Co Says
Usage
Mountaineering and long winter tours
Notes
Outside rope carry
Bottom Line
Serious mountaineering pack that will keep your gear dry
Compare to other Backpacks
Questions & Reviews
Any update on the pack weights and ski loop size now that you guys have these in stock? They look like they might be the perfect long day backpack..
Hey Scott, we just verified the specs for the pack and the ski carry loop fits a 120mm tail no problem. Overall a really sweet lightweight, fully-featured pack.
Answer this question:


Does this pack has an avalanche stuff pocket? (for probe, shovel, etc.)
Michi, Dynafit did not specify if it has a dedicated avy gear compartment, but Dynafit packs usually has great internal pockets to help with avalanche shovel and probe organization making them secure and accessible. The pockets are often close to your back and will secure both probe and shovel handle while the blade will slide neatly at the bottom of the pack.
I took my girlfriend's (dyneema version) out while teaching an avalanche course this weekend. Assuming this is the same design as the dyneema version (BL Pro), there are couple of velcro straps along the internal side to secure shovel handle and probe. No dedicated avy tool pocket, but there is an external flap pocket that *almost fits a full size shovel (but its not as secure as I would want my rescue tools. Better for shoving in a layer IMO). Perfectly fine for a regular day of touring, easy to remove gear in a hurry. It is a slight pain to put that gear back in with the pack full, which is only really a problem when it's coming in and out throughout the day (ie, teaching an AIARE course). All things considered, the pack feels like the perfect size for any type of single day tour, whether fast & light, slow & light, or slow & heavy ;) My gf told me I can't cramp her style and get the same one, but the Dyneema version is one of the best ski packs I have ever had my hands on.
Answer this question:


Earn store credit by writing reviews. Learn more.

Model: Expedition 30 Backpack
MPN: 48953
UPC: 4053866210171