Grizzly Olympic Binding
2 reviews
$678.95
In Stock & Ships Today
Ski Mountaineering often takes an individual to isolated peaks far from any established trailheads. To ensure the best chance of success, alpine starts (e.g., getting up waaaay too early) and lightweight gear can be the difference between getting there on time versus fifteen minutes too late and finding the route impassible (which as the kids say, "is a real bummer"). To address the gear variable, Grizzly created the Olympic binding, which is aimed at ski mountaineers seeking the security of an integrated ski brake without any unnecessary weight. And it sure appears that Grizzly nailed it. The judges agree as the Olympic took home an ISPO gold award when launched in 2020. Its aluminum 7075/stainless steel construction lends itself to durability while the intuitive Grizzly Step system helps make getting into the binding less frustrating. Whether you've been searching for an ultralight ski mountaineering binding or ISMF-compliant race weapon, the Olympic binding will support your aspirations.
Made with ALU 7075 and stainless steel for durability and high marks on looks.
Integrated ski brake helps you retrieve your skis during those "uh oh" moments.
Grizzly Flex system changes the pin width to accommodate most touring boots.
Swivel heel provides comparable vertical and lateral release values for consistency.
Grizzly Step system helps to make stepping in more intuitive and smooth like butter.
Toe piece uses the simple Grizzly Fix locking system which is easy to open and close.
Choose from three release values (6, 8, 10) when skiing in the unlocked position.
Optional ski crampon adaptor and adjustment plate allow for customization.
Fulfills ISMF ski brake requirements for racing to keep you legal.
Heel pins don't wear and are covered by a Liftetime Warranty.
Recommended for skis no heavier than 1500 grams.
Imported from Slovakia.
Specifications
Weight
convert to ounces
122g [65-75mm]
Weight (pair)
244g [65-75mm]
Boot Compatibility
Tech
Brakes (mm)
65-75, 75-85, 85-95
BSL Adjustment
Accessory plates
Riser Heights
1
Vertical Release
6, 8, or 10
Lateral Release
6, 8, or 10
Crampon Ready
Removable Accessory
Specs Verified
Yes
Design
Materials
ALU 7075, stainless steel
Skimo Co Says
Usage
Racing in the 2026 Olympics!
Notes
Adjustable toe pin width
Bottom Line
Ultralight binding with brakes
Compare to other Race Bindings
Compare to other Lean Bindings
Questions & Reviews
Is the hole pattern the same as ATK race bindings? I have an atk mounting rig and it would definitely help me to decide if they do
Hi Alvaro,

Yes, you can use an ATK jig to mount the Grizzlys.
Answer this question:


Spent this year racing on these bindings. Here are my thoughts:
-The design is quite ingenious. I love how simple everything is, the retention has been great and they inspire plenty of confidence at speed.
-They are hard to get in to, even after lots of practice i occasionally have a transition that goes 15 seconds longer than it should while fighting to get in. IMO the design just isn't as easy to get into as traditional tech bindings (only matters if racing).
-The brakes get sticky quite often, I keep trying different lubricants but I often deploy them and they don't go down fully. Maybe if the ski was bouncing down a hill they would deploy (haven't lost a ski yet so I don't know).
-The price is pretty ridiculous esp. when you have to add $45 for ski crampon adapters
-I like that there is no need to switch between ski and climb mode (aka. lock the toes), there is just one mode. It's simple and also ensures you aren't ever skiing in a "locked" mode.
-Overall I'm still quite impressed with them though, it's a beautiful simple design.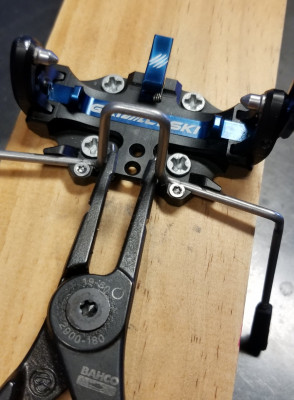 Hi Allen, I've found that the Grizzly brakes tend to work better if you store the skis with the brakes deployed. You can also renew the springiness by expanding the base of the rectangular part of the brake that interfaces with the boot (see the photo).

While the GR 98 doesn't have a lock/unlock mode, the Olympic actually does! If the brakes are deployed for skiing when you release from the binding the blue bar with Grizzly.Ski printed on it flexes upwards as the toe wings spread apart. When the brakes are locked for uphill, they lay across the blue bar and prevent it from being able to flex up, which notably increases the amount of force required to open up the pins to release the boot.
Ok, thanks for the helpful info.

Also I need to update my prior review. Honestly after racing the PDG on these and doing some big spring days I need to downgrade these to two stars. They are just so darn hard to get into. My trip the other day probably had 20+ transitions and I easily lost 20 seconds on each one of them (compared to a normal binding) in addition to getting hip flexor cramps and wasting energy. As I get more tired it just gets harder and harder to manage them. I can't recommend anyone buy these bindings for racing or going fast. Which begs the question: What is their use case?

I also don't like how the pins don't have slots for cleaning junk out of the boot's pin holes. I feel like I need to do an extra good job of cleaning out the pin holes and a lot of the time when I do finally get clipped in it feels like the pins are floating on ice/junk. To their credit they have never pre-released, but its still not a good feeling. Sorry but I'm super bummed I bought these.
Comment on this review:


Hi,
Can I rotate heel 180°? :)
Hi Mjr, technically yes but practically no. The heels are quite hard to turn by hand.
Answer this question:


Will you be getting any more of these in this season?
Hi Ted, we should have more later this week.
Answer this question:


I REALLY like these bindings. I did a lot of research before my purchase. It was time for new gear and I thought is important to have a ski brake, not just for the new ISMF requirements, but for hill safety. I like that these bindings have different release values available. I had a tib/fib fracture a few years ago due to binding release failure on my skimo gear, so it was important to me to have an appropriate release value. I also like the front-mounted brake. Other bindings had rear-mounted brakes and with my bad knees, I have a hard time reaching to the rear binding. I found there was a bit of a learning curve using the bindings. Clicking my toe into the front binding took some practice, but now I like it a lot better than my old pressure engaging binding. I've had no problems with the brake, but it takes a little bit of fiddling around with it to figure it out. Here's my process for clicking in: 1 - lock brake into up position. 2 - insert toe into front binding. 3 - release brake by pushing down the lever in the front (the boot holds the brake in the up position, but once boot is released the brake engages) Overall, it makes for a quick transition. Skimo.co was extremely helpful on their "Binding Finder" to guide me in my decision - Thanks Skimo.co!
Comment on this review:


Hello,

I recently purchased this binding and the brake appears to be getting caught and not engaging the snow when I lift my boot off of the ski. Is there a way to adjust that?
Hey Andrew, I'm sorry those brakes have been giving you trouble, and we'll need to do a little more digging to come up with a good answer for you! If you're able to reproduce that issue, send us a few photos and a video to "help@skimo.co", and we'll continue to troubleshoot!
Answer this question:


Hi everyone , could these bindings be used on the Movement Race Pro 161 cm , with Alien RS boots ?

It would be nice to have brakes
Hey Glen, while we haven't gotten these bindings in hand to test just yet, that setup should work for you!
Hi Glen, I had the Olympic with Scarpa F1 LT (basically RS shell with a different cuff) for one season already and the binding fits perfectly. It is design to fit a variety of ski boot shells thanks to a screw adjustment on the side. Another Grizzly athlete has been using this and GR98 bindings on Movement skis on ISMF world cup races the whole season as well.

Michal, Grizzly Athlete.
Answer this question:


Earn store credit by writing reviews. Learn more.

Model: Olympic