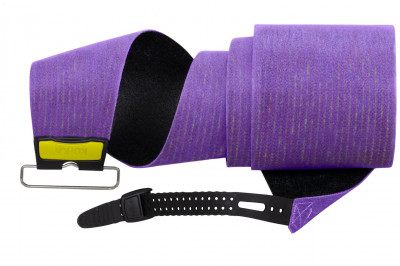 Kohla Freeride Air Skins
0 reviews
Chances are that your first few seasons of ski touring were spent on some extremely grippy, yet heavy, pair of orange skins that shouldn't be named. Hopefully, you've learned from your mistake and are ready to pick a real set of skins, like the Kohla Freeride Air Skins. These are a great option for skiers looking to save weight and space in their packs for snacks, layers, or maybe even a bottle of champagne. Featuring the same great fiber blend as Kohla's Freeride Skins, the Freeride Airs don an even thinner and lighter backing material for those backcountry travelers looking for maximum weight savings in a mohair mix skin. So, in other words, the Kohla Freeride Air Skins will limit your time faffing around and looking like you've gained 25 pounds due to bulky skins stuffed in your jacket. Instead, more time can be spent skinning for miles with innumerable smooth transitions.
Fast and light Mixmohair blend with an even thinner more packable "Line" skin pile technology.
Kohla Smart Glue makes for an easy-to-peel skin that works comfortably down to -22F.
100% waterproof / Fiber Skin backing technology.
K-clip tail attachment is durable and simple to operate.
Can substitute with other skin tip attachment options.
High-quality laser precision cut skins.
Made in Austria and solvent-free.
Specifications
Weight per skin (with backing)
302g [135mm x 170-176]
Questions & Reviews
I have a pair of 183.3cm Corvus Freebirds. Wondering whether to go with the 184-190 or the 177-183 length.
Hey Kevin, thanks for the questions! Without having the skis to know 100% if they will fit, your best bet would most likely be to go with the shorter size because those Kohla skins generally have quite a bit of extra room on the tail strap. Let us know if you have any more questions
Answer this question:


Hey (Jeff?) I'm thinking these for my DPSTour 124's - they are a 185 length. Which length skin would you recommend- the 184/90 or the 177/83 - I'll go ahead and pre order but wanted the correct size thanks!
Hey Tristan, the Kohla pre-cut skins run a little on the short side, so I'd recommend the 184-190 length for that ski.
Thanks Julieana I just ordered the 184-190!
Answer this question:


Earn store credit by writing reviews. Learn more.