La Sportiva Boot Parts
0 reviews
This is the place to find replacement boots parts for La Sportiva ski boots. You can also use some of these parts on other boots if you're in a mod'ing mood.
Pegasus Buckles– Replacement buckles for the Spectre and Sparkle boots. Simple lightweight buckles that can be adapted to other boots as well. Catches sold separately.
Pegasus Buckle Catches– The catches for the Pegasus buckles described above.
1.0 Instep Buckles – Lower buckles for the 1.0 version two-buckle boots: Sideral, Starlet, Spitfire. Come with rivets that must be pressed on.
1.0 Instep Wires – Replacement wires for the lower buckles on the two-buckle 1.0 boots (Sideral, Starlet, Spitfire).
1.0 Cuff Velcro – The Velcro straps with a metal bail that form the upper cuff of the 1.0 Sportiva boots. Also works for the Sideral & Starlet 2.0.
Syborg Instep Buckle Strap x1 - The plastic toothed buckle strap for the Syborg boot. Sold individually.
Spitfire 2.x Instep Buckle x1 - Replacement instep buckles for the Spitfire 2.0/2.1. Sized small or large. Sold individually.
Spitfire 2.0 Velcro Top Straps x1 - Upper cuff strap that controls the ski/walk mech on the Spitfire 2.0...not the Spitfire 2.1! Sized for two shell sizes. Sold Individually.
Spectre Ski/Walk Mechanism- Complete replacement of the ski walk mechanism including lever, catch and latch. Sold individually, left or right.
Spectre Cant Kit- Replacement for the adjustable cant rivet on the Spectre cuff.Sold indivudually.
Velcro Power Strap- Replacement power straps for Syborg, Spitfire, Sideral, Starlet Sold as set.
Questions & Reviews
I'm looking for a replacement piece for my red Siderals... the forward-lean 'plate'. The plate that's installed in my boots currently are too aggressive/forward of a stance - and I know that they are usually sold with 3 swap-out-able plates for 3 different forward lean settings. So I'm looking for a 'plate' which allows a more relaxed/upright stance...
Rio- We do not have any more parts for the sideral boots. You might reach out to Sportiva and see if they have anything left in stock.
Answer this question:


Is there a way to buy the velcro ankle strap with the metal end piece for sorptive spitfire boots?
Hi Adam,

Unfortunately, we do not have that part in stock! I would recommend reaching out to La Sportiva directly.
Answer this question:


Hey,
I am looking for a Pegasus Instep Buckle, Position 2, Left.
The attached foto shows the right one.
Do you have this part in stock or know where I can find it?
Many Thanks Lukas
Hey Lukas, thanks for reaching out! We are out of stock for the foreseeable future, but you may be able to get it by reaching out to the manufacturer directly!
Answer this question:


Hello! I am looking for the buckles for La Sportiva Spectre 2. Starting from the toe, the first and third one. do you have it? thanks!
Hello Carlos! We do have the first buckle in stock, it'll be in the drop down list labeled as "Pegasus Toe Buckle pos1". Unfortunately, we don't have the third buckle in stock, but please let me know if you'd like me to set up an automatic in-stock email notification for you!
Answer this question:


Hi there! I'm writing you down from Patagonia! is there a way to purchase some spare parts for the Spectre Boots and then you send them to Argentina? Thanks!
Hope you're having a great winter season down there! We ship almost everywhere on the planet, and definitely to Argentina! You'll see what shipping options are available in the checkout screen, and I would highly reccomend upgrading the shipping because USPS has been restricting international shipping during the past few months. Let us know if there's anything else we can do to help!
Answer this question: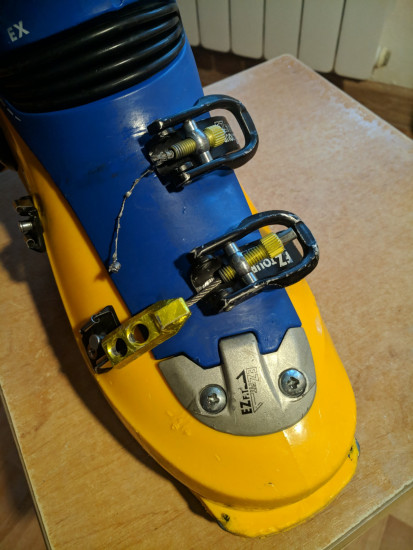 Hello. I see that you have spare parts for La Sportiva Spectre 2. What position do I need to choose to replace the parts shown in the photo. Thanks.
Hello!
You will want the instep buckle, position 2 as a replacement. It will come in the color blue, but is still the same buckle. Have fun out there!

Patrick // Skimo Co
Answer this question: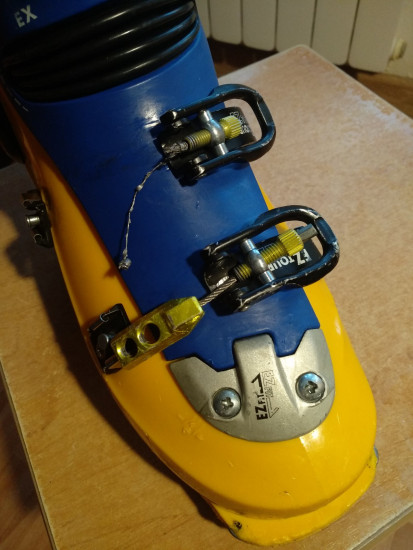 Hello.
I ask for your help. I don't know which position to choose from the list to replace the part shown in the photo. Tell me, please.
Hey Igor, unfortunately we don't have the Pegasus (Spectre) instep buckle in stock any more, I'd suggest reaching out to the good folks at La Sportiva for a replacement!
Answer this question:


Hello,
The horizontal pin at the left heel of my Syborg boot came of today. So the lever for ski/walk-mode has nothing to pop into.
Do you know if this part/kit is available?
Thanks
Uh oh, that's not good! We unfortunately have not been able to get that part from La Sportiva, so you may need to reach out to them directly. It may be worthy of a warranty case!
Answer this question:


Do you have the longer cable buckles for the Synchro boots? I need two that a bit longer than the stock one for my calf's. They are just too big for the ones on there now. I have been using the power strap but I'd like to buckle it.
Hey Mike, we haven't been able to get any cuff buckles for the Synchro, my apologies!
Answer this question:


The metal piece on the heal of the boot that holds the rear pins on my Spectre 2.0 (Right boot) somehow came off. Are you able to order a replacement? Thanks.
Aaron,

We are awaiting for more rear heel tech inserts. If you want to email us at help@skimo.co we can set up an email notification for you. Hope this helps!

Patrick // Skimo Co
Answer this question:


Thoughts on if modding the Salomon X-Alp instep buckles with Pegasus buckles would/might possibly work?
Hey Christian, we can't guarantee that this would work as a mod, but we encourage
gear hacking
here at Skimo Co, so we'll give you a crisp high-five if you go for it!
Answer this question:


Hello- would the ski/walk mechanism be compatible with the Sparkle (1st Gen)?. My left boot won't lock in to ski mode, I don't see the tab pop into the corresponding hole in the metal bar. Looks like this is the part I need, if it's compatible.
Catherine, the Spectre ski/walk mechanism will work for your Sparkle. They are left and right specific and we currently only have Left.
Answer this question:


Hi guys,

Are these replacements for the Pegasus 1.0 or PLUS buckles?

Thanks!
Flynn, They would be the Pegasus 1.0, with the round holes, Not the ladder style.
Answer this question:


Can you still obtain the "power strap" and spoiler for Sideral 1.0 (the optional strap that goes above the main cuff buckle)? If not, are there any other straps from similar LaSportiva boots that will substitute? Do you know if Spitfire 2.0 / Syborg / Sytron uses the same spoiler/strap?
Christopher, Not sure that is still obtainable. I don't remember what the power strap looked like and cannot find any pictures. I can't tell how it attaches. Can yous end us a picture of where it would attach, to help@skimo.co.
Answer this question:


Thanks Jeff. Will you guys have more of them in the future or do you know somewhere else I could get one? Thanks.
Abraham, Try La Sportiva warranty. I had good luck getting some parts for myself from them.
Answer this question:


Do you guys still sell the cant screw? It's not on the list of options to buy. Thanks.
Abraham, it is a very popular part, we are sold out.
Answer this question: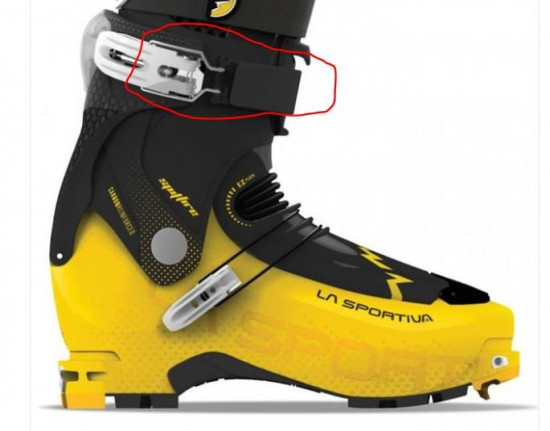 Does the Spitfire 2.0 Velcro Top Strap also come with the metal loop that clicks into the buckle? Also, my spitfires may be an older model - see sim photo. Is this the correct part?
Hi Tim, that is the Spitfire 1.0. Back then, it was just called the Spitfire. Unfortunately we haven't been able to get the straps for that boot in a while.
Answer this question:


Earn store credit by writing reviews. Learn more.

Model: Various