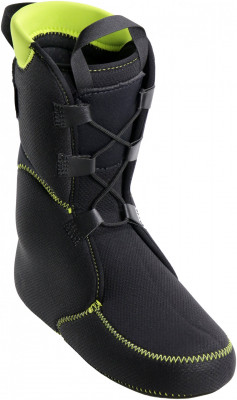 Palau All Track Power Liners
1 review
Rocking 10mm of EVA MD foam, this liner will never be called, "svelt," or "flimsy." Built specifically for hard-charging freeride boots, the thicker material can help take up volume, or just be the perfect replacement for that haggard old liner that has been a little too well loved. Fully heat moldable, you can expect a great fit for your foot that will hold its shape and resist packing out. EVA PERF is integrated around the toe box to increase breathability and moisture control. For increased performance and a better fit, the Palau All Track Power liner can be a fantastic upgrade to any downhill loving boot.
10mm EVA MD foam creates great downhill performance with plenty of latitude for heat molding.
EVA PERF foam around the toe box helps your little piggies say, "aaaaah," all the way to the top.
Heat moldable construction allows for a fantastic custom fit for maximized performance and comfort.
High quality construction resists packing out, so you don't blow through liners constantly despite all the vert.
Optional lace system to dial in the fit even further.
Questions & Reviews
Will these work with the Northface Quadrant boots?
Jamie,

Are you referring to the Black Diamond Quadrant ski boots by chance?
While any liner will work with any boot, the one that will be most similar to the stock liner will be the Intuition Pro Tour, Medium Volume.
Answer this question:


I have a pair of Rossignol Alias 100 Sensor boots with packed out liners. I originally acquired these because I have wide feet and they were recommended for that. I also have large calves and a high arch, so I assume I generally need lower volume liners? My toes get cold easily though, so thicker insulation is ideal for me. Would the Palau Power LT be an alright option for me and these boots? Also, does the liner come with a footbed/insole, or do I need to purchase that separately? If so, should I go with the thinnest insole to avoid taking up too much volume?
Hi MPS,

The Palau All Track Power Liner is quite robust. However, it is still intended as a liner to be paired with a backcountry or crossover ski boot. The Rossignol Alias 100 Sense is a resort boot. Resort boots generally have very thick liners, without touring specific cutouts etc. I would start with trying resort specific liners first!
Answer this question:


Will these be high volume/stiff enough they could work for inbounds boots? I haven't had good luck with intuition liners, and I don't really see many options for liners in general. I have the power LT for my freeride boots and I like those for touring.
Hi Daniel,
The All Track will likely still be a little thin for inbounds boots. Of the liners that we carry, the
Intuition Pro Tour
in the HV option will be your best bet.
Answer this question:


Purchased a pair of Crispi XR with HO Tongue Liners for my telemark kit last season. I got hot spots on my ankles. I don't like wearing thick socks when I Tele so I replaced the HO Tongue Liner with the thicker Palau All Track Power Liners. I swapped over the Crispi insoles and out of the box these fit like a glove for me without having to heat mould.
Comment on this review:


Hi I'm looking for a replacement liner for my tecnica zero G' s guide pro (first gen.), the stock ones feel too loose even when the boot is fully tightened, especially in the ankle-zone.
Pretty narrow feet and thin calves so I need to fill quite a bit of space, like more than 2 fingers, could these palau's be the right choice or should I go with some thicker intuitions HV? thanks in advance.
Hi Lorenzo, both the Intuition Pro Tours MV and HV have thicker foam than the All Track, so I'd recommend getting one of those options if your priority is taking up volume.
Answer this question:


Generally speaking, is the All-Track about the same volume as the equivalent Intuition Pro Tour LV? Or, would the Power LT be a closer match volumetrically to the Pro Tour LV?
Hi Tom, The Power LT will be closer to the Pro Tour LV, while the All-Track is closer to the Pro Tour Medium Volume.
Answer this question:


Hi, curious what the weight of these is in a 27/27.5. Thank you!
Hi Dub. The pair of 27.5 weighed in at 449g.
Answer this question:


Thanks, follow up question: how does the height of these liners compare to the power lt version? Wondering if they are much taller? Thanks.
Hey John, the cuff height between the two is the same. The difference comes down to the thickness of the foam, of which these are 2mm thicker than the Power LT.
Answer this question:


Any chance you will stock these in a 29.5?
Hey John, we will be getting more in next season. I do recommend getting the 29's, as there is only a slight difference in length and will stretch if needed.
Answer this question:


I've got a 26.5 ZGTP I'd like to replace the liner in. I'd prefer a bit more foam than came stock. It seems like you've been directing people to the Palau Power LT liners (https://skimo.co/palau-power-lt-liners) while the Intuition Pro Tour has been unavailable. This liner seems 2mm thicker than the Power LT.

Am I better off with this liner, the Power LT, or a different option?
Hey R C, I would say that it really just depends on how much volume you need to take up. The Palau All Tracks would take up a bit more space than the
Palau Power LT
but not quite as much as the thick as the
Intuition Medium Volume
. Honestly, either of those liners could be a great replacement for the Zero G liner.
Answer this question:


Earn store credit by writing reviews. Learn more.

Model: All Track Power