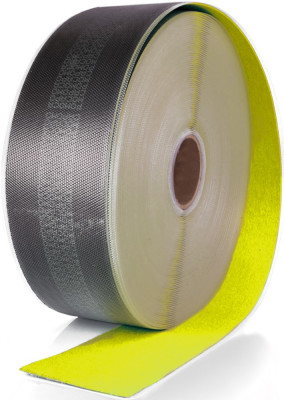 Pomoca Climb 2.0 Per CM
0 reviews
Less slippery than its banana-peel yellow appearance, the Pomoca Climb 2.0 skin material is a solid choice in all conditions. It's particularly noted for its packability and light weight. We have found this material ideal for expedition use and situations where low weight must be paired with durability and reliable grip. It's also suitable for skiers who are making the transition away from heavy, slow nylon skin material of yester-year. This great Climb 2.0 plush is now available by the centimeter on the roll so that you can attach your favorite hardware or make a race-style skin for your touring skis with Pomoca Race Tips.
70% Mohair / 30% Nylon mix provides reliable grip in all conditions.
Safer Skin Light backing formula is thin yet waterproof and tear-resistant.
Ever Dry 2.0 treatment repels water, ensuring the skin starts and finishes light.
Questions & Reviews
How much of this should I purchase to cover a pair of 179's?
Hi Matt, it depends on what tip and tail attachments you plan on using. You can start with two times the length and subtract from there if the attachments allow it.
Answer this question:


Where can I recycle my climbing skins
Answer this question:


Can this product be trimmed to match my skis sidecut?
Jeff, Yes this skin can be trimmed to fit your ski. We have skin parts here
Pomoca Skin parts
. Other brand parts can be used too.
Answer this question:


if i buy these will i have to trim it and add a tip and tail piece to have it hold onto the ski?
Herman, you are correct. These skins come on the roll and we cut the desired length. The tip and tail connectors are sold separately.
Answer this question:


Climb 2.0, Pro S Glide, etc. Are these fundamentally the same skin material placed in the shallow channels of the kick zones of 'skin skis' like Fischer twin skins, Rossignol R-skins, etc.? If so, buying this in "bulk" and cutting pieces to size would be a real money saver in replacing skins on these skis. Would one of these be recommended for this purpose or am I missing something here? Thanks in advance.
Hey Steve! The short answer is "yes and no." Major skin-ski manufacturers in the nordic world are using skins manufactured by Pomoca, Colltex, Kohla, etc., but the factory installation/pressing-in of the skin material is more durable than an aftermarket substitution could be. If you are going for a skin-ski option, we'd recommend the
Race Pro 2.0
for maximum speed. For more info consult your local nordic race shop!
Answer this question:


Is this material sticky on the backside so that it will glue to a ski ?
Hello Hilary, that's correct, the reusable glue is for sticking the skins on the ski's base for going uphill!
Answer this question:


what's the difference between these skins and the Pomoca Pro S glide? (besides the price)
This skin material is just a little bit lighter and doesn't have that S-Glide plush treatment!
Answer this question:


Earn store credit by writing reviews. Learn more.

Model: Climb 2.0