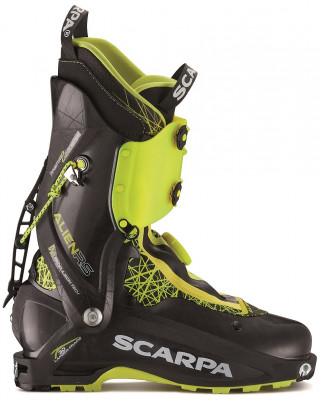 SCARPA Alien RS Boot
23 reviews
Every so often a company will debut a category-shattering display of engineering that seems to break all kinds of rules, defy stereotypes, and spearhead a different generation of skiing. This ain't your grandpa's ski-day! Behold: the Alien RS. Holding true to the da Vinci mantra that "simplicity is the ultimate sophistication," the Alien RS is a delightfully simple boot. A stiff carbon-infused Grilamid cuff is mated to a stiff carbon-infused Grilamid lower by way of an unbelievably dexterous pivot that again, defies stereotypes. A Boa closure on the lower shell wraps around your foot to create a secure and precise fit. Racers, say hello to your everyday boot light enough to sneak in 40,000ft of dawn patrols per week; freeriders, mountaineers, and steep skiers, say hello to your beefy race boot capable of taking you further than ever before.
Carbon Grilamid LFT Shell and Cuff blend industry-leading power-to-weight ratio with industry-leading price.
Lower Shell is built around a 3D Lambda Torsion Frame to increase lateral stability and power transfer.
Speed Cam Lock ski/walk mechanism is reliable, durable, and precise.
A waterproof, zippered gaiter tempts snow to even try to get into this boot.
Offset toe lugs promote a more natural walking motion to increase touring efficiency.
Specifications
Weight
convert to ounces
920g [27]
983g [28]
Weight (pair)
1840g [27]
1966g [28]
Buckles
1 + BOA, Single Throw Speed Cam Lock
Boot Sole Length
270mm [24]
278mm [25]
286mm [26]
294mm [27]
302mm [28]
310mm [29]
318mm [30]
327mm [31]
Binding Compatibility
Tech only
Cuff Rotation
72°
Forward Lean(s)
7°, 9°, 11°, 13°
Specs Verified
Yes
Design
Materials
Carbon Grilamid LFT
Liner
Intuition Cross Fit Tour
Sole
Vibram UFO RS
Skimo Co Says
Usage
Speed touring, high performance ski mountaineering, exceeding expectations
Notes
Grilamid infused with long strands of carbon fiber increase torsional stability and precision. A zippered, waterproof gaiter invites you to use your imagination when accessing lines
Bottom Line
If the Holy Grail was a ski boot
Compare to other Race Boots
Questions & Reviews
Hey Guys - how does the heel throw lever/bulge interact with the rear clip on a full step-in Petzl crampon?

Thanks!
Hey Eric, thanks for reaching out. Just tested the Petzl Leopard with the rear lever and found no problems. In fact, the curvature of the heel cup and the lever match really well, it's almost like they were made for each other. Plus, there is just enough space between the crampon lever and the catch on the boot to sneak your thumb in to pop the crampons off.
Answer this question:


Any insight into the stiffness of the Alien RS vs the Fischer Travers Carbon? Other than the Scarpa being a bit lighter, they seem like competitive boots in many ways.
Hi Chris, they are definitely competitive! In fact, they are close enough in skinning and skiing performance that we suggest fit be the major deciding factor. Visiting our
boot fitter
will help match them to your feet. To answer your specific question, the Alien RS is stiffer when floor-flexing, but they get pretty close in the field as the Travers stiffens a bit more in the cold. They both ski and skin really well!
Answer this question:


I've seen this boot with different gaitors (zippered vs. non-zippered)...which iteration will be available to mass markets?
Hi Daniel, these ended up not having zippers on the gaiter. It's elastic on top to get your foot in.
Answer this question:


I've been skiing on the original aliens and BD aspects for about 4 years now. Ive been using a 26 size boot. Is the RS the same length as the original? Would it fit on my skis without adjustments? Not really interested in upgrading skis or redrilling at this time.
Hi Marc, the boot sole length is different on the RS, but not vastly so. Depending on your binding you may have enough adjustment. If you have a fixed race mount, you would need to remount, possibly with an adjustment plate.
Answer this question:


Hello,

Do you think these are suitable for splitboarding? I know people enjoyed the original Aliens, but am wondering if these will be too stiff? Any thoughts?

Thanks!
Hey Lonz! Thanks for reaching out! These are a whole bunch stiffer than it's predecessor, the original Alien, so unless you enjoy a really stiff boot then I'd count these out.
Answer this question:


Hello, I currently ski Dynafit Vulcans, 27.5. If I am looking for a similar fit should I purchase the 28 or 27?
Hi Ian, most likely you will want the 28. The Vulcan is a bit wider so you would likely find the 27 too narrow.
Answer this question:


Are the BSLs on the Alien Rs the same as the f1? Same mold right?
Hey ABP, thanks for reaching out. The construction of the F1 lower definitely influenced the design of the Alien RS, however when it comes down to it they are two totally different shells with different shapes, lengths, etc.
Answer this question:


Can the midfoot be punched out?
I have a pretty prominent navicular bone. Also, any input on how these ski versus the spitfire 2.1 and/or F1? Current skis are 174cm cho oyus, would like to add a light ~180cm 105-112cm waist ski in the near future
Hi nicholas, these ski was well as the Spitfires and F1s in our opinion. But note that SCARPA recommends them only for skinnier skis (<=85 or so). This is more due to warranty concerns than skiability. For bigger skis, they recommend the F1 or even Maestrale 2.0. All of these have punching limitations on the sides of the midfoot due to the carbon inlays.
Hi. Can you please talk a little bit more about the punching limitations? Can they be punched out a little for people with sixth toe issues?
Thanks
Hi Jonas, SCARPA does not recommend punching these boots but it has been done.
Thanks jbo.
I see, I want these so bad. I got a 110mm wide foot, do you think its possible to get them to fit by just mold the liner, or is it a lost cause?
Hi Jonas, we'd need to know more about your foot to get a complete profile, but you are likely barking up the wrong tree unfortunately. Feel free to reach out with your specifics and we can find you a similar boot.
Answer this question:


Can you punch out the alien rs to widen the forefoot last? Will the 3D lambda frame restrict this?
Hey Shawn,

Thanks for reaching out! The 3D Lambda frame does restrict punching in certain areas of the boot (pretty much everything surrounding the heel cup and a few other key structural areas, similar to the F1 and Maestrale RS 2.0) however forefoot issues in the Alien RS might be accommodated. Let me know if you have any further questions!
Answer this question:


Hi would you recommend ordering the same size as the F1? I could not fit the previous generation alien because it was too narrow but the F1 fits well
Anthony, I would order the same size as what you would order in the F1 boot. I felt like the fit between the F1 and RS was very close.
I'd actually say the RS fits quite a bit narrower than the F1. A 27 F1 fits me snugly but quite well. I race in a 27 alien 1.0. It feels a bit short in length, but good in width. I skied a 27 RS last year, but it was right on the edge of acceptable comfort (skied excellent though). The RS is a bit shorter and a bit narrower than the F1 and just narrower than the 1.0 in my experience. I'll be moving to a 28 RS this season.
Answer this question:


Any word on how the last of the RS compares to the original Alien? I really wanted the original to work for me but it was too narrow at the metatarsals.
Hey Stuart! Thanks for reaching out! The RS features what is basically an F1 lower, so it'll be a touch wider in the toe box than the Alien. Volume will be similar to the Alien, so if you were good there then you'll be good here, but width will be a bit more generous, particularly up front.
Answer this question:


Earn store credit by writing reviews. Learn more.

Model: Alien RS