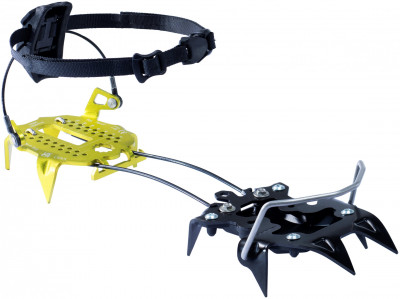 Dynafit Mezzalama Crampons
0 reviews
$249.95
In Stock & Ships Today
Commandment #2477 of ski alpinism: thou shalt not scramble on rock with aluminum crampons. Instead of wincing each time you encounter a surface of mineralogic origin, suit up with the Dynafit Mezzalama Crampon, knowing you'll have the best blend of durability and weight savings. The Mezzalama is built from the same chassis as the DNA crampons but swaps the aluminum for full stainless steel front points. These front points are easy and satisfying to step into, snapping onto your boot toe welt with the included automatic attachment system. Other conveniences include a foldable stainless steel cable as well as tool-free boot sole adjustment. The Mezzalama also comes with a set of rubber antibot plates to prevent nasty snow buildup. Merging the speed of aluminum rear points with the power of steel out front, the Dynafit Mezzalama Crampon presents a metallurgical alloy for fast mountain movement.
Lightweight and compact race-style crampons are also durable thanks to steel front points.
Tool-free adjustment system won't leave you high and dry in the field after your friend borrows them.
Included front antibot plates ward off unwanted snow accumulation.
Automatic toe bails can be swapped with semi-automatic toe bail system.
Comes with a protective hardcase.
Specifications
Weight
convert to ounces
205g (w/ antibot plates)
190g (w/o antibot plates)
Weight (pair)
410g (w/ antibot plates)
380g (w/o antibot plates)
Points
10
Specs Verified
Yes
Design
Materials
Aluminum 7075 Crampon Back, Steel Crampon Front, Stainless Steel Cables, Rubber Anti-Balling Plate
Skimo Co Says
Usage
Grand course skimo races, fast and light ski mountaineering
Notes
Adjustment system is very fast
Bottom Line
Durable race crampons
Compare to other Crampons
Questions & Reviews
Earn store credit by writing reviews. Learn more.

Model: Mezzalama
UPC: 4053866480840