Petzl Irvis Hybrid Crampons
6 reviews
The lightest way to get your steel on! The Irvis Hybrid crampons feature steel toes designed to hold up against rock impacts for those questionable routes. Petzl also understands that you don't want to lug a massive crampon up a mountain, so with weight conservation in mind they paired the toes with an aluminum heel and connected the dots with the ultralight Cord-Tec linking system. That means they are also super packable, since you can just fold the crampons in half and stuff them in your pack. The Irvis Hybrids will fit just about any boot since they come with both an automatic and a semi-automatic bail system. Petzl ships them with a simple wire bail installed for ski boots, but you can also swap in the included flexible bail for TLT7s or other boots suspiciously missing a hard toe-welt. If you can't decide which crampon you need for your purposes, the Petzl Irvis Hybrid makes it so you don't have to! Just buy this and it will work.
CORD-TEC linking system is flexible and fits all boots up to around US size 13 men.
Also shipped with FlexLock bail to attaching to boots without a good toe welt (+25g).
Installed automatic bail is fast for ski boots and keeps the crampons amazingly light.
Comes with ANTISNOW plates installed to help prevent dangerous snow build-up.
Four-point aluminum heel is light and lets you go French-style up steep couloirs.
Six-point steel toe platform is rugged enough for big routes in low snow.
Protective nylon carry bag with drawstring included.
Certified to CE EN 893, UIAA standards.
Specifications
Weight
convert to ounces
233g [w/o anti-bot]
270g [w/ anti-bot]
Weight (pair)
466g [w/o anti-bot]
540g [w/ anti-bot]
Points
10
Specs Verified
Yes
Design
Materials
Aluminum, steel, nylon, dyneema
Skimo Co Says
Usage
Ski mountaineering, mountaineering, glacier travel
Notes
Packs very small due to the Dyneema linking cord
Bottom Line
Business in front, party in the back
Compare to other Crampons
Questions & Reviews
What is about the biggest BSL these will fit? My Zero G Tour Pros are 343mm.
Hey Chris, just put the Irvis crampons on a 348mm boot sole length and fit great with room to spare! These crampons are awesome.
Answer this question:


Do these fit a BSL of 262 (Atomic Hawx)?
Hey Dani,
They definitely do! I've got that exact boot and these exact crampons, they fit great!
Answer this question: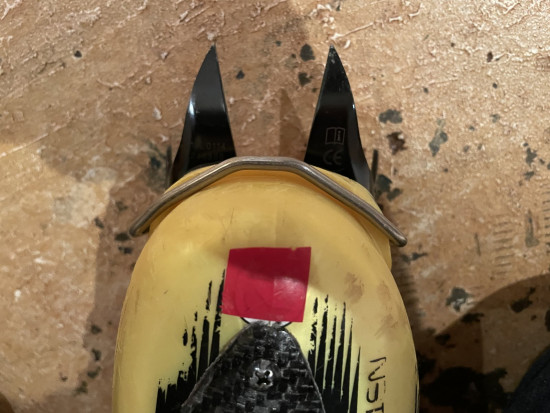 Howdy, I have a pair of first gen aliens that I can't get an ideal fit with. On the right boot, the left side of the bail is snug with the toe box, but there's a gap on the right side. Would the aluminum automatic bails from camp fix this?
Hey Vineet,

It's common practice among crampon users to actually bend the bail in a vice to make a custom fit of the crampon bail to the boot. Also, even though there is a small gap in the photo above, it won't effect the performance of the crampon & boot. You would be totally fine just leaving it as it is!
Answer this question: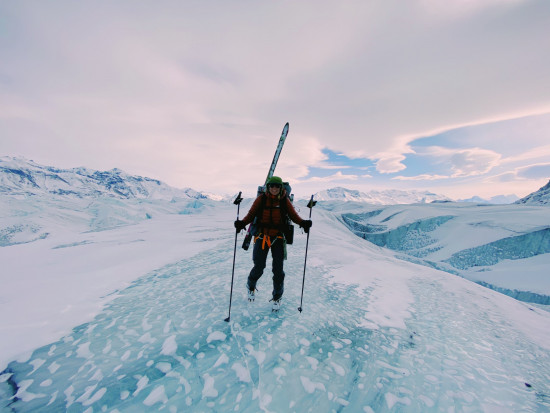 Yeah, these crampons are the ones. For a bit of extra weight, they're a lot more versatile than the all-aluminum crampons. The steel toe holds up better on rock and glacier ice, so I find these to be a better choice for Alaska. They're still small, light, and take up very little space in the pack. The adjustment system is fiddly, but once you get it set, it works. I've had no issues with these crampons, they are super secure, and not a pain to throw in the pack! I've used them both with the automatic attachment and the semi-auto. Both work great with my atomic backlands, and the semi-auto is a nice option for shoulder-season scrambles with a variety of footwear.
Comment on this review:


Has anyone used these with Billy Goat plates? Wondering how the cord will hold up....
Adam,

Thanks for the question! No one here has used the Billy Goats (Verts are more appropriate in the Wasatch). The Billy Goat website does list the Petzl Leopard as being compatible, but we can not speak from personal experience. Sorry we couldn't be more helpful!
Answer this question:


Will these fit size 29.5 Scarpa Maestrale 2 rs?
Hey Anonymous, the Irvis Hybrid Crampons should work no problem with the Maestrale RS.
Answer this question:


Have only had a couple occasions to use these so far but they've done the job. I got them for packability and simplicity for light mountaineering with my TLT7 boot. Easy to set the cord to get a good fit and it stays snug on my TLT7. The anti-snow plates work and makes a difference IMO. I've used the also with billy goat plates and they were easy to use with them. Really nice that they pack so small in a light pack.
Comment on this review:


how do these fit with the Scarpa F1 LT?
Hey Eric, yes the Irvis Hybrids will work with the F1 LT.
Answer this question:


Do these fit on the atomic backlands?
Hey Connor,

Yes they will! And sorry for the delayed response, looks like we forgot to answer this!
Reply to this comment:


got a perfect fit with the new alien 1.1 (also new plastic alien ) with a set of camp aluminum toe bails from a old pair of race 290 crampons.
Reply to this comment:


Sorry about the new thread - I couldn't reply to a prior answer. My snowboard boots are semi-automatic crampon compatible, but are these crampons wide enough for snowboard boots?
Sep, I measured the internal width of the toe bail and the heel support tabs which measured to 8.2cm and 6.5cm, respectively. I would measure your toe and heel of your boots and if they are within those numbers I would assume they would work.
Answer this question:


Will these crampons fit the fitwell backcountry boots? Size 295
Hey Sep, unfortunately we do not sell snowboard boots so I am unable to give you a confident response. I recommend reaching out to the manufacturer and ask them if their boots are compatible with semi-automatic crampons.
Answer this question:


Absolutely love the crampons AND the store. I haven't used the crampons yet, but love how light and packable they are.
Skimo does a great job in everything - quality products, fast shipping, and always top tier customer service and communication. My purchase was returned to the store without reaching me for some reason, and Will helped me out with my order. There's even a personalized note in my package. Thank you!
Comment on this review:


Will these work on scarpa maestrale rs and scarpa gea?
Max, they will fit either boot. In either auto or semi auto mode.
Answer this question:


how is the fit of the automatic toe bail on an alien 1.0??
Phil, The toe bail does not match up well with the Alien1.0.
The
Grivel Skimatic
fits like it was made for the Alien.
Answer this question:


Does the heel lever fit with scraps alien rs? does it fit with the heel lever in the ski position?
Kristine, Yes this crampon will work with the Alien RS boot. Sharp eye, the heel lever will not close all the way on the Alien in ski mode.
Answer this question:


These crampons are light, packable, and secure despite the cord connector. I wore these for approximately 15 miles total of blue ice and wore through the "cord-tec" connecting the toe and heel pieces. It cut/abraded where it first makes contact with the heel piece and is sandwiched between the aluminum and boot. I have not used these much in snow, mostly blue ice walking and a tiny bit of ice climbing, so your mileage may vary depending on use case and I imagine they would fare much better by avoiding blue ice.

The heel lever also does not have a ledge to use as a fulcrum when stepping into the crampons which would be a nice touch.

I would give 5 stars for these crampons if not for the durability of the cord connecting the toe and heel pieces.
Comment on this review:


Decently light crampons. The steel toe sticks in alpine and water ice much better than aluminum counterparts. They're nice for moving efficiently in flexible shoes, because crampon fully flexes alongside the shoe unlike other brands that have a metal bar. I have heard that durability on other steel toe/aluminum heel crampons is an issue, usually they have a aluminum connecting bar which quickly gets chewed up by the steel front.

One negative is that in ski boots or other fully rigid boots the crampon toe piece pivots on stiff snow, or ice. The toe isn't held rigidly by a metal bar, but instead "swings" on the dyneema cords. They've never fallen off but it often feels like I'm close to forcing them off rotationally.
Comment on this review:


Petzl continues to knock it out of the park with their light/fast gear compared to other manufacturers. Steel front points and aluminum heels is awesome for the majority of the ski mountaineering and alpine climbing I do so these have kind of taken over as my more versatile crampons. They seem to climb great on easy ice and mixed stuff that you would use something like the BD Sabretooth or the full Irvis. Quite easy to adjust. Super packable. Light. Petzl also ships them with both strap systems which is rad!
Comment on this review:


Will the tlt7 crampon adaptor work with the irvis hybrid?
Hey Jim, yeah, absolutely! However, the included semi-automatic toe bail will work perfectly on the TLT7 and reduce total volume when it's folded up.
Answer this question:


Earn store credit by writing reviews. Learn more.

Model: Irvis Hybrid LLU
UPC: 3342540106208