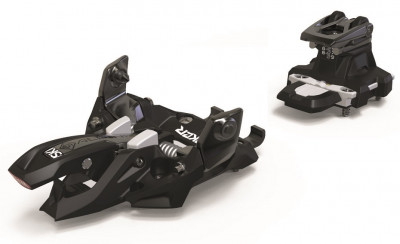 Marker Alpinist 9 Binding
3 reviews
True to their fashion, Marker is entering a new market (tech-bindings) with great fanfare. The Alpinist binding is focused on weight, ski-ability, and a user-friendly nature that is robust and foolproof. The heel piece sits flush against the heel of your boot and uses a spring-loaded track to keep the release dialed regardless of the flex of a ski throughout a turn or hard landing. This is analogous to forward-pressure in an alpine setting but adapted to a race-weight tech binding (a first). The Alpinist 9 is an impressive offering in terms of downhill performance, weight, price, and uphill-capability. It's backed by a German name (Marker) that is synonymous with ski bindings, so you know its a good one.
Strategically placed anti-icing pads under toe and heel promote consistent performance no matter the temperature, humidity, or water content.
Generous 15mm of boot sole adjustment allows enough freedom to accurately mount for multiple boots.
Gapless heel piece offers 4mm of Dynamic Length Compensation for improved ski rebound and release-value consistency.
Adjustable lateral release values from 4-9 and swappable vertical U-Spring helps dial-in retention and release.
Use the heel flap for a low riser-height or spin the heel-piece 180° for increased lift.
Flat-on-ski mode is also available for those long, flat approaches.
Removable brakes come in 90mm, 105mm, and 115mm widths.
Integrated crampon receptor accepts Marker ski crampons.
Specifications
Weight
convert to ounces
266g
Weight (pair)
532g
Boot Compatibility
Tech
Brakes (mm)
Accessory 90, 105, 115
BSL Adjustment
15mm
Riser Heights
2 + Flat
Vertical Release
Fixed
Lateral Release
4-9
Crampon Ready
Included option
Specs Verified
Yes
Design
Materials
Forged aluminium, carbon, fiber-reinforced polyamide
Skimo Co Says
Usage
Touring
Notes
Integrated rubber pads simplify the step-in
Bottom Line
Lightweight adjustable touring binding
Compare to other Lean Bindings
Questions & Reviews
Pretty good, not great. I overall like the bindings, but they're just a little fiddly. They ski really well, are pretty dang light, and I haven't had any durability issues. The heel towers are a bit hard to rotate (can't figure out how to do it with a pole) and the risers are a bit lower than I'd prefer for the Red Bull-fueled teenage Skimo racer skin tracks that apparently are all the rage in the Wasatch but I would buy them again.
Oh Michael, in the Wasatch, we train our teen racers to put in more efficient shallow tracks!
Comment on this review:


Hi guys, do you see these as being able to be swapped back and forth with a pair of kingpins using mostly the same holes/inserts? My partner has Kingpins, but is looking for a lighter pair of bindings for longer days, while still having the option to have more release safety on others.
Niko- The kingpin and alpinist use the the same toe holes. There is 2 holes of the heel that overlap but the heel mounting position will be way off for one of the 2 bindings. So heel will probably not work in sharing holes. But there is a enough room that you should be able to put inserts for both heel pieces.
Answer this question:


I bought these in January 2020. After one season, the heel riser became loose and wouldn't stay in place. Skimo arranged a Marker warranty submission to remedy the problem. Not wanting to send them back mid ski season, I jerry rigged them to be functional. I am perfectly satisfied with the binding; I think there is a design flaw in the heel riser (at least on my 2019/2020 set). Also if you like a high riser, these may not be for you. The highest position is only medium in my opinion. Bottom line: with all the bindings out there now, I think you can do better.
Having the same issue with loose riser. Wanna share how you rigged it?
Here's what I did. I wrapped coarse thread around the axle that the riser rotates on. This increases the friction against the riser and the binding. This year I added a bit of Gold Label skin glue to the thread I added. This definitely helped adding friction to the system. Seems to be working fawlessly this season but I wouldn't buy this binding again. Good luck.
Comment on this review:


Do these come with leashes included?
Hello Anthony, the Marker Alpinist 8, 9, and 12 bindings do not come with leashes.
Answer this question:


A great binding overall. My heel risers are getting loose, however. Any suggestions on remedying this? Seems they're held by a rivet that can't easily be adjusted.
Hey Alex,

Thanks for the question! Shoot us an email to help@skimo.co and we'll see if we can remedy this!
Answer this question:


Are the brakes the same for Alpinist 9 and 12? Thanks.
Hi Steven, yes they are the same!
Answer this question:


Does the Alpinist have an attachment point/ cable for a leash? If not, where do you suggest?
Russell, There is not a good point. You can see a hole just below the toe lever pivot point. You can thread a wire through and crimp it to create a loop.
Answer this question:


I bought a pair of the Alpinist 12 Marker ski bindings because they're on a long track that allows a couple of pairs of boots to fit in them. My problem is that the spring that is on the alpinist 12 has a very high vertical release value. I understand that it tests out at about 11 on the vertical release scale. My DIN is supposed to be around 8 and I ski conservatively in the backcountry. I just read on your comments about that binding that the medium spring which is on the alpinist 9 test out at 9 or higher. I think I might need the lighter spring but I don't want to be blowing out of it if it only tests around 5 or 6. I definitely don't want to be skiing in the backcountry with the 11 DIN vertical release. I will probably want to talk to someone and get the lighter spring.
Hey Curt! Fortunately the Alpinist has a swappable U-spring that controls vertical release, so we could hopefully swap out your 12 spring for a 9. Give us a ring or reach out by email, help@skimo.co!
Answer this question:


This binding has pleasantly surprised me so far. The price to weight to function ratio is perhaps unmatched. I had the MTN bindings but the heel riser came loose and got quite floppy so I switched to these. So far they certainly ski better because the release mechanism is a ball and detent so as you ski there is ZERO side to side play at the heel. This is a big deal for me and translates to much more confidence in the binding. For shorter laps, I use the heel riser flipped over the pins and they function just like a race binding and for longer sections, I spin the heel 180 and have the option of flat or high risers. I don't miss having all three risers available at once very much. Honestly, people need to spend less time fussing with risers and just keep skinning. I don't think choosing the perfect riser has ever saved anyone time. I have about 10 days on these bindings and so far nothing but positive impressions, however, there is a LOT of plastic in these bindings and I am curious to see how this will hold up as I get more toward the 100-day mark.
Hi Curly, any long-term follow-up on these? Curious as I haven't heard much bad about them with failures, etc. Thanks!
Comment on this review:


I have been impressed with this binding. They have a nice, almost flat ramp angle. They seem over all damp.. No metal clacking during skinning and feel good skiing. Very detailed quality construction. Turning them is a bit of a pain but I find I just use flat or the high level and don't need to mess w/ it.
Reply to this comment:


What is the approximate RV of the "medium" and "hard" u-springs for the marker alpinist? I've heard everything from 7.5 to 8 to 9.... and everything from 10 to 10.5 to 12 for "hard"?
We haven't received our shipment of them yet, and I absolutely don't want to steer you wrong. Give us a shout when it's in stock! We'll have had a chance to look them over thoroughly and test them in our binding release testing device, then we can give a detailed answer.
Any more info on this front?
Hi Aaron and Emily, the medium seems to be testing at or above 9 while the hard spring tests more like 10-11.
Answer this question:


Earn store credit by writing reviews. Learn more.

Model: Alpinist 9
MPN: 7633S1