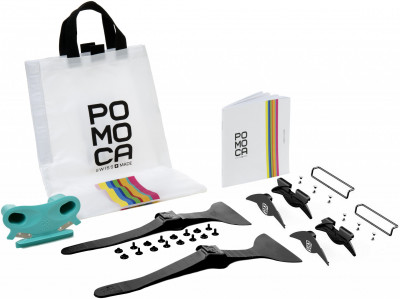 Pomoca Back Fix Easy Set
0 reviews
​The knees to your bees, the carrots to your peas, or the pajamas that your cat wears for some reason. The Pomoca Back Fix Easy is the complete top-to-bottom kit designed to get your climbing skins off the roll and onto the mountain. Included is a simple tip assembly that adjusts for a personalized fit and an adjustable length tail kit that you rivet on with the hammer you already have in your garage. Also snuck in the kits is Pomoca's cutter with a built-in offset that makes cutting skins as easy as cutting a pizza (maybe easier, depending on the pizza). Looking to build your own skins but don't want to deal with the hassle? Save yourself the trouble, except for the material, this has everything you need.
1 Pair of Click Lock tips.
1 Pair of Back Rivet tails.
1 Pomoca Cutter
1 Bag for Skins
100mm comes with 85mm Buckle
120mm comes with 95mm Buckle
140mm comes with 105mm Buckle
Update 2020/21: The kits include a more robust design for the tip attachment and a wider backing on the tail clip for easier adjustment.
Questions & Reviews
Can you tell me which kit I should get for my zero g 105 (188s)?
Thanks
Hi Tristan, the 120mm kit would work the best for your skis.
Answer this question:


I have armada tracers 172cm (133-108-125.5) what size kit should I get?
Hey Lanie,
You should go with the 120mm kit for that ski.
Answer this question:


I have BD Helio 88's at 158cm (119-88-110). Should I get the 100 or 120mm kit?
And how long to get the off the roll skin?
Thanks!
Kristi, the 100 will work great for you. I would recommend getting the same amount of skin as your ski, so in your case, I would get 158cm of skin material for each ski for a total of 316cm. You will not need that much but having a few extra centimeters to have a little room for error is nice.
Answer this question:


I don't see the tip loop in this kit, I still need the loops to customize my skins, right?
Hi Jimmy,

The Back Fix Easy set comes with everything you need to fix some plush to your skis!
Answer this question:


What is the length of the tail in this kit and the effective length from where the skin should end? Basically, roughly how much shorter should my skin be cut relative to the size of my ski?
Hey Andrew, the tail has about 15cm of adjustment range. I would say around 10 cm shorter than you ski will be plenty and will give you a little wiggle room.
Answer this question:


Earn store credit by writing reviews. Learn more.

Model: Back Fix Easy Set