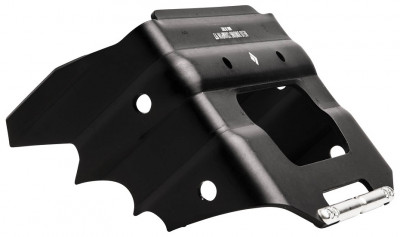 Black Diamond Helio Ski Crampons
3 reviews
$84.95
$69.95
In Stock & Ships Today
Purists may try to avoid using ski crampons and rely instead on skinning technique or boot-packing, but there are times when ski crampons are the most efficient travel option. Maybe you'd rather avoid wallowing through breakable crust. Maybe you don't want to slip and slide on glazed slopes with exposure below. Maybe your objective lies on the other side of the most slippery skin track in town with nary another route in sight. Whatever the case, ski crampons belong in every backcountry skier's pack. The Black Diamond Helio Ski Crampons are menacing and their bite is fierce, giving you peace of mind. They are perfect for devouring slippery vert and accessing hard-to-reach areas. They work with Black Diamond Helios and other bindings with Dynafit-style crampon receptors.
Stock Note: If the size you're looking for is out of stock, check out the ATK & Hagan crampons which are the same thing.
| | | | |
| --- | --- | --- | --- |
| Size | Weight(g) | Weight(oz) | Measured Width* |
| 86mm | 67g | 2.4 | 86mm |
| 97mm | 73g | 2.5 | 97mm |
| 108mm | 77g | 2.7 | 108mm |
| 120mm | 81g | 2.9 | 120mm |
* Please note that Black Diamond ski crampons are exactly the width specified so measure your ski where the crampon will sit and make sure to order a higher number.
Questions & Reviews
Do you know if these would fit a CAST Freetour binding. CAST bindings are Dynafit compatible, so I assume these would work?
Andre,

Yep, these will work!
Answer this question:


Will these work with the Hagan core 12 pro bindings?
Hi Andrew, absolutely! These work with all Hagan (and ATK) bindings that have crampon receptors.
Answer this question:


Are the Helio ski crampons compatible with the ATK bindings?
Hi Amir, they sure are! In fact, they are ATK crampons with the BD logo.
Answer this question:


Hi Team,

I think you have a typo in the weight for the 108g size. You state they are 87g each, but my measurements show 78g each. I can't imagine there's that much tolerance in manufacturing, unless the design has changed.

Cheers,
Scott
Thanks Scott! Just weighed our new stock and updated the numbers. We may have had the 120mm weight in there...
Reply to this comment:


My skis measure 96.5 mm just behind the dynafit toe piece, would you recommend I go with the Helio 97s or the Dynafit 100s?
Hey Steve, it's tough to say for certain without testing, as it can come down to nuances like sidewall shape, so I'd recommend the Dynafit 100mm!
Answer this question:


The 86s fit perfectly around a Nalgene bottle, if that makes a difference. They also nest inside each other, but with the spikes facing the same direction, and one rotated 90 degrees. The product photo shows two lateral holes, and the description explains these are so you can tie them onto your boot in some kind of emergency. If this is a big selling point for someone, it's worth noting that my 86s only had one hole, and regardless, that a slot to thread a ski strap through would be way more secure. I'd call it a non-feature, and not as described. As ski crampons, they're great!
Comment on this review:


I have 111 underfoot ski mounted with Moment Voyager 14 bindings. Is there another option other than the moment/atk/bd crampon for less "play" from the width of the 120mm crampon?
Hey Chris, unfortunately you would have to go with the 120mm width crampon to make them work.  
Dynafit Ski Crampons
are also compatible with the ATK/BD crampon slot but they will only come in the 110mm and 120mm width as well.
Answer this question:


This is a really nice rendition of the dynafit ski crampon. They are a bit lighter and stow easier compared to the dynafits crampons. They have a bit of flare to crampon points which enhances the traction a bit. I think they are worth the slight cost increase compared to the dynafits.
Comment on this review:


Would these work with a Salomon MTN binding mounted on a Fischer Hannibal 96? I measure 95mm where the toe binding is mounted.
Hey Tim, for that binding I would actually suggest using the
Plum Ski Crampons
in the 100mm width instead. The attachment style is much easier in general, and especially with the Salomon MTN binding, if you wanted to use the Black Diamond crampon you need an extra clip to keep it in place, whereas you do not need any extra hardware to use the Plum crampons.
Answer this question:


Is this compatible with Dynafit ST Rotation 12 Ski Bindings and Black Diamond Helio 105 skis? I have a Salomon S/Lab X-Alp Alpine Touring Ski Boot. I would get the 108mm size. Thanks.
Hey Alex, those should fit just fine! The listed widths are pretty accurate, so there's a small chance the 108mm may be slightly tight if you have a very long boot sole length.
Answer this question:


Will these fit the Marker Kingpin?
Hey Zach, thanks for reaching out! I just tested these with the
Kingpin M-Werks
, and I'd say it isn't ideal.
The Kingpin needs the shorter plate length of the
Marker Pintech ski crampons
to accommodate the lever that moves the heel piece, depending on the BSL it was mounted for.
Other sliding bar style crampons may work with Kingpin, but the tail end of the crampon plate would be resting on the front end of the heel piece. This could risk damaging the crampons, or at least will limit the depth that they are able to bite into the snow.
Hope this nerding out is useful!
Answer this question:


I have the 86mm model. I bought them for an 84mm ski width, but they also work just fine with another ski that has a stated 87mm waist. I've used them ATK/BD bindings, but I also test-fitted them in the more basic slightly bendable crampon clip that came with older Plum bindings and the Dynafit LTR/SSL. Fit is fine, slides in relatively smoothly, and comes out with the right amount of ease.
Compared to my Dynafit 90mm crampons, the attachment bar is very similar. The teeth look more aggressive, although too many variables to test them in the field to see if their grip is any better.
The little carry bag they come with is light enough to use in the field, although I've always just packed them around other gear.
Comment on this review:


Do these crampons work w Plum Guide bindings?
Hey Chris, you will be wanting the
Plum ski crampons
as those will fit the adapter system on your Guides!
Answer this question:


Are these compatible with the dynafit speed radical toe adapter?
Hey Eric, you got it! The BD ski crampons (manufactured by the Italian cognoscenti at ATK) pair well with any of the crampon adapters from Dynafit, including those on the Speed Radical.
Answer this question:


does the 86mm fit the Helio 88?
Answer this question:


Is this crampon compatible with the Dynafit ST Rotation 10 - 120mm binding?
Thanks,

MD
Answer this question:


Earn store credit by writing reviews. Learn more.