Plum Ski Crampons
1 review
No more sliding! Neither when skinning on icy sidehills nor when inserting crampons. Plum crampons feature a specially designed attachment mechanism that allows you to plop them in place, instead of sliding them on from the side. Hold the crampon vertically to attach/detach it from Plum bindings, and then let it fall into place. The rigid alloy frame with sharp teeth will take over from there, letting you scale otherwise too-slippery slopes. The attachment system keeps the crampon centered on your ski at all times. Mesh carrying case included.
| | | |
| --- | --- | --- |
| Width | Weight | Measured Width |
| 80mm | 99g | 81mm |
| 90mm | 105g | 91mm |
| 100mm | 112g | 101mm |
| 110mm | 118g | 111mm |
| 120mm | 124g | 121mm |
| 130mm | 141g | 131mm |

* Please note these crampons are only compatible with newer Plum Guide & Yak bindings, plus all Pika, WEPA, Oazo, Summit, and Race 150/170 bindings. For older Guide bindings, check that your receptor looks like the one highlighted by the red arrow in the photo above.
Update 2018/19: Now available in 130mm and 145mm widths for splitboarders using the Pekye or other Plum toes. Note these crampons also work with the Salomon MTN and Atomic Backland bindings.
Questions & Reviews
Hi guys, will the 110 crampons work on the Wailer 112RPs? Thanks
Hey Jack, unfortunately, the 110mm crampon won't be wide enough and you'll need to go up to the 120mm size.
Answer this question:


Do these binding work with 2021 Atomic backland pin bindings? Thanks?
Answer this question:


Just wondering if these plum crampons work with the plum universal crampon receptor? If so what size would you recommend for the alp tracks 100? Thanks a bunch!
Hey Shane, the plum ski crampons sure do work with the universal crampon receptor. In fact, they are the only crampons that work with that part! I would recommend the 100mm for your alp track 100s.
Answer this question:


Hi Teddy. See above... (I had to register to reply). Anyway, my 180cm Backland 100s are exactly 100mm edge to edge immediately behind the notch that the 6mm crampon pivot would drop into. The ski gets slightly narrower towards the heel obviously... but only around 0.50mm.

So... is the 100mm Plum crampon actually 100.5mm at its narrowest or is there a little more room? Based on these measurements what is your advice?
Kip, thanks for reaching out. I just measured the 100mm Plum at 101.5 at its narrowest. I also slipped it over a Backland 100 and there is room to spare. If you'd like a little more wiggle room the 110mm would also work just fine. Hope that helps.
Thanks Jeremy. OK... So now this sucker has been measured 3X. I'll trust that your measurement is the dispositive one!!

"wiggle room".... LOL. Isn't that what we don't want? Hyuck Hyuk
Answer this question:


I'll do that and try to get back to you today. So is the correct answer on the PLUM 100mm 100.5mm or 103mm? I'm guessing you are confirming it's 100.5?
Kip, thanks for the additional question. I answered your question above by accident. I measured a 100mm Plum at 101.5 at the narrowest but I'd stick with Julieana's 100.5 measurement to be safe.
Answer this question: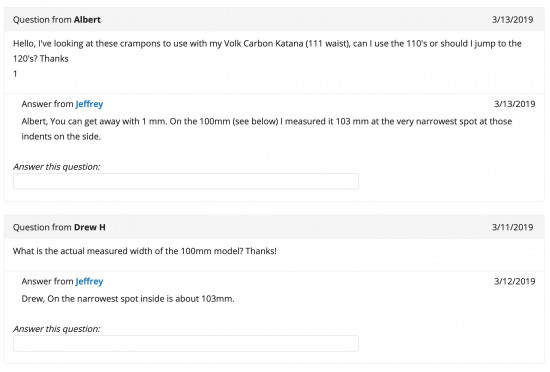 I have Atomic Backland w/brake on my 180cm/100mm under foot Backland skis.

Your website has a conflict. Jeffrey from SkiMo said the 100mm Plum was actually 103mm at narrowest point, and Julianna said it's exactly 100.5mm. I don't want to have only .5mm of clearance. Can I get the 100mm for my skis or do I need to go to the 110mm?
My apologies for the inconsistency! The Backland 100 has a waist width of 98-101mm depending on the length, and it also depends on what BSL the bindings were mounted for. Could you measure your ski width immediately behind the toe piece?

Bumping up to the 110mm is my best recommendation, but we'll try to get an idea of what could work!
Answer this question: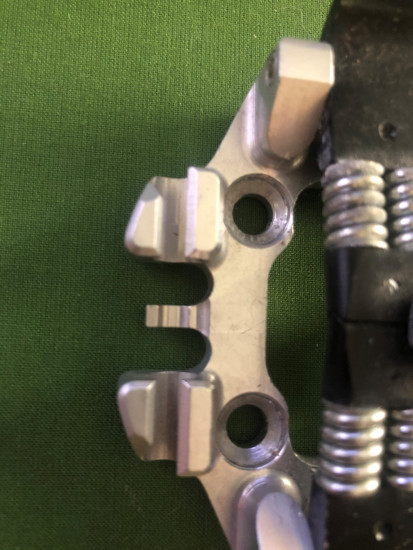 Hi skimo.com folks,

I have an older set of Plum Guides and am chasing crampons to fit 96mm waist skis, K2 Wayback 96's. Will your stocked crampons fit?- pic attached. Thanks, Jules.
Answer this question:


I have the movement alp track 100, with plum oaze 8 binding. i am pretty sure the 100 ski crampon will fit (yes, just barely), but i wanted to make sure before i bought them. Im prety sure i've read that the 100 is 100.5 mm wide, so should work. yes?
Hey Dug,

Thanks for the question! I would go for the 110mm version. The waist of the Movement Alp Tracks 100 is indeed 100 but where the toe is mounted will actually be a bit wider since it's further up the ski.
Answer this question:


I got the 110mm version for use on a 108 ski, and the fit was perfect. I'm enchanted with the install/remove method, in terms of security and elegance it's vastly superior to the Dynafit spring tab. If you have Salomon MTN bindings, get this crampon and forget about the tiny fiddly plastic clips. Well worth it, and same cost as any other crampons out there.
Comment on this review:


Hi, I'm trying to be sure to order the right size. I have a Black Crow Navis Freebird 102 mounted with an Atomic Backland Binding. Do I need to get the 110mm ski crampon or would the 100mm fit? Thanks!
Hey Michael, yes you're going to want to go with the 110mm. The internal measurement of the 100mm is exactly 100.5mm so it's not going to fit your Freebirds unfortunately.
Answer this question:


Does plum work well with salomon shift mnc 13 bindings?
Answer this question:


Hi there,

I have Black Crows Orb Freebird 91mm with Plum Guides. Do I need to get 100mm Plum ski crampons or will the 90mm work?? Many thanks in advance!

Takashi
Takashi,

Thanks for the question! I measured the crampons and they are 91mm at their skinniest point. I also put the 90mm crampons on a 91 waisted ski and they worked unless I got very far forward on the mounting plate. The 100mm crampon is the safe bet, but unless you have really big boots with a long boot sole length I think you can go with the 90mm crampon!
Thank you very much for looking into this. Good to know the crampons are 91 - I'll measure mine but I'll probably get the 100s as you suggest. I do have a long boot sole length and also can use them on future skis that will probably be wider...
Answer this question:


Hello! If I am using this with two different pairs of skis (both mounted with Salomon MTN bindings) - one with waist width of 106 and one at 118, will the 120 work for both, or will there be a fitment issue with either/both? Thanks in advance, and I hope you all are staying healthy and safe!
Hey Jonathan! You will likely find that the 120mm ski crampon wouldn't be a perfect fit with the 106mm skis, especially when skinning on side-hills. Although the Plum crampon adapter means that the crampon won't slide side-to-side under pressure, the leverage on the crampon adapter will be less than ideal and won't feel super secure. I would recommend getting a set of 110mm Plum crampons and making your 106s your dedicated hard-snow/mountaineering skis, while reserving those 118s (are you on QSTs?) for getting totally deep.
Thanks, TSB! That's great advice - I'll pull the trigger on the 110. The 118s I'm on are the 2019 Moment Wildcat 190s, which are amazing on deep days.
Answer this question:


I'm looking at purchasing these for use with my Salomon MTN bindings on 171 cm Voile Ultra Vectors. I've never used ski crampons so have been reading about them and read there are problems with less grip when skinning on your heel risers. Some advocate attaching home made blocks and some come with blocks or even risers on the crampons. Any advice or thoughts on this? Plum seems to be the crampon of choice for my binding but maybe does not address the riser issue? If it matters, I'm on a Scarpa Spirit 3 boot (hoping to upgrade soon!)
Mike, The Plum Crampons are a nice choice for your binding. We sell just about every brand of ski crampon and none come with any type of riser blocks. And surprisingly there isn't anyone making one specifically for crampons. The higher the riser you use, the less the boot will be able to push crampon teeth below the ski. Being these help more when side-hilling, using a flat or low riser should be OK. You see the two holes, through those you can screw just about anything that will act a spacer.
Answer this question:


I have the Atomic Backland Tour (18/19) Bindings, now called the Pure or brakeless, on BD Helio95 skis with 95mm waist. Safe to assume the 100mm crampons are the way to go?
Ryan, you are correct the 100 mm crampon would fit that ski just fine.
Answer this question:


will 80mm crampons have enough clearance for voile objectives? (80 underfoot!)
Hey Emily, yes, there's *just* enough clearance to make it work on a 164cm Objective!
Answer this question:


Would the 110mm be usable for a 96mm underfoot ski? I have a pair of 109mm and a pair of 96mm skis, and would love to be able to buy only one pair of crampons for both setups.
Hey Pete, that should work just fine. The one situation where you might see a performance disadvantage would be on steep and/or firm sidehills where the crampon wings are spread further from the ski edges, giving you less traction directly under the foot. 7mm on each side of the ski isn't egregious, though.
Answer this question:


Will these work with the Atomic Shift bindings? If yes, would I order 120's to go with 120 width bindings/brakes?
Jon. Not even close. Salomon/Atomic make a crampon for the Shift and no other will work. Unfortunately Skimo and most places do not have in stock now. Here is the page
Shift crampon
Answer this question:


Earn store credit by writing reviews. Learn more.