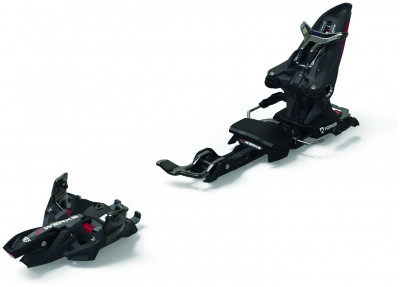 Marker Kingpin M-Werks 12 Binding
1 review
Long lines, crowded parking lots, boring terrain, tracked out snow, and expensive lift tickets are common reasons to avoid ski resorts. Despite these drawbacks, the ease of chairlift skiing often entices skiers to partake of the lift-serviced goods from time to time. When the inevitable boredom sets in, locals and determined adventurers set out to find the small pockets of wild side-country that reside just outside the boundary ropes. The reworked Marker Kingpin M-Werks 12 makes accessing these stashes easier than ever by linking the touring capabilities of a tech toe to the downhill reliability of an alpine heel. This updated Kingpin had a whole bunch of carbon slapped on both the toe and heel, and was given ergonomic ski/walk levers and ergonomic climbing aids that better match your natural stride. For years, Kingpin bindings have been opening up the sidecountry to resort skiers. Now, that further accessibility is available in an even lighter and more user-friendly package with the Marker Kingpin M-Werks 12.
Carbon reinforcement in the toe and heel cut weight, allowing you to tour farther and easier than with the heavier Kingpin models.
Alpine-style heel clamp offers noticeably higher vertical elasticity as compared to pin-style heels, great for handling bumps.
Marker widened the base of this binding, making for more power transfer that improves downhill performance.
The ski/walk lever now has a neat sideways lever arm, making transitioning easier.
Heel risers at 0, 7, and 13 degrees make uphill travel more comfortable.
ISO 9523 (AT) boot compatible.
| | |
| --- | --- |
| Brake Width | Ski Width |
| 100mm | 75-100mm |
| 125mm | 100-125mm |
Specifications
Weight
convert to ounces
666g [100mm]
Weight (pair)
1332g [100mm]
Boot Compatibility
ISO 9523 with tech toes
Brakes
100mm, 125mm
BSL Adjustment
28mm
Riser Heights
2 + flat
Vertical Release
5-12
Lateral Release
5-12
Crampon Ready
Yes
Specs Verified
Yes
Design
Materials
Lots of carbon reinforced thermoplastic, steel pins
Skimo Co Says
Usage
Resort skiing, side county access, snowmobile accessed skiing, freeride touring
Notes
Functions much like the other Kingpin models, but weighs less and has some ergonomic upgrades.
Bottom Line
Efficient walkability of a pin toe with the dampening feel of an alpine heel, perfect for mixed resort / backcountry use.
Compare to other Full-featured Bindings
Questions & Reviews
Will the 100mm brake fit a 104 waist ski?
Thanks
Hey Colin, the 100mm brake should work just fine with that 104mm underfoot ski. You might just have to bend the brakes just slightly in order to accommodate them.
Answer this question:


If I were to get the M-Werks with the 125mm brakes, I assume I would need to bend the brakes to fit 138mm underfoot skis? Is this 13-15mm adjustment (depending on side clearance) a big ask for these bindings i.e. would it affect the bindings' performance? Thanks very much!
Hey Jack, that would be a big stretch for those brakes. I think it could be done, but it would be close. There will not be any changes in performance in the binding when the brakes are stretched. Hope this helps, and good luck.
Answer this question:


Hey, I see that Teddy Young answered the question that the hole pattern for the Kingpin M-Werks 12 is the same as that for the original Kingpin. Now, are the ski brakes swapable between the two as well?

Also, in a similar vein, obviously, the toe pieces for both the Vipec and the Tecton are the same. However, what about the hole pattern for the heel piece? I need to do a swap on these, as well, and I will do it if it involves no new drilling.

Thanks,

George Smith
Stowe, VT
Hello George, Again yes, the brakes are the same too. Marker Pintec.
For the second part of your questions, you can see all mounting patterns here -
hole patterns
. They are the same.
Answer this question:


The Marker Kingpin is a good compromise for those looking for a bit more safety (more consistent release) from their backcountry setup or for true 50/50 setups where half of the time will be spent in a resort and half spent touring. The new ski/walk mode switch is an improvement over the original, but still not as easy to use in transition as common touring-specific heel pieces like those from Dynafit. The risers put you at good angles for a variety of hill climbing.

For those building a dedicated touring setup who would rank release consistency relatively low compared with weight and usability, a binding like the Dynafit Radical ST or Speed Radical may be a better option and will save you some money.

For those who are building a setup where 80% or more time will be spent in the resort, you may prefer binding with a DIN setting on the toe like the Atomic/Salomon Shift. Again, these are cheaper than the Kingpin.
Comment on this review:


Mounting pattern comparable with the old Kingpins? I'd upgrade if it was a simple swap.
Hey Scott, they're the same hole pattern so swap away!
Answer this question:


Earn store credit by writing reviews. Learn more.

Model: Kingpin M-Werks 12