Dynafit Toe Levers & Locks
1 review
From $3.95
In Stock & Ships Today
Run into an obstacle and snap off your toe lever? This is the place to find various replacement toe levers (a.k.a. Excenters) for Dynafit bindings. Also found here are toe lever locks for the Dynafit Speed and Speedfit bindings.
LTR 2.0 / Superlite 2.0 Toe Lever - The black plastic toe lever and associated pin and wire spring. Works with both autolocking toes and manual lockers.
Speed Radical Toe Lever - The white plastic toe lever, spring, and leash loop. Can be used for ST/FT and Speed Turn as well.
Radical ST/FT Toe Lever - The black plastic toe lever and pin to hold it, also known as an Excenter, for the Radical 1.0 bindings.
Radical 2.0 Toe Lever - For both the Radical ST 2.0 and FT 2.0.
Speed Toe Locker - Plastic locking endpiece for Speed binding toe levers.
Superlite 2.0 Lock Stiffeners - Little black shims that can be mounted under the Superlite 2.0 toe striker-area to increase the locking tension of the levers.
Questions & Reviews
Hello

I have the older TLT speed bindings. Do you have suitable toe levers?
Answer this question:


Which toe level (Exeter?) would work on the st rotation 12?
Hi David, look for the Radical 2.0 lever, it's the same!
Answer this question:


Which dynafit toe lever do I need for the vertical FT Bindings. https://skimo.co/dynafit-vertical-ft-bindings

I see the speed lever works. Will the Radical 2.0 Toe Lever also work? Which one in your opinion is stronger, less prone to failure?
https://skimo.co/dynafit-vertical-ft-bindings
Hi Daniel,

The Speed Radical Toe lever will be the only compatible toe lever currently available. The Radical 2.0 Toe Lever will not work with your Vertical FT Binding. If you have any further questions, reach out to us at help@skimo.co
Answer this question:


What toe piece lever fits for a 2012/13 TLT Speed Classic? Thanks
Hi James,

There is no longer a direct replacement for that part. However. Either the Speed Radical, or Radical ST/FT toe lever should work.
Answer this question:


Will you have any of the Speed toe lockers coming back into stock?
Hey Kyle, we should have more of those parts by the end of next week. Send us an email at "help@skimo.co" and we can set you up with an inventory notification!
Answer this question:


Is it possible to convert an auto-locking LTR toepiece into a non-auto-locking toe with the superlite toe/spring kit?
Hi Jeffrey, if you're talking about the LTR 2.0, then yes! If you have the old red LTR 1.0 with the tripod heel, then you're out of luck.
Answer this question: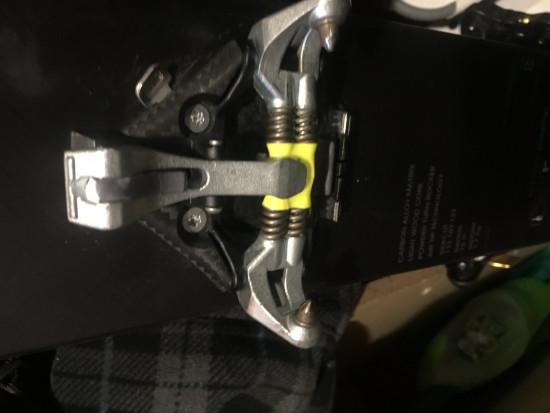 HI Just wondering if any of the toe levers here could fit on the speed fit bindings one of them broke off -
Unfortunately, we haven't been able to get those levers by themselves, but we'll file a warranty claim for you if you send us an email with proof of purchase to help@skimo.co!
Answer this question:


Hi: Will the superlite 2.0 toe lever piece fit the first gen superlite (the red ones)? I broke the black plastic lock lever, need to replace.

Thanks!
Ted, they may not be 100% the same, but the 2.0 lever will work for you.
Answer this question:


Will the Speed Radical toe lever work on a Vertical ST toe piece?
Hi Gavin, yes, it sure will!
Answer this question: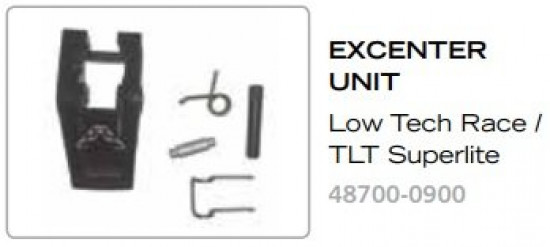 Hi dears,
does anybody knows how to replace Low Tech excenter unit please ?

Thank you
Hi Kuba, you need to pound out the pin, attached either spring (depending on whether you want auto locking), and try to get the pin back in without the parts going everywhere. Good luck!
Hi Jakub, thanks for the mini-tutorial! Glad you got your binding restored to working order.
Answer this question: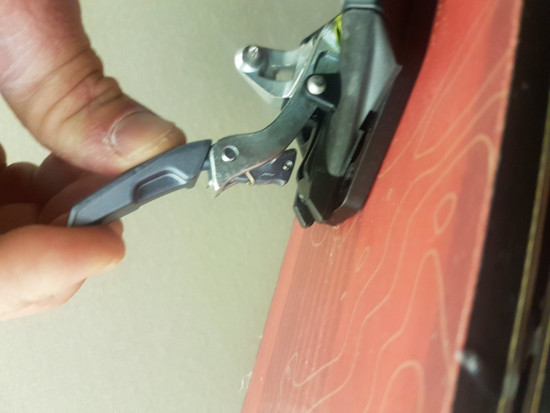 Hi I'm looking for the little black plastic footer that holds the toe lever up on the tlt speedfit binding. Picture of the binding with the missing part is attached. The pin that it is supposed to clip onto is still in place.

Thanks!

Tyler
Hey Tyler! Dang, never seen that before! Nope, I don't have any and I think that's gonna be a pretty tough part to source so you're probably looking at a warranty case. Send me an email if you'd like to potentially move forward with that!
Not an answer but I found this image when I was doing some googling - I have just got a brand new set of Speedfits and this happened to mine on the first go!

I am getting the shop to replace it as I cannot see a way to repair it with the press in bolt.

Anyway just wanted to say this is not the only one this has happened too....
Hi Charles (and Tyler), this was an issue with the 2017/18 SpeedFit binding if you lock the toe lever without a boot in it. Dynafit addressed it with a new shape to the plastic footer for 2018/19.
Had the same thing happen, and now skimo carries the replacement part, however it's not obvious to me how to remove the pin that's currently in there to install the new one. This pin usually binds the plastic piece to the metal, and needs to be removed to install the new plastic piece. Anybody successfully swapped out the old broken part for the new part?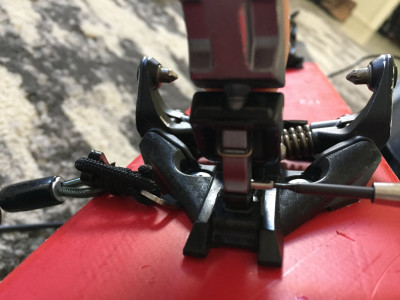 Regarding removal of the pin, I found a jewelry/glasses repair screwdriver can be helpful. Thread the new sleeve over the smallest screwdriver head, stack it onto the washer inside the binding nose, and hammar the butt of the screwdriver until the old washer is protruding enough to grasp with a pair of needle nose pliers. Try to keep the interior space inside the nose binding free from the new sleeve so that you can slide in the plastic piece after removing the old sleeve and finish pounding in the new sleeve using the screwdriver as a guide.
sorry, I'm using multiple terms for the same thing. Washer = pin = sleeve. I have no idea what it's actually called.
Hey, skimo folks, i have the same exact issue here with my 2017/2018 speedfit binding. Can i get some help with ordering a replacement part for the toe lever from Dynafit?
Hi Eric, the little plastic locker pieces are available in the droplist above as the Speed Toe Lockers.
Answer this question:


Hi I am looking for plastic toe lever for vertical STs. Dynafit has been most unhelpful. Do you guys have something that'd do the trick?
Hi Sven, those are out of production but Dynafit recommends using the Radical levers. They aren't an exact fit but seem to do the trick.
Answer this question:


Hi,
I'm looking for the plastic toe lever which blocks ascent/descent position. The binding is a TLT Speed Turn. Is it possible?
Hi Carlos, yes. Select the Speed Radical Toe lever in the drop list, which is the same piece used on the Speed Turn.
Answer this question:


Hi,
Can you get replacement Dynafit Vertical toe levers or does the whole toe need to be replaced?
Thanks
Hi Jeff, those are out of production and no longer available. Dynafit recommends using either Radical toe lever instead, which mostly fits-ish.
Answer this question:


I bought replacement Speed Radical toe levers to add leashes to my Radical ST bindings. Perfectly good part, though in retrospect the black toe lever could totally be tweaked to add cables for leash attachment (it already has the slots in place). If you're handy with wire and can swage your own cable (or feel comfortable using 4ish mm cord for a leash), you can add a leash without this part.

Either way, you will need a punch (preferably blunt) and a hammer to knock the pin out. The knurled end provides a friction fit with the toe lever and needs a little force to tap it out, left to right as viewed from above with the toe facing forward. Tap the pin out partially to add the cable, or fully to replace the lever with the white one.
Comment on this review:


Earn store credit by writing reviews. Learn more.

» Browse other
Dynafit Binding Parts