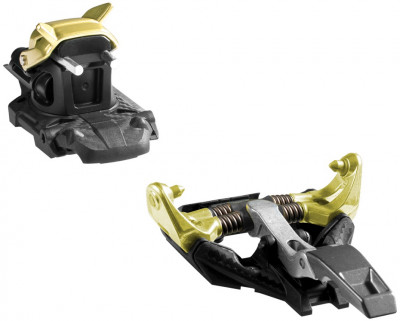 Dynafit Speed 10 Binding
2 reviews
Cut from the same lean cloth as the Speed binding, the TLT Speed 10 also offers hassle-free performance in a lightweight package. This version is built with slightly lower release values, but otherwise is the same binding at a lower price. The Speed 10 is equipped with BSL adjustment, lateral release adjustment, and multiple risers. The heel piece spins 180° to access the nearly-flat mode, then one or both risers can be flipped down to adapt to the skin track. An optional brake is available with a variety of sizes to suit everyone's fancy. The Dynafit Speed 10 pairs nicely with your choice of touring ski and cold-smoke.
Ice-Breaker pins help clear debris from you boot fittings.
+/-5mm adjustment in the heel track for different boots.
Two riser-heights and a nearly-flat mode to choose from.
Adjustable 5-10 lateral release and fixed vertical release.
Optional 75mm, 90mm, and 105mm brake sizes, sold separately.
Bayonet lock means it's more easily-serviced than others.
Update 2018/19: The binding now comes with an aluminum toe piece (instead of steel) and new anodizing, offering a very noticeable 55g of weight savings per side.
Update 2019/20: The SpeedFit binding was renamed the Speed 10 to more clearly delineate it from the Speed 12.
Specifications
Weight
convert to ounces
305g [2018/19+]
360g [2017/18]
Weight (pair)
610g [2018/19+]
720g [2017/18]
Boot Compatibility
Tech
Brakes
Optional
BSL Adjustment
10mm
Riser Heights
2 + nearly-flat
Vertical Release
Fixed
Lateral Release
5-10
Crampon Ready
Yes
Specs Verified
Yes
Design
Materials
Stainless steel, chromoly, aluminum
Skimo Co Says
Usage
Touring, fitness skinning
Notes
Brakes are easily installed and removed
Bottom Line
Reliable binding at a good price
Compare to other Lean Bindings
Questions & Reviews
I have skied about 10 solid days on these so far including some big days in Alaska in the spring. The binding is very light considering it has multiple riser heights, and I haven't had any issue with the toe piece releasing on kick turns. I got the test version in order to have more adjustability for boot sizes and have skied in them in a superlight skimo boot and a Scarpa Maestrale, good experiences all around.
Comment on this review:


To lock the toe the binding requires a small plastic stopper that is part of the lever, I recently lost this very small plastic piece and now my binding will not lock in place. Do you sell this small replacement part? Thanks Chris
Answer this question:


Hi, when I use the highest heel-riser it turns off by itself just after a few steps, again and again. I guess it is because turning it on and especially off goes with too much ease...? Does anyone have the same experience? Is there anything I can do about it (tighten any screw etc)?
Thanks for reaching out! There isn't a screw to adjust, but email us a few photos of the left and right sides of the heel piece and we'll see what we can figure out! The address is help@skimo.co.
Answer this question:


On Dynafit's website they have basically this binding but with more adjustability for different BSLs called the TLT Speedfit 10 Test. https://www.dynafit.com/en-us/tlt-speedfit-10-test-08-0000049440

Do you carry the test model with the larger adjustment plate?
Hi Galen, we can get that version for you if you'd like. Send an email to help@skimo.co
Answer this question:


Hi skimo,
can you tell me how to remove the heel piece of the speedfit binding (with brake).
Thanks much

Fred
never mind, I figured it out.

fred
Answer this question: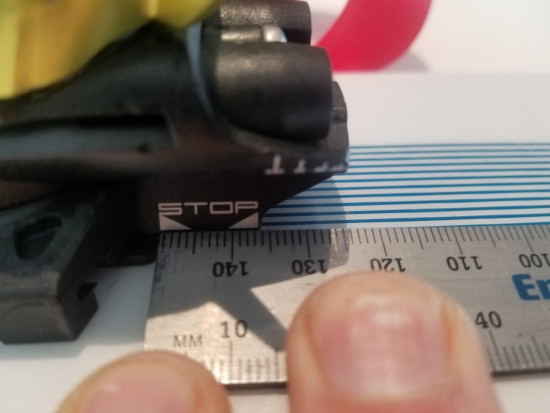 I'm adjusting a speedfit 10 binding for a new boot. Specifications say 10mm bsl adjustment but the ends of the stop marks indicate more like 13mm. Can I safely adjust the center of the "V" to the end of the stop mark? If so I can get required 5.5mm spacing and avoid a remount.
Thanks
Hey David,

Great question! You should be all good to safely adjust to the center of the "V". Enjoy!
Hi David, for the record, we list 10mm as the range limit because it's nearly impossible to try and mount this for BSLs that are 13mm apart. But once it's mounted, yes there is 13mm of range.
Answer this question:


I have two questions for you:
1. Is it wise to put a Dynafit Speedfit berth on 108 mm wide skis and 1800 gram caves?
2. Can it be attached to this berth Dynafit Guide Leash?

Thanks
Hello Todor, thanks for reaching out!
1. Yes, this binding should be just fine to use on a wider ski!
2. Yes, this binding has leash rings included that can be mounted under the toes.
Answer this question:


Will this model binding fit a 2013-14 Seven Summits ski with pre-drilled 30x39mm hole pattern for the toe piece? If not, what other bindings do you have in stock to fit this hole pattern?
Thanks for your question, Stuart. The toe piece does have a 30x39mm hole pattern. For more information on hole pattern recognition check out this
article
. Happy skiing!
Answer this question: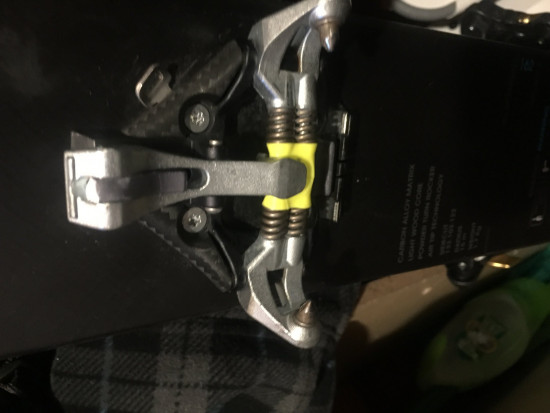 Hi hi :) Do you know how to tell what year a pair of speedfit bindings was made? I'm trying to figure out if mine are still under warranty - the toe lever broke off yesterday :(
Hi chloe, check your receipt! If purchased prior to this season, anything within two years of purchase would be covered. Starting this season, Dynafit is offering a "lifetime" warranty (10 years).
Answer this question:


How easy are the heel risers to operate both up and down when climbing? As easy as the flip system, e.g. on the verticals?
Hey Conrad, operating the heel risers is about the same as operating the smaller(low) riser on the Radical's flip system!
Answer this question:


Hi JBO,

just received the speedfits and brakes, and they look like they will work great with a new pair of skis for next season. However, before I start mounting in the Fall, I wanted to get clarification on two thing:

1) do the bindings accommodate standard dynafit crampons?

2) I understand that, while the heel lateral release runs from 6-10, the heel vertical release is fixed. I've read that it is fixed at 8, which seems reasonable. Is that your understanding? (My bindings are typically set between 7 and 8).

Thanks much for your great service.

Fred
Hey Frederick! Glad they look good! Yes, they will accept standard Dynafit crampons. You are correct, lateral release is adjustable from 5-10 but the vertical release is fixed. There are a handful of factors, most notably boot sole length, that will affect your vertical release. We don't publicly display our release test data but if you are in the 7-8ish realm then you are likely a reasonable match with this binding. Feel free to send me an email if you'd like to discuss further, or even better, visit our
binding finder
.
Answer this question:


I assume these bindings don't come with leashes? Do you have a lightweight leash that you'd recommend? Thanks.
Answer this question:


Do the SpeedFit toes use the same mounting pattern as the Speed Radicals?
Hi Coby, yes the Speed and SpeedFit use the 30x39 Radical toe pattern.
Answer this question:


I have this binding on a Helio 105 with Maestrales. When touring the top of the maestrales will hit the toe lock lever and cause the binding to release. This is a very frustrating issue as every kick turn causes a release. Took them to the local shop and they said there was nothing they could do. I would recommend making sure your boot has a short enough toe welt to function properly before buying.
FYI I am using the older 2016 blue buckle Maestrales.
Hi Erik, we haven't seen this problem. What size boot do you have?
Comment on this review:


Do you know the heel gap that is spec'd for this binding with boot locked down?
Thanks.
cc
Hi,
Thanks for Verifying!!
cc
It's nearly impossible to spin the heel piece when used with a brake.. any solution to this ?
Thnx
Hi Chris, you can file down the little bumps it needs to surmount.
Answer this question:


Wondering if anyone knows about installation of brakes after these bindings have been mounted?

Thanks!
The heel piece has to come off of the baseplate (it's sitting on a threaded baseplate) and the plastic nubbin piece that's in the way of installing the brakes pops off and the brakes take its place. Then you have to thread the heel housing and brake back onto the baseplate and you're all good to go!
Just to clarify- do you back the heel piece all the way off by the adjustment screw and it's removed that way ?
Hi Chris, yes and you may need to gently pry up the plastic piece in front of the housing to allow it to slide off the track.
Answer this question:


Hello! Is the weight 310gr, as in the text, or 348gr, as in the specs?
Hi Sigurd, thanks for pointing out the discrepancy. The Specs have our verified weight of 348g, a bit over the catalog weight.
Answer this question:


Earn store credit by writing reviews. Learn more.

Model: TLT Speed 10
UPC: 4046402078595