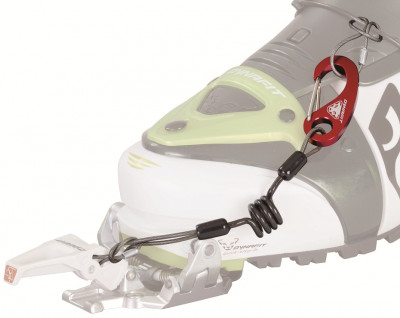 Dynafit Guide Leashes
4 reviews
$34.95
In Stock & Ships Today
Leashing yourself to your skis in the backcountry has benefits and drawbacks. If you are prone to yard sales and subsequent difficulty finding your skis, it can be a good idea to tie yourself in. If you are prone to getting caught in avalanches and swimming for your life, the last thing you need is to be anchored to anything that could pull you down. However if you end up resort skiing from time to time, the benefits are clearer: they are typically required by ski patrol who are keen to avoid untargeted missiles on their watch (targeted ones are usually banned at a higher jurisdiction).
The Dynafit Guide Leash is especially designed for the Speed Radical and Speed Turn bindings, which both happen to come with a set. If you need a replacement or want to fit another binding with leashes, give these a look. They have a detachable clip built into the line that lets you clip in and out easily. Weight is 18 grams (0.4 ounces) each. Sold in pairs.
Questions & Reviews
Will these fit Dynafit Blacklight bindings and boots? They seem to have really small leash attachments, and I see these are designed for Speed Turn and Speed Radical. If these won't fit Blacklight, do you have any recommendation on a leash that will fit Blacklight bindings and boots? Thanks.
Hey Ryan, the
Plum leashes
would be a good option! They are longer and should reach the upper buckle on the Blacklight.
Answer this question:


Hi - Is there a leash for Dynafit Rotation 12 bindings?
Craig,

The Rotation has brakes which generally negates the need for leashes. That said, there is nothing stopping you from using leashes with any binding if you can find or make an attachment point (e.g. drill a hole in the toe lever).

Jason
Answer this question:


Will these leashed work with Voile telemark bindings?
Lori, Sure they will. The Voiles (mine at least) have a hole you can loop through.
Answer this question: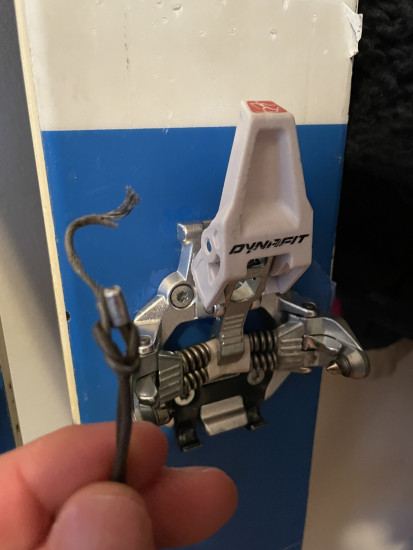 I have been using the Dynafit speed radicals with leashes since 2018 and have put them through the trenches. Just today the leash finally gave out. I just purchased a pair of these leashes to replace. Do you have a video for how to replace? Do I need to remove the toe piece to do so? It doesn't appear that anything on the toe piece broke, just the leash cable itself. Thanks!
Hi Eric, it looks like you broke the little attachment loop that is part of the binding, and not the leash itself. Those are actually sold as part of the toe lever replacement kits, found
here
.
Answer this question:


Much more effective than brakes which are cumbersome and add too much weight to be efficient on the uphill. Paired with the Tecnica Zero G Tour Pro, these leashes are light and can be attached to numerous contact points; I attached to the lowest buckle loop.
Comment on this review:


Where on the boot would I attach these in the case of the TLT8 Carbonio? They don't seem to have a D-ring or really, any good points for looping a cable.
Hi Jesse,
The TLT 8 is a harder one to find a spot for sure. I would suggest either attaching a key ring or a small loop of cord to the lower buckle cable, as long as it is thin enough you should be fine. Unfortunately other than drilling and riveting a hook attachment that is about all there is to get a hold of on that boot.
Best of luck,
Tim
Answer this question:


Hi there - how do these tie in to the bindings? And will they work with the marker kingpins? There's a very small hole (~3/8 of an inch) on the toe piece of the kingpins to do a girth hitch. But I can't tell from the photos how these ones connect to the binding and how thick the wire is. Thanks!
Hey Ashkan, yes, they just connect with a girth hitch through the cable loop on the binding. The cable is going to be too thick for the Marker Kingpins, you'll want a leash like the
Plum Binding Leashes
with a thinner attachment. Even with that one it'll still take some work to get it through the hole.
Answer this question:


Hi There,
Are these considered 'break away' leashes, say in the event of an avalanche? Or does a zip tie system or something need to be used with them?

Thank you!
Hey Molly, they are not considered 'breakaway' leashes, and if that is a concern I would recommend using chainring or zip ties as you suggested.
Molly, we also have Maruelli leash safe loops that are designed to break away in case of an avalanche. Connect these somewhere along your leash chain and they will break when the right force is applied. Here is the link to them. https://skimo.co/maruelli-binding-parts
Answer this question:


Can these be used on 22 Designs Outlaw X for a less bulky leash replacement?
Grant, this would work great with 22 Designs Outlaw X binding!
Answer this question:


Does this price include a pair of leashes or just a single leash?
Hi Brian, the price is for a pair!
Answer this question:


I purchased the Speed Radical bindings which came with these leashes, but after a couple tours replaced them with
B&D leashes
which I wrap around the cuff of the boot rather than attaching to the closure cable or an eyelet at the toe. The reason that I went for the replacement leashes was the very short length of the Dynafit leash. When you crash, or even when putting skis on in tricky backcountry situations I find the B&D (longer) leashes just work better for me and feel more safe (i.e. skis stay further away from you in a bad crash).
If you like the shorter leash, these Dynafit leashes are excellent quality. The construction is first-rate.
Finally, as others have pointed out, an avalanche-breakable link seems natural to be included in these leashes (like on the B&D), and their absence is notable.
Comment on this review:


Does the leashes come with the wire, that is mounted on the binding - the one that the leash is attached to? (I´ve broken one of mine on my Speed Radicals)
Hi Jesper, that wire loop doesn't come with the leashes but can be found in the Speed Rad replacement
toe lever
kit.
Answer this question:


could I use these on the Plum guides??
Hi svcci, yeah that is no problem.
Answer this question:


I've used these ever since I mounted my Speed Rads. They work fine and are not cumbersome or too long.

I use medium strength zip-ties as the "connection" on my boots. The rational is that they would break away under heavy load (avalanche) but stay put under normal circumstances (typical wipeout on area).

Until something better comes along or i prove myself wrong i'm sticking with this system.
Maybe I'm wrong, but I thought the black bulbs that dynafit uses to fasten the wire loop back onto itself is engineered to give way under high stress (avalanche), but not break under normal crash conditions. This way you're not going through a bunch of zipties during the season (or even a single tour).
That would be the first time I've heard that theory ... definitely possible but I'd guess the black bulb is just a plastic / rubber cover over the metal swag and unlikely to break except under extreme stress. I use multiple zip-ties in case a single one breaks. It's not perfect but until i hear otherwise i'm treating it as if it is not engineered to break.
Dynafit doesn't list a breaking strength for the leashes. You can use the Maruelli
safe loops
for a pre-determined breaker.
Comment on this review:


Can these work with the Speed Superlite binding? Looks like they could be attached but not sure.

Hi Daniel. Yes you can use them on the Superlites. Just attach to one of the gaps in the frame.
Answer this question:


Decent leashes, and one of the only commercially available in the states. If you really want your skis to stay on, these work great as stock, otherwise consider a release piece of twine of tab in between the small clip and the boot so your skis do leave when they're likely to do major damage.
Comment on this review:


Earn store credit by writing reviews. Learn more.

MPN: 48308
UPC: 4046402046969