Atomic Backland 95 Ski
2 reviews
Rare is the time we sacrifice peak-bagging prowess for pure power on the descent, but luckily with the Backland 95, you don't have to. Borrowing geometry cues from Atomic's larger powder skis and core construction secrets from its lighter-weight brethren, the Backland 95 is a big mountain ski put on a substantial diet. Or maybe a mountaineering ski that was put on a fattening diet? We're not certain. What is certain though is the Backland 95 brings substantial influence from both free-ride touring and ski mountaineering to create a ski that is capable of it all. A free-rider's spring ski, a mountaineer's powder ski, maybe your only ski. At any rate, the lightweight Poplar and Caruba core keeps things light and powerful while a full-length sidewall increases durability and edge-hold. The tip is spooned on the sides to make turning a breeze. The Backland 95 is Atomics' contender for the quiver-of-one.
AT Tip 2.0 is shaped to reduce hooky tips in challenging snow, allowing you to ski the way you want to no matter the conditions.
HRZN Tech is a lateral tip rocker (think of a spoon) that increases effective surface area in the tip for increased flotation, decreased deflection, and easy turn-initiation.
Carbon Backbone increases power transfer, dampens vibrations, and keeps the ski light.
Full sidewall increases edge-grip in steep, firm snow while reducing chatter and vibrations at high speed.
Ultra-Light Woodcore is the Poplar and Caruba backbone in the Backland 95.
Update 2021/22: Atomic has updated the topsheet to keep it fresh.
Specifications
Lengths (cm)
169, 177, 185
Weight
convert to ounces
1255g [169]
1350g [177]
1455g [185]
Weight (pair)
2510g [169]
2700g [177]
2910g [185]
Dimensions
125-95-113.5 [169]
126.5-95-115 [177]
128-95-116.5 [185]
Turn Radius
17m [169]
18m [177]
19m [185]
Skin Fix
Tip notch, flat tail
Specs Verified
Yes
Design
Profile
Rocker tip 15%, camber 85%
Shape
AT Tip 2.0, tapered tail
Construction
HRZN Tech, Carbon Backbone
Core
Poplar and Caruba wood core
Skimo Co Says
Usage
Powder hunting, quiver of one
Notes
Tip is spooned laterally to ease turn-initiation
Bottom Line
Easy to ski, all-around confidence inspiring
Compare to other High-fat Skis
Questions & Reviews
Hi
I'm thinking about Backland 95 or Backland 85 UL
Which one will be more versality?
Hey Kuba, I really think it depends on what quiver slot you are trying to fill and what you are used to skiing, and where! Both the Backland 85UL and 95 have the same rocker profile, but the 95 will have a slightly beefier and heavier construction than the 85UL. So in essence, the added width and heavier construction will make the Backland 95 ski better in a mixed bag of snow conditions while still being very light on the uphill. If you are looking for one ski to do it all, I think the Backand 95 would be an excellent choice.
Answer this question:


Considering moving my Dynafit touring bindings to Backland 95s/100s or maybe Ripstick 96s, as my early Dynastar Cham 97 HM we're never really stiff enough for my hard-charging 6'1" 240lbs if I'm on firm or icy piste.
I know you love them on touring descents, but do you think Backlands &/or Ripsticks are stiff enough to support a full-sized mammal on the inevitable inbounders?
Hi Tom, these skis offer nice energy and dampness while still being easy to ski. They could be a good candidate for the occasional inbounds day. If you wanted to dial up the blasting power to the next level, take a look at the
Scott Superguide 95!
Answer this question:


Thanks Ian! Is there a woman's model? Or an alternative ski you'd suggest?
Hey Sean, there is a Backland Women's 98, whose 156cm could work nicely for your daughter! Another favorite of mine in this category would be the
Voile Hyper Manti - Women
in 158cm!
Answer this question:


I'm 5'10", 165. I mostly ski in NH, usually inbounds, but I do a lot of uphill skiing. I use Icelantic Natural 111s when I visit Utah, but I need a new set up for the East Coast (so does my daughter-5'5", 110). I have '18 BD Route 95's, but their performance in East coast conditions isn't great. The Atomics look like a good option. What do you think?
Hi Sean, I have used skis in the 95 waist width extensively in VT on everything from groomers to ice to slush and found them totally appropriate! The Backland 95 will be damp enough to soak up the bumps and light enough for your uphill laps. Your daughter may want a shorter length as we only have the 177cm in stock at the moment.
Answer this question:


hey everyone, wondering if you think the backland 95, 100, or another ski (have been contemplating the elan ripstick tour) is the right choice for me.

i'm an intermediate skier who loves long and fast uphill days. but i'm not the most technically skillful downhiller (yet) so, while weight savings are extremely important to me for big ascents, I still like a confidence-inspiring platform that performs in a wide range of snow conditions (guess i'm looking for that single quiver magic).

i'm 5'9, 135lbs, and track between Sawtooths Idaho, NE Oregon, and BC Canada. is this the right ski for me? is there another i should be looking at?
Thanks for reaching out, Andres. To me, it sounds like the
Backland 100
would be the clear winner. It's easy-going and lightweight, but can be pushed hard when it needs to be. The Backland 95 is a great ski, but it's geared for more aggressive skiers who want a damp yet stable ride on a lightweight platform.
Answer this question:


I am on the 21/22 version of this ski and have now been on 10-15 tours with them in the pacific northwest. I am 6"4' 190lb on the 185cm length.

The full setup (which I highly recommend) is the atomic backland 95, ATK raider 12 (brakes removed) and the fischer transalp pro.

This skis lightweight and reasonable waist make it a great all around ski for day in day out tours. It provides confident edge hold in firm conditions and the rearward mount point help keep the tips afloat in powder.

I am using the pomoca free pro 2.0 skin and I was able to swap out the tip loops for dynafit tip connectors that fit well in the groves of the atomic backland.

The downhill performance of these skis is good considering their weight, they are fun and easy to ski in most of the conditions I have had them in.

In feet of new cascade concrete I wanted something wider and with more mass. On several spring like days (freeze thaw conditions) they were an absolute blast. I cannot wait to get these bad boys up a volcano.

I was looking to shed some serious weight from my previous setup but still retain a durable, fun on the down touring setup. These skis have delivered on that goal, I would buy them again.
Do you also have ski crampons? Is the BD Helio 97mm crampon wide enough?
Hi Turner, not sure if you were asking the original reviewer, but the BD 97mm crampons would definitely be wide enough for this ski!
Perfect, thanks Ian. Very helpful
Comment on this review:


How would you rate this ski for edge hold on steep, icy terrain (East coast pow)? Is it comparable to models like the Zero G or Mistico? I'm looking for a good all-arounder that's fun in the glades but also can perform in rained-out, wind-hammered alpine conditions
Thanks for your question, Paul. For what you've described, the Backland 95 would be the best choice. It'll be damp enough for the resort, float well in powder, and will hold an edge when you need it to. Out of the three skis you listed, the Zero-G 95 will have the best edge hold, however, it is a very "demanding" ski that insists on impeccable ski form at all times. While we're huge fans of Ski Trab, for resort usage I think you'd be better served with the Atomic. Please let us know if you have any other questions!
Answer this question:


Hi guys, I'm interested in the Backland95 and I'm not sure which size is right for me. I'm an expert skier but not that advanced with ski touring yet (getting there).
I'm 158lbs and 5'11'' (72kg and 180cm).
I'm thinking of getting the 185 version, what do you think?
thanks, happy skiing
Hey Marino, with touring skis most people size down a little as that generally saves some weight and also is easier to maneuver for the uphill. We usually suggest a ski length that is somewhere between your nose and the top of your head. My suggestion for you would be to choose a ski length just a bit shorter than you normally would for your alpine ski.
Answer this question:


How do the atomic Backland 95 Skis measure in reality, vs the stated length? To be more precise, how long is the 177cm, measured with a straight tape pull?
Thanks a lot,
Priy
Hey Priy, we don't currently have the 177cm in stock but I did measure the 169cm and it measured spot on. You could then concur that the 177cm would hopefully be spot on too.
Answer this question:


Do you guys know when you'll get the 177CM length in stock? I'm looking at a pair of these for a mid-winter to spring ski that will complement my Backland UL 85's 169CM. I use the 85's primarily for ski mountaineering and want something that will do better in both powder and variable conditions. For reference I'm 5'10" 175lbs.
Hi Josh, we are expecting more next week! I think they are a great ski for that usage, and sufficiently differentiated from the 85s.
Answer this question:


Are you definitely out of 177 cm length? Based on reviews above, I think I would best fit into this length but appears only 185 cm length available.

Currently I ski on Volkl Katana 177 cm length with 112 cm underfoot for the backcountry and want to get into a lighter ski for spring time and all around use. I'm 170 lbs, 6', and expert bc skier. Also would skis go well with Scarpa F1 boot?
Hi Peter, unfortunately we are out of the 177cm Backland 95 for the season! If you're coming from the Katana it would be worth looking at our new arrival
Volkl BMT 90
, which will share that classic Volkl hard-charging feel. Another ski in the category that likes to go fast and plow through cruddy snow is the
Elan Ibex 94
, which is a little easier to ski than the BMT (and 16g lighter!)
Answer this question:


I have been skiing the circa 2015 K2 Coombacks, 189cm with much enjoyment, but need to lighten up for the backcountry these days. I'd also like a little quicker edge to edge experience. I friend that I very much trust told me I should check out the the Backland 95. I am 5'11"" and these days weigh about 185-190 during the winter. I am torn between the 177 and 185 sizes, leaning towards the 185, but never have skied on anything shorter than these Coombacks. I am trying to optimize these skiis for backcountry tour-in-to-ski mutliday trips and am in a quandry with the "lose weight for touring/higher performance skiiing" balance. Any thoughts as to what length you think might sound best? p.s. Love the Atomic Hawx 130 boots you sold me a few weeks back. I am pretty sure that these will remain my boots of choice for future trips. Just back from a trip in the Idaho Sawtooths and they were steller both touring up and then sliding down.
Hey Tom, thanks for reaching out and glad you are liking your boots! The Coomback was a cool ski and I think you'd find a lot of the same attributes in the Backland 95. The additional sidewall on the Backland helps with stability and edge hold, and you'll likely find that the more modern rocker/camber shape is helpful in variable snow. The Backland 95 is a pretty solid-feeling ski underfoot so I don't think you'd find the shorter length (177) to be nervous or skittering. The 185 would be a nice length as a pure-powder rig for the midwinter but would definitely give up some versatility later in the season. If long tours are in your future then a shorter ski that can kick-turn easily and maneuver through tricky steeps will be a great choice!
Answer this question:


Hello. Are you selling the 18/19 version of this ski or the 19/20 version?

I broke a single ski during traveling (damn airlines) of the 19/20 version (black and green top sheet) and would rather replace it with a ski of the same top sheet.
Hi Michael, we only have the 2019/20 version. Photo should be updated, thanks!
Answer this question:


would these be a comparable replacement for some dps wailer 99's? Just wrecked a pair that were just mounted with ski trab vario.2's that I got from you guys (best binding yet)
Hey Scott, I wouldn't necessarily point you in the direction of the Backland 95 unless you were looking for a much more directional, powerful, and traditionally-cambered ski than your Wailer 99 banana-boats! The
Voile Hyper V6
is probably the closest competitor to the Wailer's playful, surf-able demeanor. Or, if you wanted to go a little bit more traditional and gain some edging ability without losing DPS' smooth flex, you could consider the
Cassiar 95
.
Answer this question:


Hi

I'm 6" and 230 pounds (183cm / 105kg) looking for a new touring ski. I will only be used for touring with an light pin binding, ATK HR 2.0 or Dynafit Superlight and some TLT6P.


I have about 20-25 days of touring each season and about the same amount of inbound days (with other skis)

The backland 95 have caught my eye and i really like everything when i look at the technical spec.

I would like to go for the 177 length to save some weight and a bit easier handling in kick-turns etc.
BUT I'm a bit afraid that my weight will be a problem if i choose the shorter length.

Do you guys have an opinion regarding the 177 vs 185 ?

Best regards
Hi Robin, thanks for reaching out! Great choice on the Backland 95s, they are a blast to ski. I would say that the 185cm is your ski if you like hunting for deep snow, frequently break trail, and enjoy skiing downhill at inadvisably high speeds. Meanwhile, the 177 would slot in better if this is going to be your skiing-off-of-summits, long objectives, technical descents choice. Just as you say, a shorter ski will be quicker into and out of kick turns, and much easier to put on your pack during bootpacks. You'll also have more facility in tight turning situations and when jump-turning. Since the Backland 95 has a pretty stiff tail, I don't think your weight would rule out the 177 as an option. You can't go wrong either way -- just depends on your intended usage! Don't hesitate to hit us up at help@skimo.co for a more detailed conversation.
Answer this question:


Is the ATOMIC BACKLAND 95 ski bottom surface seamless, one peace from tail to tip? Thank you, Joe.
Joe- There is a seam across the ski about where the rocker starts. So not one piece.
Answer this question:


Can these skis be mounted with telemark bindings, and how do they perform on tele?
Hey Alan! I definitely haven't heard of a restriction. I haven't skied them tele, but they are a medium-stiff ski with a ton of camber, so they are definitely very poppy.
Answer this question:


Hi- which skins does atomic make for these skis and what do you think of them. Thanks
Hi Al T, Atomic is sourcing their skins through Contour. The precut skins for this ski are a high quality mohair featuring the Hybrid adhesive. They are very nice.
Answer this question:


Hi- any idea how this ski stacks up against the volkl bmt 94? I'm on the 94s and really like them, but these are lighter and I'd be interested if they skied as well at less weight. I like the mid 90s size for a daily driver all arounder. Thanks
Hi AI T, I can't say exactly the differences between this ski and the BMT 94 but I will tell you that this ski has been universally well liked by everyone we have put it on. It's one of the best skiing 95mm touring skis out there, regardless of weight class.
Answer this question: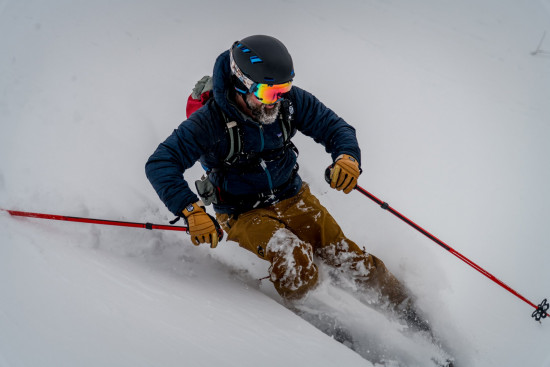 Quiver-killer skis that are easy to skin or carry uphill, and that are ear-to-ear grin fun and confidence inspiring on the way back down any slope.

In Powder: The tips of this ski never dive or deflect, and the ample camber provides excellent rebound for finishing each turn and initiating the next.

On Hardpack: Tenacious edge grip allows for high angle, high speed, hip-dragging carves.

On Refrozen Death Chunder: The ski absorbs rough icy snow extremely well, the camber and light-weight make it easy to quickly move from edge to edge, and the rockered and horizon-shaped tips don't easily snag on frozen snow goblins.

On Corn: Sublime

On the Steep Slopes: The sidecut and flex profile provide such a stable platform, that I honestly forget how steep a couloir is until I hit the mellow apron. This ski allows for aggressive turns on steep and firm slopes with excellent grip and the right amount of stiffness for support from tip to tail.

In wet heavy snow, or when skiing low density powder during low tide conditions, I prefer a fatter ski with more tail rocker to float and slash on the surface, but in those conditions the Backland 95 still offers excellent performance.

I am 5'7", 170lbs, ski almost daily, and ski the 177cm length paired with the Atomic Backland Tour bindings and Movement Alp Tracks Performance boot.
where did you mount? on the line (-11cm of true centre) or forward. -11 on a 177cm is veryyyy directional.
Michael C,

I mounted on the line, and in soft snow I need to keep my posture low and aggressive to keep the skis afloat in grabby snow.
How do you like those Movement Alp Tracks boots? I'm considering the free tour boot but can't find much info or reviews...
Comment on this review:


Earn store credit by writing reviews. Learn more.

Model: Backland 95
MPN: AA0026636