Dynafit Speedskin Precut Skins
13 reviews
$219.95
From $149.95
In Stock
Why bother trimming skins when you can get Pomoca-quality Speedskins precut for Dynafit skis? The climbing skins include a patented clamp system that works effortlessly on non-race model skis. Designed to be ripped off from the tip of the ski, the Speedskins include an easy-to-grab rubber stick that fits perfectly in Dynafit tip notches. The simple tail clips clasp securely on the flat tail notches found on all Dynafit skis. The precut Dynafit Speedskins are the easiest way to get climbing and, more importantly, skiing.
Waterproof membrane separates the fur from the glue, preventing moisture from compromising the stickiness.
Speed Glide finish is applied to the 70% mohair plush to reduce friction and consequently leg burn.
Snow Leopard Grip comes from a combination of special materials that climb well and are abrasion resistant.
Anti-stick compound is applied to the bottoms to help prevent hateful glomming.
Cut to match the Blacklight, Free, Speed, Carbonio, Speedfit, SL 80, etc skis.
Update 2019/20: Dynafit added pre-cut skin options for the Carbonio 76 and Speed 76 skis. Also, some of the models now have colored rubber tips.
Update 2020/21: New models match the Blacklight series including the 74, 80, and 88. See the Pin Skins for the Blacklight Pro.
Update 2021/22: Additional precuts for the Blacklight 95 and Free 97 / 107 skis.
Questions & Reviews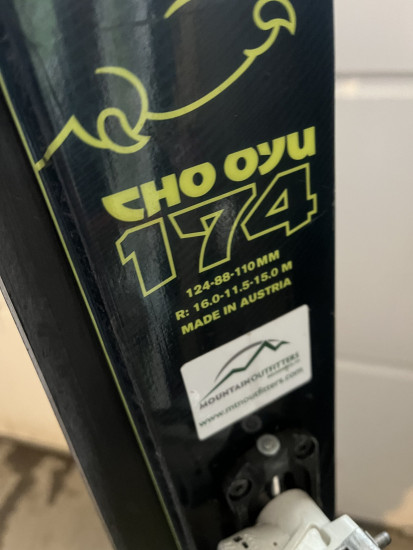 How does the Radical/free 97, 184 cm work for my Cho oyu 184 cm (124-88-110 mm)?

Thanks in advance.
Michael,
I would avoid precut skins for different model skis, especially those with fixed tip and tail connections. You could go with a
trim-to-fit
skin, personally I like the Kohla Alpinist for the best glide and Pomoca Climb Pro S-Glide for a slightly grippier option.
Answer this question:


Would any of these work with my old Manaslu 163s? My original manaslu skins have lost adhesive and I really like the clamp system. Thanks
Hi Amy,
Unfortunately we are hesitant to recommend a different pre-cut for your skis because while you could trim the edges, the length is not adjustable and so if there were any variation (which is likely) it would either be too big or too small.
If your old skins still have life in the plush, the easiest (and cheapest) thing to do would be to re-glue them. We sell
Pomoca glue
which will work great. Take the skins, stick them to a brown paper bag and iron over them to loosen the glue. Then peel it off (it will be stuck to the paper). Once you get the old glue and dirt and such off, apply the fresh glue!
Answer this question:


I've had these on old Denalis for long enough to write about them. While the plush/glue mojo may not quite have Pomoca's je ne sais quoi, I can't really tell the difference, except with an all-Mohair Pomoca. I think the tip and tail system is 2nd only to Trab (all hail Trab), but both work fantastically. Until they don't I suppose: never had a failure. I have only had to field repair the BD/Pomoca strap failures in the wild, and am not sure it would be as easy with these dedicated systems. But they have not failed. They are not versatile - they only work for the skis you got them trimmed to, but if it works this well what's the fuss? I think you can actually tell that they have slightly more mohair (vs Trab's mix), or they just glide better, or the skis are longer (they are not narrower), I don't know. I also find with aging hips pulling skins from the tips is just so much easier when not removing skis.
Comment on this review:


Any of these that could maybe be trimmed to fit an old pair of Dynafit Stokes 182? My reglue from '16 finally failed not sure if they'll take another!
Hi Shail,
You may be able to get away with Free 107 181cm however, I'd highly suggest going with a trim to fit skin, off-the-roll skin, or we could build you a very similar skin that'd surely fit! For the latter, send us an email at help@skimo.co and we can help get you set up. Thanks!
Answer this question:


Think the Blacklight 88s in 165 would fit the new Salomon Mtn 86 Pro skis in 164 alright? Or do you have a better option you'd suggest? Thanks.
Answer this question:


I have dynafit 84 speed fit skis that don't seem to have matching skins anymore. Would those skins be too narrow ?
Hi Pidem, sadly we don't have a matching one for that ski, but you could build one with parts and skin material. Or buy a bigger Dynafit skin, trim it and re-add some tail clips.
Answer this question:


Hello, I have 19/20 season Beast 98 177 cm. I am thinking the precut Free 97 177 cm should work without trimming. Do you know if this is true?
Hey Joe,

The dimensions of the Beast 98 and the Free 97 are extremely similar, so you shouldn't have to trim for width. The one variable I would be wary of is length. There really isn't much stretch in the tip attachment and so if there is more than a millimeter or so of variation in length of the notch or the ski between the two models that could present a problem.
Answer this question:


Hi there, I have some Dynafit Speed 90 skins in 184cm. Would any of these skins work for them? Look like they may be out of stock? Thanks!
Hey Kevin, while that ski and the accompanying precut skins have been discontinued, the current Blacklight 88 has a similar sidecut. I am thinking the 184cm Blacklight 88 skins should cover you.
Answer this question:


I think I'm about to order a pair of Blacklight 88s in 172. The precut skin for that ski is sold out. Any reason I couldn't get the skin for the 95 in a 172 and just take a trimmer to it?
Hi Chris, that should work, we can verify if they are the exact same length prior. Note we are expecting more 88 skins next week, and also have a pair that was used once
here
.
Answer this question:


I have a pair of Dynafit haute route plus Women's skis: 156, 111 - 78 - 98. Any chance to get speedskins to fit them?
Hey Jacqueline, with the Speedskins you would want to get one that is exactly the length of your ski to fit your ski properly. Since there are no options available in the 156cm length I recommend building out a Pomoca skin and adding the Dynafit rubber tip and a metal tail hook kit to build your own 'speedskin'. The
Pomoca Climb 2.0 Skins
will be a similar formula to the speedskin material and you can add the
Dynafit rubber tip
and the
tail hook kit
. If you would like any further help feel free email us at help@skimo.co.
Answer this question:


Got these pre-cut for Dyanfit Blacklight 88s. I've always been happy with Pomoca glue and mixing the Pomoca plush/glue with the speed fit tips/tails makes this a full win-win product. I've used race-style skins in the past that didn't seem to fit right, but these were spot on in width and length.
Comment on this review:


Great skins. If you have a dynafit ski, you got to get a pair. I wish more skis would send trimmed skins. Anyway, they glide very well and have just a tad less grip than nylon counterparts. My only complaint is the nipple attachment. I have broken them after heavy use. I just think there are better attachments. Not the worst, not the best. Buy these skins though if you are considering them, you won't regret it.
Comment on this review:


Howdy!

I've just purchased a pair of Dynafit Speed 90 skis, and would like to purchase the accompanying speed skins, just wondering if you knew when (or if?) they'd be coming back in stock.
Cheers,

Dan
Hey Dan, thanks for reaching out. Unfortunately, the Speed 90 ski is discontinued which also means that Dynafit discontinued the precut skin. Your best bet to get a tip rip skin would be to build one out. I would recommend the
Pomoca Race Tips
with the
Ski Trab World Cup race skin
which has the 95mm width option which would work great for your ski. You can also use the
Dynafit Rubber tip
if you like that option more. If you would like further help feel free to reach out to help@skimo.co.
Answer this question:


Hey Teddy. If i get the dynafit black light 88, 184 and the contour tailhook set, with a bit of trimming and riveting, will it fit my setup?
thanks.
Hey Arthur, yes indeed this method will work in order to fit your Carbonio 88's.
Answer this question:


Do you have dynafit speed skins to fit my carbonio 88 limited edition 167.
Thanks
Answer this question:


I've used Dynafit Beast 108 precuts on a pair of Dynafit Chugash (essentially the same base profile) for several years. The skins are light, the glue has held up extremely well, and the attachment system is as good as it gets.

The only negative is that the 70 mohair/30 nylon combo has less grip than my previous nylons skins, but it has only been an issue on melt/freeze terrain with a lot of boot traffic. On decent skin tracks or powder the skins have terrific grip.
Comment on this review:


Looking for a pair of skins for the Dynafit Denali, 176 cm (131-98-116). Can't seem to find the skins for that ski, as they are 5-6 years old.
Anyone know if the Dynafit Beast 98 177 cm (125-97-116) skins fit the Denali skis? Seems like it would be pretty close, but the way the tip attachment works on these skins I wonder if it would be a little loose.
Hi Jim,

The Dynafit Precut skins have a pretty low tolerance in the length. At a full centimeter off, these skins will not be taught enough for the stretch lock tip on a 176cm ski. Additionally, the Denali Precut skins are discontinued. One potential solution would be a custom-built skin. Reach out to us at help@skimo.co for details!
Answer this question:


Hi there

I have the 2016/17 model of Dynafit Manaslu's 166cm. Will these skins fit? If not, what are my options. The website says to go with The Speedskin Tour 88s but it seems unlikely that is the only model of skins that would fit. Thanks!
Rod, thanks for the question. We don't have anything in stock that will fit. The tip bungee leaves little room for error. Please email us at help@skimo.co and we can get you some custom skins built.
Answer this question:


I have a pair of Dynafit Tour 88 skis, 166cm in length. I am not finding a matching set of skins for this ski. What are my options? Thank you!
Hi David,
We do not carry a precut skin for the Dynafit Tour 88 skis. I would recommend a
trim to fit skin
, or a custom build if you would like a tip rip system. Reach out to help@skimo.co if you have any further questions!
Answer this question:


I was just given a set of dynafit speedfit 84s but can't find the accompanying skins. What options do you recommend? Thanks.
David,

Congrats on the skis! The precut skins are no longer available, but you can always email us at help@skimo.co with the length and dimensions of the skis and we can help you pick out the right pair of skins for you!
Answer this question:


Earn store credit by writing reviews. Learn more.

Model: Speedskin