ATK Heel Pieces
1 review
From $84.95
In Stock & Ships Today
There's nothing worse than having an awesome backcountry setup that you can't use simply because of one measly broken heel piece. Fear not, as these ATK heel pieces are sold individually for a less costly replacement process. Single heel pieces are also good when you want a just-in-case spare.
| Binding Model | Weight (g) | Weight (oz) |
| --- | --- | --- |
| SL World Cup | 41g | 1.4oz |
| Trofeo* | 62g | 2.2oz |
| Haute Route** | 128g | 4.5oz |
*Trofeo heel pieces are available in four fixed release values: 4, 6, 8, and 10
**Haute Route weight includes R01 adjustment plate
Questions & Reviews
Hi,
Do you have in stock 2 pieces of the Haute Route heel peace?
Hello Fedor, There is just one in stock now. New Fall inventory will be here in just a couple of months.
Answer this question:


Is there a way to get just the heel unit from an haute route/200/200lt? I don't need the plate, just the heel piece.
Ezra, Currently, that is the only way we have got them from ATK.
Note, we only have one of those left in stock.
Answer this question:


How does the plate for the ATK line up for the plate of the Plum 170?
Hi Brian,
The mounting patterns for the two. The ATK R01 plate is 25 x 86mm. The Plum R170 is 25 x 55mm .
Answer this question:


Super solid and beautifully crafted heal pieces. I originally ordered the 10s but had to move to the 8s since the 10s were very difficult to rotate. This may have been the year I purchased (pre 2020 which was ever so slightly different in design). I now have the 2022 8s which have been perfect.
Comment on this review:


I just busted a haute route heel lift flap. Is it possible to buy just the flap, or am I in for a whole new heel piece?
Hi Todd, sadly we don't have access to just the flaps.
Answer this question:


I currently have a pair of Zero Gs with the Dynafit ST Radical Bindings. Could I replace the heels with Trofeo 6? Would this frankenset-up work?
Dani,

I'd advise against it, simply because you will have unpredictable release values. The toe and heel work together to make the binding release at the desired value. When you change one part of that setup, there's no way to predict the retention/release profiles without mounting it up and testing it.
Hi Dani, for what it's worth, lots of folks have paired Radical toes with race heels, especially during the years there was less confidence in race toe durability.
Answer this question:


could you use one of these replacement heels with an atomic backland toe?
Doug, Yes. There will be some changes. Your ramp angle will now be Flat. The stiffer Backland toe will likely affect the heel release some, but cannot say how much.
Answer this question:


I've been using the BD 110 heel piece and have broken 2 heel flaps. The new trofeo heel looks like the flap has been beefed up.Is this true and would the holes be the same as the BD?
Hi John, thanks for reaching out. The Trofeo does have a more durable heel flap than the BD 110 used to have. This heel piece will also fit right into the old holes from the 110.
Answer this question:


Can the Haute Route heel be direct mounted to ski i.e. without the adjustment plate?
Hi Christof. Yes, you can. It would essentially turn it into a 200-lt heel. Hope that helps.
Answer this question: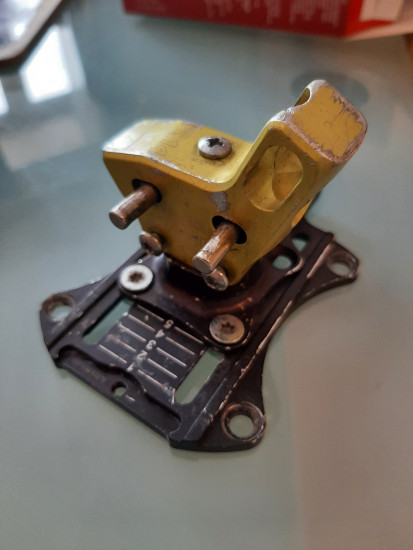 Hello,
Will the ATK Haute route heel piece fit the slider plate from an older (~2016) ATK Free Raider 14 set?
Thanks and happy holidays!
Unfortunately it will not, as the holes on the old Raider 14 are wider apart than those of the Haute Route. For the Haute Route you'll want the
ATK R01 Plate
.
Answer this question:


Earn store credit by writing reviews. Learn more.