Dynafit Cramp-In Crampons
5 reviews
Crampons that are super light and fast to put on? We're listening! Dynafit is introducing a novel new crampon system that makes sloppy toe-bail fits a thing of the past: the Cramp-In Crampon. If you are a lucky owner of a Dynafit boot that are compatible with this crampon (hint, if it doesn't have a toe welt, it's likely compatible...see note below), your luck is about to be doubled. While the skinning efficiency of the boots using Speed Nose technology is above average, fitting a crampon could be a chore. But now that Dynafit has instigated phase two of global ski-mountaineering domination, you can just don a slick Cramp-In. The crampons attach to a metal bar under the ball of the foot and hook over the heel with a simple bail. A small tab locks into the receptor and hangs on tight once it's tensioned appropriately using the coated steel cables. A typical ankle strap further secures the cramp-ins. Owners of the best walking ski-boots can now enjoy the lightest and smallest aluminum crampons on the market. Have your cake and eat it too with the Dynafit Cramp-In Crampons.
Compatibility Note: The first generation TLT7s do not have the cutout window in the sole to easily install the adapter. Check your sole for a rectangle under the ball of your foot. If you don't see one, expect to do some heavier mods for these to work.
Specifications
Weight
convert to ounces
140g + 24g fitting
Weight (pair)
280g + 48g fittings
Points
10
Specs Verified
Yes
Design
Materials
Alloy toe and heel, steel cables, plastic heel lever with heel strap
Skimo Co Says
Usage
Skimo racing, fast touring, seamless transitions
Notes
Discrete catch tab on toe piece
Bottom Line
Streamlined crampon for Speed Nose boots
Compare to other Crampons
Questions & Reviews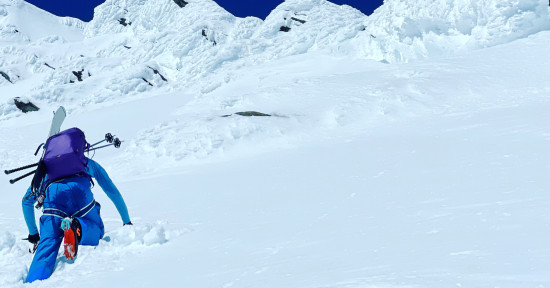 i'm on my second season with these and they're pretty solid. i wore them on the north ridge of kulshan in late july and felt like they were just enough to squeak up a pitch or two of front-pointing on easy alpine ice. the black plastic clasp has failed a couple times but hasn't affected the crampon/boot connection (although it does feel a bit unsettling to look down and see crampon straps dangling). for everything less than sustained ice, they're just enough pointy bits.
Comment on this review:


I cannot find any instructions on how to install these...?
Hi David,

Send us an email at help@skimo.co, and we would be happy to chat about installation details!
Answer this question:


Whoever did their own boot piece installation - did you guys do anything to seal the holes in the boot after drilling? I am worried that the boot will start leaking
Hey Sergei, thanks for reaching out! For what it's worth, Dynafit does not mention using any sort of sealant or adhesive in their installation instructions. It's a very secure fit, and there shouldn't be any issues unless the boot sole is submerged in a puddle. If you do happen to add a sealant or adhesive, let us know how it goes and what you used!
Answer this question:


I've used these crampons a handful of time's now. The snow conditions leading to the booter seem to make a big difference on whether or not they ice up. I had a few occasions that they side right in and one that was about a half hour of fighting the ice on the bottom of the boot before finally getting it to go. After the bad experience I took a bit of time off the mountain to figure out exactly where to scrap and how to line them up (the trick seems to be having the inside of the crampon lined up with the inside of the boot and the white dotted line on the crampon just in front of the toe of the boot then slide back of course this is just my boot probably different with other sizes) so that even if there is a little ice in the boot receiver, getting it lined up then the backward pressure of the lever is enough to clear the remaining ice in the hole. After figuring this out I've been able to clear ice a lot faster. If it was easier to get on in all conditions this would be a five star review.

Light enough that it doesn't add much to the pack, plus easy to adjust, plus an innovative mount that keeps the toe solid and secure (once it's in) equals win for Dynafit.
Comment on this review: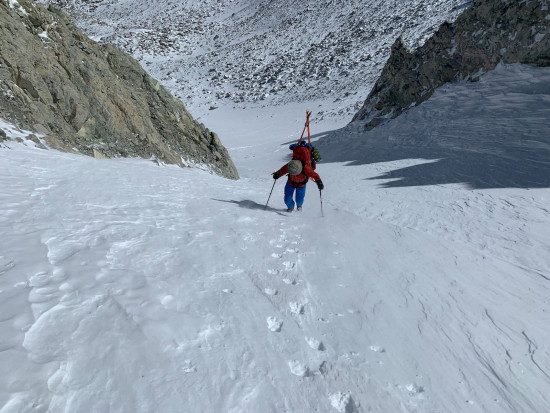 I return yesterday from doing the Sierra high route east to west. I bought these for the trip as they are very packable . I did the installation myself, as other reviews state if you are somewhat mechanical you can do it no problem but there are no directions provided .

Adjusting the size is pretty simple but I would make sure to have them dialed in at home before doing it in the field . A real wrench works better than the other crampon like the video shows but it does work if need be.

As far as icing i had no issues but it was a concern of mine . Also after a lot of hiking a d scrambling in rocks there was no damage to the insert . I think the insert will out last the shells .

Performance these meet my expectations , we did not encounter bulletproof ice so I can't speak on how they work on those conditions. They are solid on the boot when adjusted correctly .

The reason I gave them 4 stars instead of 5 is because these are not easy to get on when in the field. I would make sure and put these on before you absolutely have to. This might cause other issues by being a little pre mature but it could save you. Trying to find the insert and lock them in during bad conditions or over exposure is a challenge . I'm sure if you used these a lot you would eventually get the feel for it and it wouldn't be as much of an issue. A tooth also broke off with not that much use. This could be from me being 200lbs plus 75lb bag and a bad post hole on a rock so that isn't to much of a concern but it did happen.
Comment on this review:


Hey Guys, just checking back to see whether the extra boot hardware (for a second pair of boots) is available yet? Thanks, John
Hi John,

Unfortunately, as it stands, we are unable to get our hands on that spare part at this time. We are going to reach out to Dynafit again to double check, but it will most likely not be available.
Im also curious if there has been any update on this - I have the hoji and tlt so would love to only buy one crampon system!
Hi Dana,
Check out our
Dynafit Crampon Parts
listing. The Cramp-In Adapter x2 should have all the parts you need to make a Hoji Pro Tour or TLT8 Expedition/Carbonio compatible with a Cramp-In binding!
Answer this question:


I love the idea of this system for my Hojis, but am a little concerned about the sole adapter icing up or having some other kind of complication in the field. Pros/cons of using the cramp-in for larger ski mountaineering objectives as opposed to an adapted automatic crampon?
Hey Whitney, we have not heard of any notable problems with icing or snow build up in the sole adapter slot. There could definitely be potential for this to happen but a problem that could be easily solved by cleaning the snow out with a pole tip, whippet pick, or a knife. The main pros of using the Cramp-In crampons over a semi automatic crampon would primarly be the weight savings and compatibility with the speed nose.
Answer this question: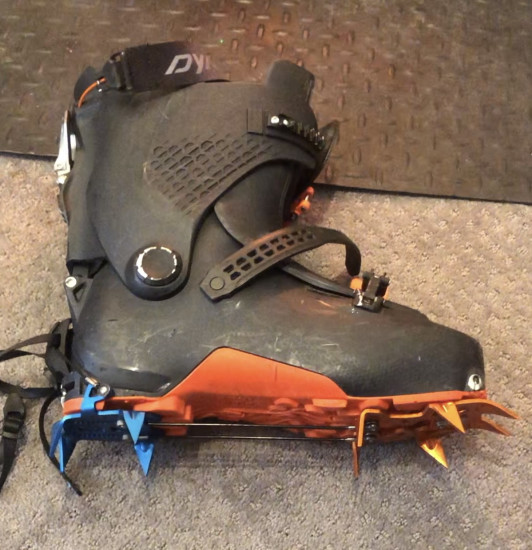 I like them so far. Haven't used them yet. Super lightweight. Seem to be pretty solid for aluminum. We'll se how they hold up. I was able to install the hardware on the boot sole pretty quickly and without any hangups. I wouldn't attempt it if your not mechanical though. Wish they sold extra mounting parts for the boot sole though. Not very practical if you have more than one pair of Dynafits...
Comment on this review:


Can I buy a second set of boot sole hardware so that I can use this with either of my boot pairs?
Hi John, in theory! In practice, we might not see any availability of extra adapters until fall.
Answer this question:


Do these come with the adapter needed for the sole of the boot?
Hey Matt, these crampons do come with the sole adaptor!
Answer this question:


I used these all of last spring and can't wait to put them on my boots again this year. I used them on steep spring snow, deep boot packs, and short easy ice steps without feeling insecure.

Getting them on is really easy and once on the boots you almost forget you have them since they are so light. They have turned into my go-to crampon for my ski-mountaineering objectives where I would bring all aluminium crampons. They are the perfect pairing with a PDG2, TLT7/8, or HOJI Boot (excluding the Free).

**Disclosure - I work as a rep for Dynafit**
Really happy with the quality. Where can I get another set of the boot sole adapters though?
Hi Luke,

Glad to hear that you are happy with the Cramp-IN thus far. Sadly, the sole adaptors are not yet available as a spare part. I am not expecting to have them in the near future either. I apologize for the hassle that this causes when you have 2 (or three like is my case (-: ) pairs of boots that you would like to use the Cramp-In with.
Comment on this review:


Is it possible to install the needed hardware on the PDG boot, or just the PDG 2? I have the PDG and the Hoji, and am wondering whether these crampons will be compatible with both pairs of boots (whether I can install the toe piece hardware to both pairs of boots).
Right now just the PDG 2 and Hoji have the sole marked where to cut and the mount point. Other boots would be strictly Do It Yourself.
Answer this question:


Will this crampon work with the Dynafit PDG boot?
Hey Matt! It's important to note the distinction between the
PDG
and
PDG 2
. The Cramp-In is designed for the PDG 2 and isn't necessarily compatible out of the box with the PDG. In order for it to be compatible with either boot though you'll have to install some extra hardware, but the PDG 2 is set up for that installation to be much easier.
Answer this question:


Does this require installing an extra piece onto the sole of the TLT7 Performance? I can't see anywhere that looks like it would attach on the sole of my boot.
Hi Michael, yes this crampon will require mounting some hardware on the sole of your TLT7 boot.
Answer this question:


Does the dynafit cramp in crampon work on the tlt7 expedition boot?
Hi Jeff, yes the Cramp-in is designed to work specifically with boots such as the TLT7 and will include the necessary hardware.
Answer this question:


Earn store credit by writing reviews. Learn more.

Model: Cramp-In
UPC: 4053865932524