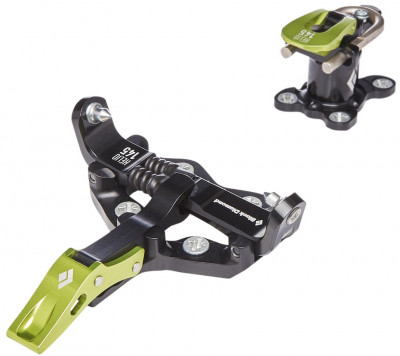 Black Diamond Helio 145 Binding
7 reviews
The Black Diamond Helio 145 is a rock-solid race binding that can be somewhat tailored to your size and aggressiveness. The binding is offered in three release-value settings and has three riser-heights to match your intended usage. Your choice of one of three predetermined release-values dictate the performance characteristics out of the box. The values are determined by a hidden lateral and swappable vertical heel-spring, both made of steel. The heel operates like a typical race binding with a flap covering the pins for uphill, but you can also spin the tower 180° to access a third, higher riser. Moving to the toe-piece, it had half of the wing-springs removed to reduce weight and complexity, but otherwise is a tried-and-true design that has the smoothest lever-action in the business. If you've never tried a race binding and are interested in having your mind blown, the BD Helio 145 is a great place to start.
Your choice of 6, 8, or 10 in release values, both lateral and vertical.
Roller bearings in the toe offer clean and crisp locking power.
MonoLink Technology 1.0 removed half the toe-springs without sacrificing performance.
Flat mode, heel-flap, and reversed heel-flap offer climbing versatility.
Optional crampon slot takes Black Diamond Helio crampons.
Specifications
Weight
convert to ounces
148g [8]
Weight (pair)
296g [8]
Boot Compatibility
Tech
Brakes (mm)
No
BSL Adjustment
Accessory plates
Riser Heights
2 + flat
Vertical Release
6, 8, or 10
Lateral Release
6, 8, or 10
Crampon Ready
Removable accessory
Specs Verified
Yes
Design
Materials
Aluminum alloy, stainless steel
Skimo Co Says
Usage
Speed touring, racing, mountaineering, adventure skiing, grand course racing
Notes
Extra riser accessed by spinning heel piece 180°
Bottom Line
The benchmark for versatility in a race binding
Compare to other Race Bindings
Questions & Reviews
These are the only binding in this weight category I've skied but I love them so much I bought a second pair for my ul85s in addition to my skimo skis. The simplicity is amazing and confidence-inspiring nothing will break. They have released when I want them to and no pre-releases so far in my 50 or so days on them. It can be difficult to release the toes after they've been locked in for a while but I think I just need to lubricate them or something. They ski great in all conditions, definitely not on the level of a frame or full-featured tech bindings but only really a noticeable difference on hard pack.
Comment on this review:


Looks like the BD Helio Crampon Receptors are discontinued. Does BD make a new version that is compatible?
Answer this question:


Are these compatible with more downhill-oriented touring boots, such as the K2 mindbender? There is a note in the manual about clearance of the boot toe in walk mode, but I can't find info about which boots would be incompatible in this way.
Hi Emma, we don't carry that boot to test, but we have not heard of that particular incompatibility.
Answer this question:


Hi there, curious what your thoughts are on this binding being able to drive a bigger ski with a bigger rider. I am looking at putting them on a ski that is 106 underfoot and i'm a bigger guy at 5'10'' and 210 lbs. I understand they are scaled down features, but more worried about pulling a binding out or breaking the heel piece.
Hi dconigliaro,
The Helio 145 is quite a stout binding, seeing as a large portion of the parts are machined from aircraft aluminum. However, as a skimo race binding, the Helio 145 does have limits. If you are using that binding on a heavier 106mm ski, and skiing aggressively, I would consider something with a wider hole pattern, like the
ATK Raider 12
.
Answer this question:


Any reason to go for 8 vs 10 on the release value here? Will be using these bindings primarily for racing and resort uphill laps, perhaps some spring mountaineering objectives. I'm about 155lbs, not a super aggressive skier.
Hi Jackson,
I would recommend calculating your release value using our
binding finder
tool. That should estimate a release value for you that will help you settle on 8 or 10! If you have further binding questions, feel free to reach out to help@skimo.co.
Answer this question:


is the black diamond hielo 145 binding capable of driving a 103 or would the expedition be a better choice. I will be doing long approaches to climb and ski off mountains.
thanks
Hi Matt,
The Black Diamond Helio 145 and
Dynafit TLT Expedition
would both be able to drive a ski that is 103mm underfoot. The bigger question is what you want out of a binding.
The Black Diamond Helio 145 is a race binding, which means that features are pretty sparse, as the goal is to be as light weight as possible. However, this binding still releases both vertically and laterally.
In contrast, the Dynafit TLT Expedition does not even have a lateral release. Also, the vertical release is very high. If you would like to never come out of your skis under any circumstances, than this is the binding for you.
Answer this question:


I have a pair of these mounted at 310 bsl. Would it be possible to ski them with the 28.5 atomic backland carbon boots at 308mm. How would I adjust them?
Hey Jerick, with that difference in BSL it would not be recommended. You could add the
Black Diamond Helio Adjustment Plate
to be able to readjust the heel to make it work, but that would require you to have new holes drilled for the plate.
Answer this question:


If I mount these 145 bindings on the Helio Adjustment Plates does that effectively turn them into the Helio 180 bindings? Or, are there other differences between the 145 and 180?

also, the major difference from the 145&180 to the 200 is that the 200 has adjustable release values, right?
Hey Peter, thanks for the question. Yes, adding the adjustment plate and the crampon clip basically urns the Helio 145 into the now discontinued Helio 180. Besides that, there are no differences. The Helio 200 actually uses a different slightly paired down toe lever and different heel piece altogether and has the ability to adjust both the lateral and vertical release values, which you cannot do on the Helio 145 or 180. The Helio 200 also includes that adjustment plate and the crampon clip. All three are excellent bindings. Let us know if you have any more questions!
Answer this question:


My wife and I both have these bindings. We just got back from a multi-day ski tour and we both had heel pieces that we couldn't rotate back from flat-on-ski to ski mode. No matter how hard we twisted (or banged) on the binding it wouldn't rotate. In the end we removed the heel from the ski and disassembled the binding to get the pins pointed forward. After this happened a few times we gave up on the flat-on-ski mode. Neither of our bindings have seen much use and I don't think we did anything strange to them. Any ideas? People praise the durability of the bindings but this is a major frustration. Thanks!
Hey Chris, thanks for the question. Unfortunately, there seems to be an issue with the Helio 145 and now the older Helio 180 bindings. Lubing the binding with a tech binding specific grease or worst case scenario a silicon-based lubricant will fix the problem. Simply put a good amount at the base of the heel tower and rotate it back and forth many times. Let us know if you have any more questions!
Thanks Zak, I'll give that a try. How often do they need to be greased to prevent the problem?
A few times a season should do it!
I had this on a pair of the SLR release adjust. Went back to ATK twice before they swapped for this model... It's a concern as I believe the lateral release is dependent on the heel piece rotating - so if it gets stuck when in ski mode (which you may not notice), then you lose lateral release completely...
I had the exact same issue on my 180s. What I did was grease the track that it rotates in, then I too vice grips and clamped onto the heel piece. I then rotated the heel piece around 50 times both ways. It got "broken in" and now rotates the way it was intended to. I regrease and rotate a few times every month or so and they release perfectly.
Answer this question:


I chose to get the Helio bindings because they are crazy durable, light, and they *do* have flat mode, which is super important for me because I use my race skis for long, flat traverses. I also like that they have a pretty flat delta angle for lightweight skis. I wanted bindings for 100+ mile traverses, so durability was super important to me. I have not been disappointed yet!
Comment on this review:


Will update this review when I've got a hundred miles on them. Prior to mounting these, I was apprehensive about flat mode, stepping in, and the ease of switching between flat and heel lifters while skinning; I'd seen some people say you would have to bend over and turn the heel piece by hand, for instance, and there's a prominent review site out there stating that your boot would hit the heel piece in flat mode. However, so far I've had none of those issues. Flat more is truly flat, and to switch to the heel lifters, I just push the heel piece 90 degrees with my pole. It's easier than some flippy risers out there. Stepping in, for me, is as easy or easier than my Vipec Evos. Minus one star because the 30mm adjustment plates I have these mounted on really pick up snow in warm conditions. They're black with a matte, almost rough finish, rather than the polished, shiny finish of the other parts, and that surface has a lot more friction to the touch. That's not a problem with the bindings themselves, but since I'm guessing lots of people will be mounting these with the plate for versatility, I thought it was worth mentioning. Overall, these are awesome— really pleased with them so far.
Comment on this review:


I'm curious is the heel-flap/risers are swap out-able? Could you swap in a riser from the 200 for example for more flexibility?
Hello Colin, the BD helio 145 risers cannot be swapped out with any other risers.
Answer this question:


I own the red Helio 180's which are just these with an adjustment base plate.

These are my favorite bindings yet because they're durable, simple, light, and have enough features for me. I'll be replacing my speed radicals with these and although I really enjoy the radicals I will not be looking back after skiing these. Any "race plus" binding is a worthy upgrade in my opinion.

The leashes suck and the closure gate broke on the first use but either don't use any or get the B&D leashes.
Comment on this review:


Do dynafit ski crampons work with these if you have the receptor?
Hi Brian, yes but you may need to break in the fit a little for them to slide easily.
Answer this question:


I've read that these have an issue touring flat- the back of the boot catches on the side of the spring. Does anyone have experience with this? Can you comfortably tour with the heel riser sideways and boot flat on the ski?
Hi Ben, whether the flat-gap is large enough in soft snow (it's fine on hard snow) can depend on your size and the stiffness of your ski. It's possible to increase the gap if flat touring comfort is your primary concern.
Yes, flat mode is flat and doesn't interfere with the boot, at least for me! Plus, you can turn the heel piece around with a ski pole to use the heel riser side.
Answer this question:


My new favorite binding for my non-race setups -- all my others are either Plum or a mix of Plum heels and Dynafit SSL toes.
Technically I have the 180, although since I initially mounted it without the adjustment plate, functionally I'm using the equivalent of the 145.
Details at my review of the 180, but everything just works really smoothly (as it should of course), and is nicely refined from ATK's constant evolution of its basic binding design over the years.
The big decision is whether to save $ initially and go with the 145, or spend a bit more on the 180 for all the accessories.
Comment on this review:


I'm thinking of replacing an old speed turn with Helio 145, will I be drilling new holes?
Hi Kevin, for the Speed Turn 1.0, you'll be plugging a hole in the toes and completely re-drilling the heels. More info
here
.
Answer this question:


The Helio 145 and Helio 180 are extremely trustworthy bindings that are very lightweight. The changeable release value springs are a great way to reduce weight without sacrificing adjustability, all the while decreasing complexity. I skied the Helio 180 most of last season, and I decided to purchase another pair, just without the plate or crampon holder for a new pair of skis this season. I will say that I somewhat prefer the simpler, more elegant nature of the 145. These bindings have never pre-released for me (I am ~180lbs and 5'11", skiing an 8 release value), and I regularly trust them to hold onto my skis in all but the most extreme falls. Stop reading this bland internet review and get yourself a pair.
Comment on this review:


Do these come with the crampon receptor, or is that separate?
Answer this question:


BD Helio 145 / ATK Trofeo - imo, one of the best pin bindings ever made. It's bombproof and weighs "only" 145g, a bit more comparing to other race oriented bindings but it's totally worth the 30g penalty. I'm 192cm tall, weigh 92kg and really abused two pairs of Trofeos during the last two winters. I use 8 spring and it's stiff enough even for very aggresive skiing, binding released only once when I crashed at high speed - toe remained locked though. They are super solid, after two winters (I train on skis 4-5 days a week) bindings still work just fine, no signs of wear or damage.
The only issue I find are the heel flaps which could be designed a little better, there is a bit of effort required to flip especially when cold.
Marek, the heel flap is meant to catch on the U-spring, but you could ease the flap with a bit of careful filing or grinding.
Yes I'm aware of that, just mentioned it because obviously this should be designed better.
Comment on this review:


Earn store credit by writing reviews. Learn more.

Model: Helio 145