Dynafit Radical ST Binding
1 review
$499.95
In Stock & Ships Today
Dynafit has taken a classic 90's expression and slapped it onto the Radical ST binding to let you know how amazing it truly is. Note that Radical should be capitalized, which is pretty much an invite for you to get Rad, something you can very much do with this stout yet lower weight binding. A flick of the wrist (or pole) has you changing riser heights on the fly for those steep skin tracks, mellow approaches and everything in between. The hope is that every day is a powder day so the toe pins are built to break through compacted snow and ice that can build up on those deep days. Send to your hearts content, the lateral release is aided by a sliding plate under the heel for consistent release and the brakes will keep your skis close by to avoid awkward penguin slides to retrieve equipment. Tried and true, a real classic, legendary performance; however you want to say it the Dynafit Radical ST binding has a track record of performance that speaks for itself.
6mm plates under the toe and heel transfer power across a wide surface area for extra stability and control at speed.
Speed Step heel climbing bar offering 2 riser heights in addition to flat, which can be flicked into place with a pole after a little practice.
Power Towers on the toe pieces help guide your boots into the pincers, with bonus protection from side impacts.
A full 25mm of fore/aft heel adjustment adapts to various boot sole lengths, which can increase the resale value as more people can step in.
Brakes are included with 92mm, 100mm, and 110mm options* to match the width of your ski.
The brakes have a glide plate intended to reduce friction from rubber boot soles when releasing sideways.
Anti-rotational device on the brakes ensures the heel piece doesn't rotate accidentally and put you in ski mode while skinning.
Crampon slots are designed to hold Dynafit ski crampons for those steep and greasy skin tracks.
**Please ensure the ski brakes you select fall between 15mm less to 2mm more in width compared to the ski underfoot.
Update 2018/19: The Radical ST is back and lighter than ever! Dynafit changed from steel to aluminum in the toe piece, ensuring time-tested performance both up and down but at a weight savings of 30g per side. The binding also gets new anodizing for a sleeker look.
Specifications
Weight
convert to ounces
531g [92mm]
Weight (pair)
1062g [92mm]
Boot Compatibility
Tech
Brakes (mm)
92, 100, 110
BSL Adjustment
25mm
Riser Heights
2 + flat
Vertical Release
4-10
Lateral Release
4-10
Crampon Ready
Yes
Specs Verified
Yes
Design
Materials
7075 aluminum, steel pins, high-strength plastic
Skimo Co Says
Usage
Backcountry, sidecountry, out-of-the-country
Notes
Anti-rotation device on the brakes prevents accidental transitions
Bottom Line
Good balance between weight, performance, and safety
Compare to other Full-featured Bindings
Questions & Reviews
I am interested in these bindings but have a 102 mm waist ski. I have some old dynafit bindings with ski brakes--would I be able to swap brakes over to these bindings?
Kris- All of the Dynafit brakes/base plates are different between years, so it will depend on which exact binding you have now. We are slated to get more of these bindings with wider brakes very shortly. If you would like to know specifically send us some photos to Help@skimo.co and we can atke a look.
Answer this question:


Do these bindings have forward pressure in the heel? In other words, gap or no gap?

Thanks in advance!
Hi Matt, the Radical ST uses a 5.5mm heel gap. The
Rotation
binding is Dynafit's signature gapless model.
Answer this question:


Hi,
Can I stretch the 100mm to fit the waist of Black Diamond Helio Carbon 104 Skis? I see that you don't have the 100mm in stock.
Thanks.
Thanks for your question, Tom. The 100mm brake could be stretched to fit a 104mm underfoot ski. We're hopeful that we'll be getting the 100mm back into stock in the next few weeks.
Answer this question:


Hi,
I'm trying to decide between the ST Radical and ST rotation bindings to mount on my new Backland 100s and ski w Dynafit Hoji boots in the Tahoe area. This will be exclusively a backcountry set up and will be skiing conservatively. I'd lean toward the lighter Radical binding; but, if you think the Rotation binding adds significant safety for my aging knees, etc., I'd go with the extra weight.
Thanks!
Hi Tom,

The Dynafit ST Rotation is TUV certified, which is rarified air in the world of tech bindings. The elasticity in the heel and rotation in the toe piece provide an extra safety margin over the Dynafit ST Radical.

If safety is a paramount concern, I would recommend the Rotation over the Radical.
Answer this question:


I have a 95 mm wide ski under foot. Would you recommend the 92 or 100 mm?
Thanks for your question, Randy! While either would work, the 100m wide wouldn't require any stretching. Either way, you'll be covered!
Answer this question:


would le 92mm brakes work on a 98mm ski ?
Clement, They would be able to work. Without bending they will be close, may just need a tiny bend.
Answer this question:


I just picked up a pair of Black Crows Solis skis. Do you think this binding would work well with them? In an interview the Ski's designer said " if you fix bindings which are too supple at the back, the boot will tend to want to release and finally, won't ski well because the binding is always on the move. This ski transmits a lot of energy so it is useless to associate it with floating bindings. " Thoughts? Thanks!
Hi Alex, it sounds like they don't recommend using tech bindings. The Solis is basically an alpine ski so I guess that makes sense (in Cham you can just step off the midi to go "ski mountaineering"). You could look at the
Shift
which is an alpine binding that has toe pins for the uphill.
Answer this question:


I have been barraging you guys with questions.... sorry.

I want to replace my Vertical STs with something that has the nice flip-type heel lifters. I had thought about Pika, but you suggested the brake behavior is sketchy.

Occurs to me to just get Radical STs, and replace just the heel unit, so I'd have Vertical ST toes, Radical ST heels.

Any reason this won't work (with all the caveats about manufacturer warranty etc..)?
Hi Eric, if you replace the whole baseplate + brake assembly as well as the heel towers, then that can work. As usual when mixing and matching, you may not be able to trust the release value indicators.
Yep, that's the idea -- replace everything. Thanks.
Answer this question:


Can you pls tell me what size binding I need for my Atomic Backland 85 158? Thanks!!
92mm is the narrowest brake available for this binding, so that should work just fine for you unless you want to consider another binding or going brakeless!
Answer this question:


Which size should I use on a pair of 106 K2 Waybacks, 100mm or 110mm?
Ian, you could slightly bend the 100mm to work. But the 110 will be a better fit, just 2mm extra on each side.
Answer this question:


I'm looking to put these on Voile Hyper Vectors (171 which are 94mm under foot). Will the 92mm brakes work?
Hey Tony, that 92mm brake should work just fine for you, and you can bend the brake arms just a touch if you need to!
Answer this question:


I lost a ski in the powder that had a dynafit radical ST 100mm, is it possible to purchase a single binding?
We do not have individual bindings for sale, but you can purchase a toe piece, heel piece, and brake separately to build your own single binding. Feel free to e-mail us at help@skimo.co if you have any follow up questions.

Patrick // Skimo Co
Answer this question:


Would I go 100 or 110 brake width for a 103 ski
Hi Kena, the 100mm should just fit on those.
Answer this question:


Hi, for the Blizzard ZeroG 95 will a 100mm brake the right size??
Also, are you offering the latest model of the binding on your site, or is it a 2019 model?? Just curious, as I read that there were some improvements in a 2020 one.
Thanks
Diana
Hey Diana! Yes, that is the correct brake size for your Zero G 95's. We are indeed offering the most up-to-date model. There have been some minor tweaks to the construction of the toe piece for the 2019-2020 version; but the main news is Dynafit's announcement of a lifetime (aka, ten-year) warranty!
Answer this question:


Hi,
Two questions:

1. What size of Radical ST binding do I need for the Voile Hyper V8s, 176?

2. I already have the Radical ST binding on a couple of skis. I love them because they are durable, light weight, and easy to use. However, with so many more options on the market right now, should I consider changing bindings? I view brakes as not essential (or a menace), all my bindings are set not to release, and I have the reputation of destroying things.

Thanks!

Michael
Michael, you would use the 110mm brake for your 112mm wide ski. Will most likely fit without bending the brake arms.
Part 2. Note, Skimo never recommends skiing bindings not set to release. The Dynafit bindings are pretty bomber, but you can also look at Plum. You can order the Plum Guide or Yak without brakes.
Answer this question:


Just bought some Dynafit Speedfit 84's. on the Radical ST, will the 92's work? Will they be sticking out wider than the ski?
Hey Cody! Yeah, they should work just fine! They'll be sticking out a little bit, but definitely not too much for concern.
Answer this question:


Hello! I have the Hoji W 171cm skis, and am looking for a binding that will be used in the resort and for some straightforward backcountry, are these a good choice or would you recommend something else? The waist width on my skis are 112mm, what would you recommend for binding size? Thanks!

-Katie
Hey Katie! Yeah these have a lot of potential to work. I think as long as your ideal release values line up within the range of these bindings then they'll do really well! Find your release value using our calculator
here
if you're interested. As for brake width though I think the 110mm will do fine. Dynafit sized these brakes pretty conservatively and there's a bit of buffer zone built in so I think they'll do just fine. Worst case you can bend the brakes out just a little bit to clear properly but I don't think you'll even need to go that far.
Hi! And one more question-- Is the Dynafit - ST Rotation 10 the newer and more recent version of this binding? And as far as brake width on the newer binding would the 105mm work you think? Thanks!

Cheers,

Katie
Hey Katie! The Rotation 10 is an upgraded binding by about two generations worth of technology. They're designed to occupy the same place in Dynafit's lineup but the ST Rotation 10 packs a whole lot more technology (and weight) than the Radical ST does. I think for straightforward backcountry with very limited or no resort use the Radical ST is way more than adequate and the ST Rotation 10 is a good choice as well but only worth it if you need the added features that come with it.
Okay, so I guess my question is, of their most recent binding line up, what binding is the best option for primary resort use, with some basic and straightforward backcountry use thrown in?
Hey Katie! Ha, dang, sorry if I didn't answer your question appropriately the first time! For primarily resort use I'd definitely recommend the ST Rotation 10 because of the extra release technology and DIN Certification thrown in. It acts much more like an alpine binding on the way down while still having all the touring benefits of a tech binding.
Okay and would you compare the Rotations compared to BD Fritschis tecton 12?
Hey Katie! Kinda, but in an apples to oranges kind of a way. The Tecton is much burlier and functions even closer to an alpine binding than the Rotation 10 does. The Tecton definitely has a resort bias to it. Send me an email at help@skimo.co if you have any further questions and we can get to the bottom of this!
Thanks- I sent one in regards to an earlier conversation with Nate- Maybe you can add to it- Thanks so much for your patience, and help!
Answer this question:


what is the adjustability range? in mondo sizes

thanks
Hey Chris! 25mm total fore/aft (meaning when the heel piece is centered in the track you can move it +/-12.5mm) which is generally enough for about 2.5 boot sizes but it depends on the exact boots you're trying to accommodate.
Answer this question: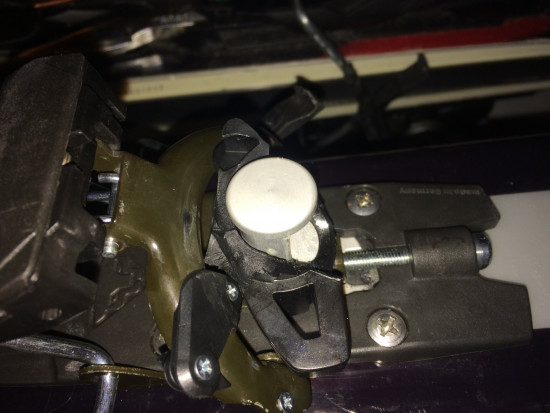 Dear Skimo,
What material makes up the plate that mounts the heel piece to the ski and the tower that rotates to transition between tour and ski modes? Is it brittle plastic like what is used in the Dynafit Radical or strong metal that I can count on while getting rad on the way down?
Hi Rob, the base and shaft are metals. There is some plastic around the outer ring of the adjustment base, but all the force is on metal.
Answer this question:


Hi, do you still have some Radical ST available? My girlfriend just bought a pair of 110 mm skis and is stumped to try to find a new pair of dynafits with brakes that will fit. 105 mm radical st 2.0s seem like the closest next best thing, but if you have a radical st in 110 mm I think that would be the ticket.
Thanks!
Hi Nathan, unfortunately those are all gone, sorry. Yes the Rad 2s would be a good match. Or the Plum Guide 110s.
Answer this question:


Earn store credit by writing reviews. Learn more.

Model: TLT Radical ST