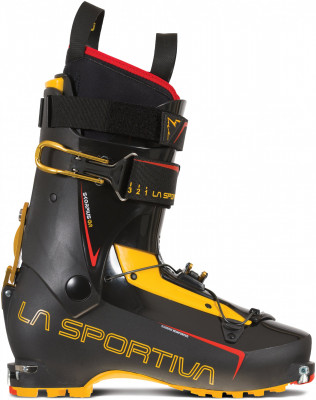 La Sportiva Skorpius CR Boot
0 reviews
$799.00
In Stock & Ships Today
August to October is an exciting time for ski shops all across the country. New products are being unboxed for the first time, customers are trickling back in the door after the hot summer, and every falling leaf signals the pending arrival of winter. Each year, a handful of products really stand out*, and La Sportiva's new boot was one of the most anticipated. The Skorpuis CR boot was meant to replace the Spitfire, and man did La Sportiva nail it. With a 68 degree range of walking motion and the smooth Spider ratchet closure system, the Skorpius goes up as well as it goes down (some might say it does so even better than its forebearer). Now, you don't have to compromise on performance or lug an ounce more than you need to into the backcountry-- The La Sportiva Skorpius boot is all you need for BC glory.
* Even though we told them not to, the guys in the shop did bring cake and ice cream to work the day that these arrived. We apologize for any stray frosting or sprinkles, we tried to get it all, but a Costco cake thrown in the air does leave quite the mess.
The SWING-LOCK ski/walk closure system is easy to use and stays in whatever mode you want it to.
Ramped toe inserts mean that Ski Trab Titan bindings can be stepped into without depressing the lever.
This boot has 68 degrees range of motion (33° back and 35° forward) for your walking pleasure.
A La Sportiva GripGuard boot sole makes rocky scrambles feel secure.
Compatible with tech, AT frame, and the unique TR2 bindings.
Made in Italy.
Specifications
Weight
convert to ounces
1190g [27.5]
Weight (pair)
2380g [27.5]
Buckles
2 w/ Swing-Lock & optional power strap
Boot Sole Length
277mm [25/25.5]
287mm [26/26.5]
297mm [27/27.5]
307mm [28/28.5]
317mm [29/29.5]
327mm [30/30.5]
337mm [31/31.5]
Binding Compatibility
Tech, TR-2, AT (frame)
Cuff Rotation
68° (33° back/ 35° front)
Forward Lean(s)
12°, 14°, 16°
Specs Verified
Yes
Design
Materials
Carbon reinforced Grilamid
Liner
Skorpius CR
Sole
La Sportiva Grip Guard (complies w/ ISMF standards)
Skimo Co Says
Usage
Light and fast ski mountaineering.
Notes
Quick step into Trab Titan bindings.
Bottom Line
Even better than the Spitfire
Compare to other Touring Boots
Questions & Reviews
How does the width and instep volume compare to the backland carbon?

Thanks!
Hi Patrick, the Skorpius has a much lower instep and is a touch narrower as well.
Answer this question:


Would you feel these are enough boot for wider freetour skis, like the Alchemist Wailer 112, Katanas or 4Frnt Hojis (latter two also being 112mm waist) for dedicated backcountry, powder, not-too-sendy skiing? Looking to move off of my Vulcans to something lighter with more ROM, but still robust enough for those types of skis, and light enough to replace my TLT6-Ps when using my 90-mm spring/13-14er ski.
Dub_xion, thanks for reaching out. The Skorpius is a very capable boot and should have no problem driving either of those skis. You will be pleased with its performance both hiking and skiing!
Answer this question:


how does this boot's downhill performance compare to the:
- Atomic Backland Carbon
- Scarpa F1 LT
- Dalbello Quantum
Asking for future me this upcoming season in a pair of slick ~1000g boots.
Hi charth, I've skied all of these except for the F1 LT, which floor-flexes just like the Alien RS (which I own). The Skorpius feels like a different category, the closest to an alpine boot, but also the heaviest. The Quantum has the most progressive flex, the Alien RS has the least progressive flex, and the Backland is the softest.
Answer this question:


Im a newbie to this boot class...going from soft boots on my spltty to a skimo boot and the phantom system, how would you rate this particular boot ? will it be an easy changeover for me or is it too stiff and therefore too great a jump? is there a boot that you'd think is a better option? the TLT6, etc??
Hey Whoooknew, the Skorpius is one of the stiffest boots in its class. I would recommend something softer like the Atomic Backland Carbon,
here
or even the Backland Pro
here
. Both are great options but talking to split boarders here in the Wasatch they prefer the flex of the Backland Pro. These boots also have the capability of adding Phantom's Link Levers, which adds to the performance. The Backland series also has a customizable shell that allows many different feet types and shapes.
Hey Thanks so much! thats great intel...Ill check out your recommendations
Answer this question:


How do these compare to the first generation La Sportiva Spectre for fit in terms of size and fit? I currently use stripped down Spectres with the power strap and 2 buckles removed, size 26.5. I have very muscular legs so want to know if the boot accommodates large calves?
Hey Clint, unfortunately the Skorpius is more akin to the OG
Spitfire
in the cuff shape/size! It's pretty narrow through the calf so may not be the top choice for you. I would say the
Scarpa F1
has the most flare-out at the calf area of any of the two-buckle boots and may accommodate your calves best.
Answer this question:


I'm curious if you find this boot to be in a substantively different "class" than the Fischer Carbon Travers. I am considering getting something a bit beefier, if it still walks well... any thoughts on the skiing performance and walking performance of the two?
Mbillie, you could say so. We feel they are stiffer than the other Touring category boots like the Travers, F1 and TLT's. I know people who feel comfortable skiing in the resort with them. Range of motion is better than the previously mentioned boots except for the Fischer. The 2 stage shell buckle is slick to loosen your boot for walking. The Skorpius is definitely a boot worth checking out.
Answer this question:


Is this stiffer than the tlt8 carbonio?
Hey Anthony, they are both fairly stiff boots in the two-buckle/touring category, I wouldn't say there's a massive difference between the two. With the damp feel of the Askis underfoot you may prefer the more aggressive forward lean on the Carbonio to get the most out of the ski.
Answer this question:


Hi,
I'm wondering how these size. I am a 29.5 in Dynafit Hoji's and Scarpa Maestrale RS.
As you can see I've got pretty beefy boots. Looking for a much faster lighter touring boot that isn't a full-blown skimo-only race boot and can still drive a 95-105 waist ski. This seems to fit that bill. Considered Sytron but that seems like it might be a bit too tipped toward race without a full tongue.
Can you advise on sizing? Thanks!
Hey Jared, thanks for reaching out! You may have found your boot in shining armor with the Skorpius; they're an amazing combo of light weight and impressive stiffness in the forward flex. We've even considered creating a new boot category for the Skorpius, tentatively named "Lean Beef." I would recommend going with approximately the same sizing in the Skorpius as your Hojis or Maestrales, but it would be great to get some more info before we make a decision. Fill out our
Online Boot Fitter
and we can get you squared away! Cheers!
Answer this question:


This boot seems like it would a competitor to the Scarpa F1. Is the ankle articulation noticeably better or comparable to the F1? My experience is that boots with tongues that advertise 60+ degrees of ankle rotation do not come anywhere close in practice because the tongue severely limits rear rotation making it hard to kick the ski out in front of you in a natural stride similar to a nordic ski. Boots like the Sytron facilitate this type of stride due to a lack of a tongue, but I am curious if this Skorpius really does allow the skier to use that 33 degrees of rearward rotation, or is it seriously limited by the tongue like an F1 which states 62 degrees (or something like that) of rotation but only really manages 35-40 in actual use. I honestly can't tell much difference between an F1 and an older Maestrale which advertised 40 degrees, while I notice a significant difference between the F1 and the Sytron. Would the Skorpius be closer to the F1 or Sytron in terms of walking?
Hey Will, the Skorpius is definitely more comparable to the F1 (a two-buckle touring boot) than it is to the Sytron (a soft-tongued skimo race boot). If anything, the Skorpius is a bit stiffer in its forward/ski mode flex than the F1, and has easier ankle articulation. The Skorpius has great performance when skinning, so I wouldn't hesitate to use it as part of a light-and-fast setup with which you may have opted for a true race boot in days of yore. And yes, go ahead and disregard those manufacturer's recommendations on articulation angle; they often have no bearing on reality!
Answer this question:


I see somebody already asked this one, but I'm wondering if there's any new info. The Spitfire 2.0 fit my foot really well and skied great, does the Skorpius have the same last? Thanks!
Hey Ian, thanks for reaching out! The Spitfire was indeed a terrific boot, and we're hoping for a repeat performance in the Skorpius. The Skorpius has a relatively similar fit, but definitely not the same. It retains the heel fit and lower instep height, but it gains a wider midfoot and a less restrictive toe box. If you need a narrower-than-average boot, I might not recommend the Skorpius first off. Feel free to use our Boot Fitter (https://skimo.co/boot-fitter) for a more personal recommendation!
Answer this question:


I've been considering Sytron and I'm curious what Skorpius offers for +200g (ish) in weight. Are these much stiffer boots intended to drive bigger skis? Both seem to be 2 buckles + optional power strap in the same format as the previous Spitfire/Sideral, so I'm wondering what differentiates the two lines. Sytron seems like a skimo race/touring hybrid?
Hey Christopher, thanks for reaching out! You're right on the money about the Skorpius being a stiffer version of the more race-oriented Sytron. Because the Skorpius has a full tongue in the front, it makes the boot hold up better to significant forward-flexing while driving a big ski or making turns on hard snow. The Sytron shaves some grams and provides more ankle articulation by removing the plastic tongue and using a gaiter instead. That said, it's an excellent boot for race and mountaineering skis from 65-85mm in the waist. Above that width, I'd recommend the Skorpius, which will "push back" more and has great ski performance for a sub-1200g boot.
Answer this question:


How does the fit compare to the Sytron/Raceborg/Racetron fit? Would you typically recommend the same size in Skorpius as the others, which of course share a clog?
Joshua, the fit is very similar to the Sytron, but not exactly the same shape. You should be same size as your other boots. If you want to delve deeper, please use our
Boot finder
.
Answer this question:


It is not clear to me where this boot fits in. Looks like in last it is comparable to the original TLT6, wider than the TLT5. In weight it is comparable to the TLT8, depending on liner; TLT8C has a "custom light" and TLT8E has a "custom ready" liner and the CR is more comparable to the Palau and Intuition after-market liners that most people would replace the CL with off the bat. No information on cuff height or on "flex". I'm looking for a boot that has slightly more metatarsal width than the TLT5 and the same or less than the original TLT6 and Scarpa F1 but with a slightly taller cuff and significantly but slightly siffer flex (a progressive flex is best, but I don't want the weight of the Pro Tour). So ....
Hi Andy, sounds like you've done your homework! Yes this boot is similar to a TLT6 CL (lots of folks use the CL liner for what it's worth) in forefoot width. Flex ratings are made up, but this is more boot than a six in my opinion after limited use. Walk mode is like a tongueless six. Cuff height is either the same or taller than an F1, depending on your shell break.
Thanks, jbo! Still doing my homework, looking for a replacement for my aging TLT6--something a little stiffer and just a little taller and lighter or just about the same weight and that walks as well as the TLT6 without accessory tongue; I use my 6 with my Movement Vertex-X. It wouldn't hurt if it could also replace my Scarpa F-1 that I use with my Alp Tracks 100. LOL It looks like this boot or the TLT8 might do the job; I'm waiting to see your evaluations of the Carbonio and Expedition CR. :-)
Nice Andy, yeah I think it's doable to go to one boot with this year's options. We also got to ski the TLT8s which are a nice upgrade from the 7. The fit is very different than the Skorpius and that will be the deciding factor for most folks. It sounds like the Sportiva would fit you better.
Answer this question:


Are these in your store yet? Do you have an ETA? Will they have the same warranty voiding issue for shell punching that the Alien RS has? I'm really interested in trying this boot when it arrives. Currently in Alien RS and love it, but it's just a little narrow for my foot.
Hey Kevin, we should be seeing these soon, possibly next week? Compared to the Alien RS, the Scorpius is lower volume over the instep, and wider in the forefoot. Shouldn't have any issues punching the shell!
Answer this question:


Is this the boot to challenge the Scarpa Alien RS for speed touring supremacy? Although I like the RS and skied it plenty last spring, I still found it softer than the hype would suggest. Obviously, the BOA was a thorn in my side and I eventually jettisoned it for a Voile strap mod. Never had an issue with the upper cord breaking but that remains a weakness for some. This new offering has some appeal.
Hey Brian, we'll see how the Skorpius performs in the season to come, it could be a contender!
Hi Brian! With admittedly limited days, I found the Skorpius to be quite a bit more boot than the RS. It should also fit your foot well, so it's definitely worth a try-on.
Answer this question:


Hi there, do you know the last width of the La Sportiva Scorpius CR? Trying to decide if this would be a good boot for me. Looks tough, like the simple ski/walk mechanism and that its independent from the top buckle.

Also, do you think the Atomic Backland Ultimate Race boot would be warm enough for daily touring? Looking for a really light durable boot for long missions. Not too concerned with stiffness as I have been skiing in single insulated leather mountaineering boots for 25 years.

Thanks!!
Hey Marc! La Sportiva Scorpius is a 102mm last. Warmth is very subjective. Boots with a race or race light liner will be less warm then a heavy touring model. As long as you are moving quickly and not standing for long periods, most people are fine with a race boot for touring. Also a boot glove would help on very cold days.
Answer this question:


Do you already have these?
How does the last width and foot volume compare to Spitfires?
Thanks.
Hey Scythian!! We do not have them in yet. Can't say for sure, likely later this fall, though.
The fit in the shell is about the same as the Spitfires.
Answer this question:


Earn store credit by writing reviews. Learn more.

Model: Skorpius CR