Palau Tour Lite Pro Liners
3 reviews
$174.95
From $154.95
In Stock & Ships Today
Palau liners are made with 100% highly rated EVA foam. The thermo-moldable foam is closed-cell which maximizes thermal retention. Palau make their liners with a dense cut of the foam that retains its shape after a heat mold or some skiing. That is why they were chosen as the liner supplier for Dynafit, La Sportiva, and other well-known boot brands. Now you can get replacement liners for lightweight backcountry boots with the aftermarket offering from Palau. The Tour Lite Pro liners are relatively thin, lightweight, and have an Achilles flex zone. Perfect replacements for TLT, Spitfire, and other high performance ski mountaineering boots.
100% closed-cell EVA foam is very receptive to molding.
Tongue design doesn't interfere with walking like an overlap.
Lacing system give you additional ski-support if desired.
Flex zone behind the ankle allows for unimpeded skinning.
7mm thickness is light, flexible, yet reasonably warm.
Compatible with TLT5, 6, PDG, Spitfire, and other models.
Questions & Reviews
I would like to replace the stock liners in my 29/29.5 (318mm) Atomic Backland boots. My feet are very wide and I've stretched the shells quite a bit, so now I'm looking for a liner that is wider in the toe box than the stock liner and similar in thickness, or maybe just a little thicker. What size of the Palau Tour Lite Pro do you recommend?
Thanks for your question, Tim! Either 29.0 or 29.5 would work. The 29.5 is just a bit longer than the 29.0, which would help fill a bit of volume lengthwise if you felt that was necessary. Please let us know if there is anything else we can do for you!
Answer this question:


Need to replace my Scarpa F1 28.5 liners. Would prefer the laces found on the PROs, but if the EVOs are a better fit, would go for those. Please advise which one is closer to the stock liner. Thanks!
Answer this question:


I'm looking for new liners for my Dynafit Hoji PX boots. Size 24. I tried the Intuition Pro Tour but they were too thick up top. Are these lower volume? I'm having issues with my inner ankle bone getting some sharp pains.
Hey Hannah, these Palau Tour Lite liners will be a bit lower volume than the Pro Tour. If you wanted an in-between option you could try out the Palau Power LT liners which will have the same thickness foam as the Tour Lite but just a bit thicker towards the upper cuff. Overall the foam for the Palau liners will be a bit more soft and supple than Intuitions.
Answer this question:


I am looking for a good replacement liner for my Dynafit TLT 6 boots. I do not need race type liners, rather a touring type liner for all day AT skiing. What do you suggest?
Hey David, these Palau Tour Lite Pro liners or potentially the Power LT liners from Palau could both be good options. The Power LT liners will just have a bit thicker foam in them.
Answer this question:


I'm wearing 2020 Atomic Backland Carbons in the largest shell size (30-30.5). I wear a US13. The stock liners have some bad thick seams that are irritating my feet even after two shell molds. I'd like to try these Palau liners, but should I get the 30.0 or the 31.0? The boots are just barely small for me now, but can I fit a 31.0 liner in the shell? Thanks!
Hey Todd, the 30.0 liner is going to be the size you want to go with, the 31.0 will be too long for that shell.
Answer this question:


hey good skimo guys,

I have an Atomic Ultimate - actually I have 2 pairs - one I fitted with the Plalau Ultralight. For the other one I would like to have a little bit firmer Liner - would that be a good choice? and whats the weight for both liners, Ultralight and that Tour light Pro?

Thank you,
Tom
Hey Tom, this could definitely be a good choice! It wil be a firmer feel than the Ultralight but be aware that it also might take up a little more space in the toe box, especially if you had the 5mm Ultralight. The weight for a pair of the Ultralights in a 27.0 is 178g. They do run a shell size smaller than most other liners so I weighed them in a 28.0 also, which comes to 185g. The Tour Light Pro in a 27.0 weighs 301g.
Great, thanks for the information - and yes I would like to have it firmer and smaller. So the the Ultimate is 27/27.5 - I guess I need to order a 27 Tour Light Pro, correct?
Hey Tom, you're actually going to want the Tour Light Pro in a 26 sized liner. The Atomic Backland Ultimate is sized a full shell size smaller than other boots because it was designed to have such a thin liner.
Hey Julieana, got it - thank you very much for your help!
Answer this question:


looking to replace the stock liner in my old style 28.5 DF vulcans...which size would you suggest?
Lee, either the 28 or 28.5 will fit that boot great. I would recommend a beefier liner like the Palau Power LT, it is thicker throughout and much thicker on the upper cuff which will increase the downhill performance.
here
is a link to the Power LT liner.
Hey Lee, the Palau Tour series liners tend to measure pretty true-to-size relative to the Dynafit boots, so I'd say either go bang-on 28.5 with your Vulcans, or drop down to 28.0 if you want a slightly snugger fit that will expand with heat-molding! Depending on which generation Vulcan you have, the Tour Lite Pro may be a bit thinner than what came stock in your boots. For a liner with a little more stiffness and a thicker foam, the
Palau Power LT
would be an awesome option -- a little closer to what Dynafit is shipping stock with the Sidas liner in the Hoji Free these days.
Answer this question:


I have a pair of Dynafit Mercurys. I am looking for a close to stock fit liner replacment, would these be the closest?

Thanks for your help!
Ben, These would be a great option, but I would suggest looking at the Palau Tour Lite Pro Evos. They are similar, but the Evos are a little thicker around the upper cuff which will feel more like the stock liners of the Mercurys.
Ben, you might also want to look at the Palau Power LT liner as well. This liner will be thicker throughout the foot as well as a thicker upper cuff compared to the Palau Tour Lite Evo.
Answer this question:


I have been using 27.5 (299mm) Dynafit PDG's (old version) with Palau liners for some time (don't remember the model, but seem to be around 7mm thick?). I recently upgraded to newer 28.0 (299mm) Atomic Backland Ultimate ski boots and am looking to replace the thin sock liner. I'm looking for a liner than can provide a tighter fit like in the PDG's. Are the Tour Light Pro Liners a good choice, or is there a better option? Thanks.
Alex, These should be the one. I tested for you. We have a 28.5 and it fits nicely in the Ultimate. They are thicker than the stock liners and seem like they will be more comfortable too.
Are Palau liners true to size or are they manufactured in full sizes only? It's difficult to tell based on their website. Is the 28.5 actually a half size? If so, I would probably get a 27.5 for my 28 boot. Thanks for your help.
Hi Alexander, they are true to size and the half sizes differ from the whole.
Answer this question:


what is a good inner boot replacement for my old soloman X wave 10 boots?
Hey Gene, I think most of our touring liners will be too thin for that boot, I'd recommend seeking out some alpine boot liners!
Answer this question:


Hello! Would this be a good replacement liner for Fischer Travers Carbon? My toes are just about as snug as I'd want them to be currently, so hoping to find something not any thicker than the stock liner. If the shell is 25.5, I imagine just getting the same size liner is the right move? And finally, since these are a light liner, is heat molding necessary or will a couple days of skiing do about the same thing? Thank you!
Hi Matthew, yes this is a good replacement option. A couple of us here are using that combo and it works fine with the same size as the boot. These are slightly denser foam so you may appreciate a liner mold at the outset to get some toe wiggle room, but they would eventually break in as well.
Answer this question:


What is the difference in weight/thickness/flexibility between these and the Pro Tour Evos?
Hey Joshua, the Tour Lite Pro Evos are built out of 1mm thicker foam, but the flexibility is relatively comparable. The Evos do have a thicker cuff with a stiff backing, so if you are looking to take up cuff room, they may be a better choice. As far as weight goes, the Evos are an additional 18g (163 vs 181g).
Answer this question:


Hi, are these liners identical to the CR or the CL liners of the TLT 6? Currently, I have the CL liners but want a more durable liner, like the original CR from Dynafit.
Thomas, the Palau aftermarket liners are not exactly the same as the OEM Dyanfit liners. If you want a bit thicker and beefed up liner, try the
Pro Evo
.
Answer this question:


Will this work in a Syborg boot? I tried the ultralight race liners and didn't like them as much as a tongue liner. And if they will work, is it size appropriate? 28 liner in 27.5/28 shell?

Thanks!
Timothy, these Tour Lite Pro will work well. They are a bit thicker then the stock liners and will be more comfortable.
Answer this question:


Are these available in a 28.5?
Joe, We do not have those in stock. Most likely the size 28 will work for you. You can contact us at help@skimo.co for more info.
Answer this question:


Would this be thicker than the intuition pro tour? I"m looking to replace PDG size 29 liners and really like how thin and light they are. Any other recommendations other than this one?
Hi John! This Palau liner would be a much better fit than the Intuition Pro Tour. The Pro Tour is thicker in the foot and much thicker in the cuff. The PDG boot comes with a Palau made liner. A single (size 29) liner weighs 239g.
Answer this question: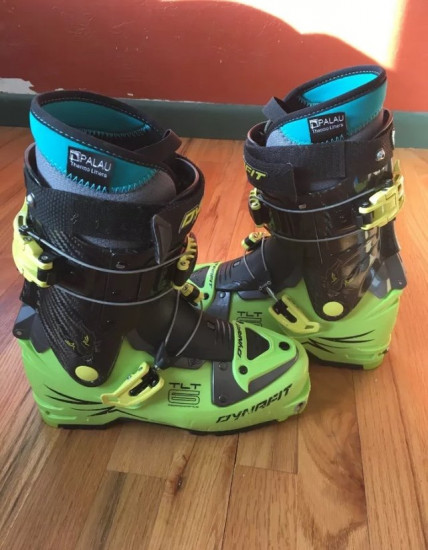 I got these with the hopes to make my TLT 6 Performance fit. Although the liners performed willingly, and everything I could have asked them to do, I couldn't make the boots work. I bought these a 25.5 TLT 6, and they fit great, giving me more toe box and more width. I think it's the best replacement liner if you are looking for a simple, lightweight, warm, no-nonsense liner. The only reasons I'm giving 4 stars, is the lack of rear pull loop, and the excessive width around the lower leg. I have skinny legs, but they were completely "bottomed out." They still fit really well in the boots, though. And they were great right out of the box. I didn't feel the need to heat them up. The $160 is a great value. If you are looking for a replacement liner for your TLT 6s, The Palau Tour Lite Pro is a great choice.
Comment on this review:


Overall very happy with these liners as a replacement for the worn thin factory liner in my Atomic Backland Carbon AT boot (in the same size). The only thing I would change would be adding a pull loop on the back of the top of the liner. It has only a pull loop on the front, which makes it harder for me to pull them on.
Comment on this review:


Is the TLT6 she'll size the same for 28.0 and 28.5?
Answer this question:


Will these fit my women's 265mm Atomic shell? 22.5

I have a very small skinny foot with high arches. So hard to find a small enough boot. My feet swim in my packed out liners now. Thank you!
Hi Stacey, it's a little difficult to say for sure that this will be a good replacement without knowing exactly which Atomic boot you have. If you can provide a little more info, I can try to make a suggestion. Do you know the model you are wearing?
Answer this question:


Earn store credit by writing reviews. Learn more.

Model: Tour Lite Pro