Salomon MTN Lab Helmet
6 reviews
Feel free to open the throttle a little further with the Salomon Mountain (MTN) Lab helmet. The 'Lab is certified to both alpine skiing and mountaineering standards, so you are better protected if you sketch out. Plus, Salomon was listening to its backcountry team when they explained no one will wear it if it's heavy, cumbersome, or hot. They innovated with a new 4D EPS construction that offers alpine-like protection at a fraction of the weight. A silky Activedry Merino wool liner keeps sweat at bay and is comfortable enough to wear on the up (saving valuable pack space). The Salomon MTN Lab is the new lightweight, dual-certified, star kid on the block.
CE-EN1077, EN 12492, and ASTM F-2040 alpine skiing and mountaineering certifications for maximum safety.
Comes with a slick carry case that can be donned like a backpack.
Innovative EPS 4D construction offers superior shock protection.
Headlamp clips and goggle keeper make sure your gear stays in place.
Removable Advanced Skin Active Dry Merino wool liner wicks moisture and stink.
Forehead clearance for large alpine goggles.
ISPO 2015/2016 Award Winner.
| | |
| --- | --- |
| Size | Head Circumference |
| Small | 20.9 - 22.0" (53-56cm) |
| Medium | 22.0 - 23.2" (56-59cm) |
| Large | 23.2 - 24.4" (59-62cm) |
Specifications
Weight
convert to ounces
380g [S]
418g [L]
Certifications
CE 1077 (alpine skiing)
EN 12492 (climbing)
Specs Verified
Yes
Design
Materials
Superlight in-molded EPS 4D foam
Skimo Co Says
Usage
Skiing, ski mountaineering, racing
Notes
Wicking Merino wool liner
Bottom Line
Well ventilated multi-certified egg protector
Compare to other Helmets
Questions & Reviews
When do you plan to have more in size L in stock? Thanks!
Hey Zander,

Shoot us an email to help@skimo.co and we'll set you up for a notification.
Answer this question:


This is my go to helmet for skiing inbounds, it fits over a 5 panel hat really well and vents well when booting or touring. The only gripes I have is that it doesn't hold a headlamp very well and the tensioning system is a little fragile. Granted I'm hard on my gear but I did brake the attachment point where the plastic caging attached to the inside of the helmet at a singular location that's not very reinforced. I was able to super glue it but I have used it less since that happened fearing it might have other issues.
Comment on this review:


After reading other reviews I thought this helmet might not be as warm as I'd like, however, I am glad I went with it. Well-ventilated for when I am working hard on the ups, and with the ear flap liner my noggin stays plenty warm on the coldest of days on the downs. Bonus and what sold me is the retainer for goggles and headlamp. This makes the helmet perfect for my ski tours and starting the day before the resorts open, I would recommend this helmet to anyone looking!
Comment on this review:


The middle pic with the goggles shows a tab that would appear to close the vents but the other pics do not show that. Is there a way to close the vents?
Steve, Sharp eye. Appears that way, but it is an incorrect picture. The Mtn Lab helmet does Not have close-able vents.
Answer this question:


I was in between the medium and large sizes and went with the medium. I like the fit, but being on the smaller end of the size range (and having a bit of an egghead) the cold-weather liner doesn't cover my ears all the way. This is fine with me, I don't use the ear flaps in my heavier helmet. The weight and ventilation are great for touring and skimo racing.
Comment on this review:


Looking for a lighter helmet for touring but have a huge head. The one size fits all approach from Camp and others never work for me. Smith helmets are the only ones that seem to fit with their extra large ranges coming in around 63-67cm. Do y'all know of any lighter helmets in the Salomon Mtn lab style that would wrap around a big headed human like me? I like the extra protection for impact as I tour in Wyoming/Idaho mostly. Thanks!
Hey BFW! Yeah, I'd have to agree with you there that One Sizes Fits All doesn't really. Dang, 63-67cm though? I think the Large maxes out at 62cm in this guy though so that's probably off. The L/XL
Kong Kosmos
also maxes out at 62cm.
Answer this question: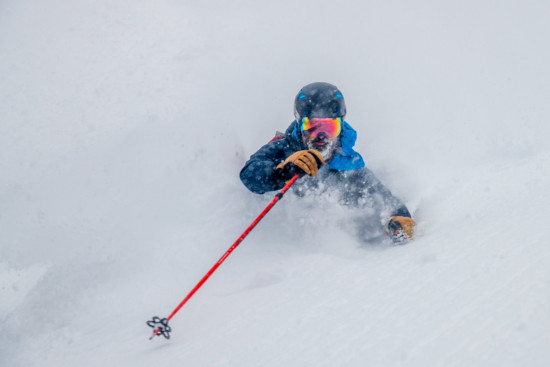 If you want crash protection and wear goggles, this helmet is worth the extra weight and size.

Comfortable with two liners (one with earmuffs, and a thinner liner without for warm days). Works perfectly with goggles and headlamps. Has excellent ski goggle/forehead ventilation for keeping your view fog-free on long descents or when crossing stormy ridge lines. Larger and heavier than a climbing helmet but offers superior impact protection from a crash; and better overall coverage of your temples and rear head. It has also proved durable over a long season.

I don't really notice the weight when compared to carrying my BD Vapor helmet, but when wearing goggles to ski fast I am much more comfortable in the MTN Lab helmet. Furthermore, it's great peace of mind to know I have excellent impact protection. I even wear it for resort laps on warm spring days.
Comment on this review:


Great helmet for warmer weather skimo activities. I will admit I don't always wear a helmet ski mountaineering, but when I do this is perfect. It works well with goggles, headlamp, and the venting is much better than my 20 year old Giro, which I still use for colder days in bounds, and which my son is less embarrassed by (I bought the white because while black is cool, white is cooler.) He claims I look like a mushroom. Regardless, it does exactly what I wanted, replaces skiing in an old Meteor, and addressed the fact I almost never took my Giro backcountry. 5 stars because it's not Solly's fault I look like a mushroom to a 10-year old, but his Ruroc is definitely cooler looking...
Longer term I have not used this much. In bounds I use a mips smith. Out of bounds I try not to need a helmet. If I do, it's often for climbing and/or rock fall. I'm more likely to take a Sirocco or Meteor if I want a little insurance for that missed turn / collision with tree. It's still good, I just have not had much use for it myself.
Comment on this review:


How are the vents open and closed? They seem fixed open to me.

Thanks
Hey Frederick, good eye! You are correct, they are fixed open. I corrected our typo indicating that there was a way to open/close them.
Answer this question:


Not as light as my climbing helmet, but it's light and more comfortable to use with goggles than my climbing helmet. Comes with 2 liners ( with and without ear flaps). The goggle and headlamp retainers make this a fully functional mountaineering helmet. Pretty well-ventilated. I've been using it more at the resort than touring, but it is plenty light and ventilated for touring.
Comment on this review:


So sad they got rid of the sweet yellow version. Not very French of them.
Reply to this comment


Earn store credit by writing reviews. Learn more.

Model: Mountain Lab