Ski Trab Toe Pieces
0 reviews
Italian toes are more likely to be held onto skis using these widgets. If you've got toe problems or just want your feet to look more Italian, get some new binding toe pieces here. This is our growing collection of Ski Trab binding toes.
Gara Titan – Lightweight toes from Ski Trab. They don't have coiled springs, instead you press down on the lever to open the wings and step in. Really simple and effective. Lock plate, crampon clip, leash loop and 4 screws included. Everything you need to fly uphill. 72 grams with shim, leash loop, and crampon receptor.
Titan Vario.2 – Same basic function as the Gara Titan toes, but with shims underneath and longer screws. 81 grams complete.
TR1 – One of the few tech toes with lateral release. Meant to be paired with TR1 heels, with experimental value in a tele-tech system. Available in 6-13 ranges for release values.
Questions & Reviews
Do you have any idea what the dimensions of the mounting holes are on these? I'm looking for toe pieces that will fit on a split with a four hole pattern
Answer this question:


Do you have any more of the plates that go under the 2.0 or vario adjustment? I seem to have misplaced one
Hi Anthony, we're out at the moment unfortunately. I can add you to the notification list for this product, but we may not see more until next season's products start arriving.
Answer this question:


Do you have a timeline for when you'll have the Gara Titan toe pieces available again?
Hi John,

We anticipate receiving more toes here shortly! You can send us an email at help@skimo.co and we can put you on a restock notification list if you'd like. Thanks!
Answer this question:


My partner and I are looking forward to your restock of Trab Gara toes for splitboarding. Thank you for ordering some. They mostly stay on unlocked. When you do lock them in for stomping in traverses in tougher snow they will still occasionally release a super wide splitboard half so some short leashes that would break away with more force than a skis weight are useful.

I think these are the best toes for splitting because of the safety factor of them coming off readily if you make a mistake, but mostly functional in the unlocked mode. They will still release when locked if you a take a ride in climb mode.
got them today, thank you. Love that they are blue again this year!
Reply to this comment:


Is it possible to order the Vario 2 toes from you and then get shorter screws from you so that i could mount with out the shim to keep my toes closer to the ski?

Thanks!
It is. On the
Ski Trab Binding parts
, there are the Flat Toe screws. But you also need the striker plate for the ski/walk lever. The only way to get now is to order the Titan Easy Toe Levers 2.0.
Answer this question:


I'm thinking about getting a pair of these to combine them with Kreuzspitze SCTT heel pieces that I have in my spare parts box. Is this a really stupid idea?
Hey Karl, thanks for the question. It is fairly common still to mix and match toes and different heels so no, this isn't an outrageous idea. The one thing to keep in mind is that with the Titan Vario.2 Toe and the SCTT heel you will have a negative ramp angle between the high of the toe and heel piece. Let us know if you have any more questions!
Meant, I would use the SCTT heels with Kreuzspitze adjustment plates. Would that be a sufficient compensation for the higher ST toe piece stack in your opinion? Generally speaking. Obviously, ramp angle is dependent on the BSL. (My boots range from 310 to 315 mm if somebody cares to dissect the problem really scientifically). TIA
Hey Karl, great question! The adjustment plate will give you an extra 5.5 mm under the heel. With the Vario.2 toe, you will still have a delta of -2 mm. However, if you get the Titan Easy Toe Levers from
this page
and use the striker plate instead of the shim that comes with the toe pieces, that will drop the toe pin height to 31 mm, giving you a delta of positive 2.5 mm (with a 312.5 BSL that will yield a ramp angle of 0.458 degrees (or 0.008 radians, if you want to know)). If you are curious where these numbers are coming from, check out our article on binding pin heights
here.
Thanks guys for this really exhaustive (or is it exhausting?) answer! Also, great source of info on the ramp angle/delta of different bindings. Now I have something to obsess about that I would never have noticed otherwise. And thank you for your patience and not suggesting the obvious: to get full Trab bindings if I like their toe piece that much or, if I am too cheap for that, a pair of matching toe pieces to build complete Kreuzspitze bindings with the heels I already have. But wait! Those have a Delta of -0.5 mm! Guess, I will be never able to ski them again ;)
Answer this question:


me again... hey what do you folks think about using these toes with a Salomon MTN heel? Thanks!
Hi Tristan, I think it could be done, though I couldn't quite tell you what release values to expect.
thanks jbo - I really want to go with the full Trab set but love the features of the MTN heel (except for the adj track)... having to reach down to hand twist the Trab heel as well as not having an additional riser seems like going backwards... probably something you just get used to but...
Answer this question:


Just bought a pair from you online. I assume they ship with the requisite mounting screws for a Kreuzspitze TeleAlp plate?
DOH! Just reread the listing and answered my own question.
Hi Nick, these toes come with mounting screws, which are like wood screws that conform to an ISO standard. You'll need some machine screws to attach these to the TeleAlp plate. We've had to shrink the heads on standard M5s to seat well in these toes.
Answer this question:


I am interested in using Tran toes on a splitboard. Any suggestions on a proper way to mount them?
Forrest- The best way to mount these on a splitboard is using the
Plum Low Tech Adaptor plates
(or similar Spark R&D plates). This toe has the old Dynafit vertical hole pattern (minus the 5th hole).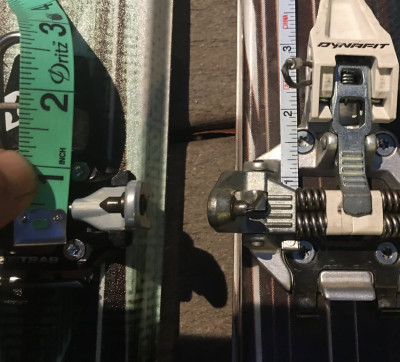 This information is in conflict with the lower comments, the chart provided by this website as well as my personal experience. I will attach a picture of my old speed radicals (which I bought with the R&D adapter) and my trab vario toes. Speed radicals read 1 1/2" fore aft, trab reads 1 1/8. Very similar edge to edge. NOT the same! It is very hard enough to create a new franken binding almost every season without being fed misinformation about new products.
Forrest- You are correct the Dynafit Radical and the Trab have different hole patterns. The older vertical toes and Trabs do have the same hole pattern minus the 5th front hole. If you look
here
you will see the Dynafit Verticals and Trabs are .5mm different which will work fine with an adapter plate.
The spark RD toe adapters were made for the speed radicals. I bought these packaged together as soon as they came out. The bindings I sent a picture of were sent as a package with the spark rd adapter plate and were first used on a split. I abandon this design for several reasons but I do still have the plate. My plate has 5 holes for which I used 4(no center screw in my speed radicals). After looking at the RD site I see their newer adapters have 7 with a set at 26.5 as you say, mine do not have those... Sorry for not believing you but I was holding a part in my hand that proved different. I apologize.
Being a hardbooter can be super frustrating as I look at the hundreds of options skiers have and I can't find a single working option for splits. On my skis I have the Trab vario 2 and it's worlds away from thengear offered to splitboarders. We are left in the dark ages. This Puts me out there in major situations with makeshift gear. Not a nice feeling.
Still on the RD site it states the R&D adapter plate is designed for the use of Speed Radical, Speed Turn, or Low Tech Race toe pieces. It seems I would need to purchase a new adapter plate (which adds cost, weight, complexity and offsets the toe hinge point forward). However this may be worth it in order use the trab toes, which are the best ski toe design out there but still overbuilt, expensive and with too large a footprint to be a good option on a split. I've already run through too many ski toes and adapters. The original voile pin system is lighter, smaller, cheaper, simpler and easier to repair in the field than any ski toe adaptation so far. But it's clunky and leaves the weight of the slider plates on your feet while touring. The ups and downs of a hardbooter.
While people assume splitboarders don't need an efficient set up for some reason, but let me reiterate that we are out there doing the same stuff you are. I will be out on multiple 20+ day self supported ski tours this winter. Right now I would not attempt this on my split because the equipment just isn't there yet. But I'm tiring. I see you are too, I thank you for that. Let's keep it moving forward and not support plum or dynafit/phantom who are putting out subpar gear and see if we can't get trab to make an actual splitboard binding.
Answer this question:


Do these use the same four hole mounting pattern as Dynafit Radical toes? I'm planning to mount them on the Kreuzspitze Tele Alp plate.

Thanks.
Hi Nick,
Ski Trab toes do not have the same mounting pattern as Dynafit Radical toes. We have a comprehensive list of all of the different mounting patterns
here
. However, the
Kreuzspitze Telemark Kit
will mount with the Ski Trab toes just fine!
Thanks Julieana, that's good to know.
Answer this question:


Has the toe screw pattern changed from ~2 versions ago? I need to replace a toe piece at some point...
It is the same as always.
Answer this question:


Does the 61 grams include the striker plate, crampon clip, etc?
Hi Chris, we just updated the specs for 2018/19. These weigh 66 grams with the striker plates (no crampon, etc).
Answer this question:


hi is it sold in pairs or alone?
Hi A-fro! They're sold individually.
Answer this question:


Are the crampon clips on the Gara Titan compatible with Dynafit crampon clips? I am a splitboarder, and would be using the Spark Dynafit-compatible crampons with this. (D-Rex)
Hi Paul, I can't speak specifically to the Spark crampons, but yes, the Trab receptor fits Dynafit-style slide-in crampons. The worst-case scenario is you'd need to bend it outward slightly if the bar is on the thick side.
Answer this question:


Earn store credit by writing reviews. Learn more.

Model: Various