Ski Trab Binding Parts
0 reviews
From $0.45
In Stock & Ships Today
Replacement parts and accessories for Ski Trab TR-Race, Gara Titan, and TR-2 bindings. All are sold in pairs. Also see our listings for complete toes and heels.
Crampon Attachments - Slide underneath the toe pieces and accept standard tech binding ski crampons.
Heel Forks - Choose from titanium or steel (+9g) replacement heel forks for your Gara Titan, Titan Vario, and TR-Race bindings.
Titan Race Toe Levers - The lightweight toe lever for the original Gara Titan binding. They are flat on the bottom and lock against the topsheet of the ski.
Titan Easy Toe Levers 1.0 - Replacement Gara Titan toe levers that are longer with a bigger tip for easier operation. For use with generation one Titan toes that have a black post at the spring pivot point (aka pry-bar). Also included are striker plates that the levers lock against. They have 1.0 printed on them and need to be mounted under the toe.
Titan Easy Toe Levers 2.0 - Easy toe lever for use with the second generation of the Gara Titan bindings that have a silver band at the spring pivot point. Also included are striker plates that the levers lock against which prevent you from pulling the lever too far. They have 2.0 printed on them.
Titan Easy Toe Levers Adjustable - Toe levers for the Gara Titan bindings with plates that go underneath the toes to match the taller heel height. The levers lock against grooves in the plates.
Titan Toe Lock Plates - Lever lock plates under the front of the toes on Gara Titan bindings. These are mounted underneath the toes and enable the locked/unlocked modes.
Titan Toe Shim/Lock Plates - Lever lock plates for Titan Vario.2 bindings that also raise the toe piece. Plates are 4.5mm thick and work with any Titan toe. Typically mounted with 19mm torx screws found below.
Titan Leash Loops - Swaged wire loop used as attachment point for leashes on the Titan series.
Race Heel Flaps - Replacement heel flaps for Gara Titan heel pieces. Now in blue.
Vario Adjustment Plate Heel Shims - One millimeter thick shims that get mounted between the heel pieces and the adjustment plates on Vario bindings (works with Vario.2 or "1").
Mounting Screws - Race toes and fixed heel pieces use flat head Torx screws. The adjustable race heels uses pan head Torx. The 19mm screws are for Titan toes with the shim/lock plate that ships with the adjustable version.
Vario Adjustment Plate Screws - The machine screws that attach the Titan Vario heels to the Vario adjustment plates.
Questions & Reviews
Which toe levers are for the Titan Vario 2.0?

Easy toe levers? Or Race toe levers?

Thanks!
Hi Tyler, that'd be the "Titan Easy Toe Levers 2.0" option.
Answer this question:


To confirm, if I added the 4mm toe shim plates (and the 19mm toe screws) to the Ski Trab Titan Vario.2 and its 8.5mm heel/toe delta, will I end up with a 4mm heel/toe delta?

Or does the Ski Trab Titan Vario.2 already come with some sort of toe plate that adds some height?

Thank you for your help.
Hi Brian, the
Vario.2
comes stock with a 4.5mm toe plate, and the 8.5mm delta is with this included plate. The 19mm screws are the stock screws for the Vario.2 toe with the plate.
Answer this question:


Are the machine screws for the race heel adjustment plate available as a part? Thanks!
Hi Gavin,
The Ski Trab Race Adjustment Plates are the same as those made by Kreuzspitze. As such, you can use the Kreuzspitze Torx Adjustment Plate Bolt and Torx Adjustment Plate Nut found
Here
.
Answer this question:


I bought the vario 2 bindings last month from you, and they didn't come with a mounting template. Would you be able to link or email me a paper template I can bring to my local REI for mounting? Went yesterday to get them mounted and they didnt have a jig or a template for Skitrab. Or, point me to a shop in the Chicago area where I can take them to be mounted? Many thanks/..

Chris
Chris - Email us at help@skimo.co and we will get you a template.
Answer this question:


Hi - what are the ballpark equivalent din/release values for the 4/4/5mm steel springs and the titanium option when used on the gara titan?

I am an athletic 230lbs and normally ski around a DIN 10 on most lightweight touring bindings.

Thanks!
From more digging on other questions threads within Skimo it seems that 4=RV8, 4.5=RV10, 5mm=RV12 and titanium = RV12.

Is that correct for the titanium spring?
Hi Brendan, the Ti might be a tick below that but it's a good ballpark. Generally the 4.5 works well for those that are 10ish. Remember boot sole length factors into the RV equation as much as height & weight. You can use the
calculator
to see exactly where you're at.
Answer this question:


I'm looking to buy some Titan Vario toe pieces to use with some heels i already have but I don't think I'll use the shim. Which screws do I need to mount the toe pieces without the shim? TIA!!!
Thanks for the question, Peter. You are able to mount without the shim but you will need the striker plates included with the "Titan Easy Toe Levers 2.0" from the drop-down menu above as well as eight of the "Flat Toe" screws also in the drop-down menu above.
Answer this question:


Are the race heel flaps available in old-school silver or just blue?
Thanks for your question, Ben. These are only available in the blue color.
Answer this question:


Hello! I have Titan Vario heels with 5.0mm forks. If I swapped in 4.5mm heel forks, would that effectively reduce these from R12 to R10, or is there more happening under the hood to affect those release values? Thanks
Hi Misha,
Swapping the Heel Forks in the Titan Vario heel will only lower the vertical release value. The lateral release will remain the same. If you want to affect both, you will need to replace the entire heel. We do not currently have Vario heels for sale, but we do have Gara Titan heels available. Check out our
Ski Trab Heel Pieces
listing.
Answer this question:


I have a pair of the Titan Vario bindings with the R12 U-spring. I am going on a long ski trip and want to buy some extra heel springs and toe levers for my repair kit. What peices should I buy?
Hi Zack, the U springs are called "Heel Forks - Steel 5.0mm" in the drop list. For the toes, look for "Titan Easy Toe Levers 2.0".
Answer this question: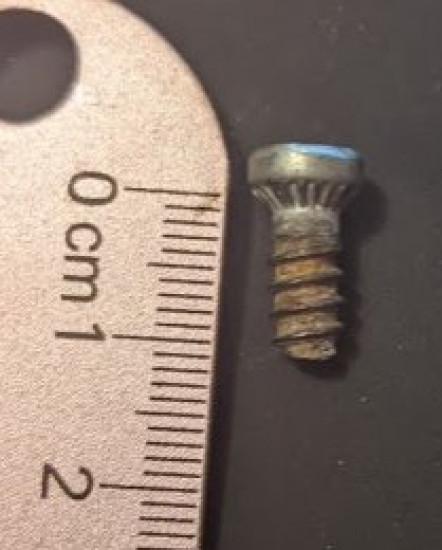 I'm looking for some screws for Rossignol FKS toes, they are sort of a flat head, but the head isn't as wide as a normal 5.5 flat head.

What are the dimensions of your Flat Toe screws, they look very similar?

See the picture I've attached. The head is just under 8mm in diameter. And they are about 12mm

Thanks,
Mark
Hi Mark,
The toe screws are around 7.5mm across the head and roughly 14.5mm in length. The Ski Trab heel screws may be a better fit, they are 12.5mm long and just over 8mm across the head. You could also get the toe screws and grind them down to the desired length.
Answer this question: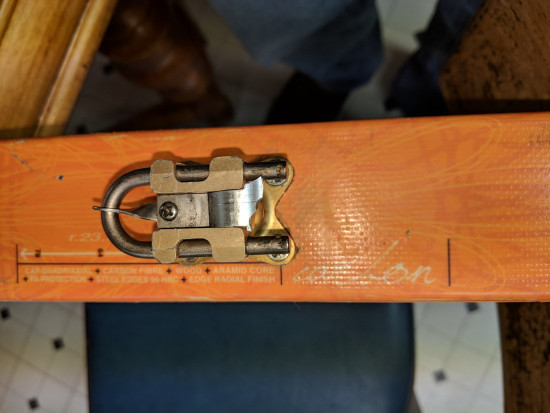 Greetings,

I see the part listed but it doesn't seem to be available.
I'm looking for the: Race Heel Flaps - Replacement heel flaps for Gara Titan heel pieces.
I think this is the little flap that hinges down over the forks so one doesn't step into and lock into the heel piece, correct???
Do you have any?
I could use a pair.
Thanks, Allen
Allen, Sorry we haven't had any for a long time. See answer below.
Answer this question:


Are replacement heel flaps for Titan Vario available? If I wanted to modify a pair of heel flaps to increase riser height, would I be able to replace them with stock parts later?
Hi Chris, unfortunately that's not an easily obtainable part and we don't keep them in stock. It might be a future possibility.
Answer this question:


Hello
I need a pair of Titan Easy Toe Levers 2.0, is there a chance that you send them to Argentina?
Thank you.
Peter Treichel
Hi Peter, that is no problem. You'll have some shipping options at checkout.
Answer this question:


The heel piece "flapper" pin cover on one of my bindings came off during the Grand Traverse this past weekend. Any idea if this can be replaced? If so, how can I source the part? Thanks!
Hey Brendan, it's possible but depends on the model. If it is replaceable then it might take a while just because we will have to order them.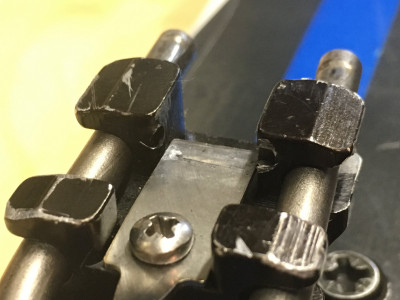 Trace, it looks like you guys have the heel flaps in stock now. I've attached a photo that attempts to show the pin holes where the heel flap used to sit. It almost looks as if they've blown out to the back, but I want to get your thought. Would I be better off just replacing the whole darn heel piece? This is the older Trab Race binding.
Hey Brendan! Good to hear from you again! Structurally the new heel pieces and your heel piece are basically identical, so all the parts are compatible without issue. Unfortunately the pin hole looks pretty blown out, I'm not sure if the pin would even hold once you put any weight on it. I'd say a new heel piece:
Ski Trab Gara Titan 5.0mm
is what you're looking for.
Answer this question:


I lost the tiny screw and Bent the piece that keeps the fork from sliding out on my Skitrab TR race heel. Do you carry these parts?
Hi Jon, that isn't a part available separately but we can look into sourcing some for you. Send us an e-mail if you'd like that.
Answer this question:


Looking for a lower spring to a ski trab tr heel piece, is that a part you guys may have? Thanks much!
Hi John, not quite sure which part you are referring to. Sending a picture could help.
Answer this question:


JBO. Any updates on the striker plate availability? I need a pair...

Thanks.
SM
Hi Scott, I inquired with Italy and we should have some in approx 2-3 weeks.
Awesome. Thanks JBO. Send me a pair when they arrive please.

Best.
SM
Hi Scott, the striker plates are in. Enjoy!
Just ordered! You rock Jason.

Thanks so much.

SM
Answer this question:


Hi,
I need to buy the striker plate but I see that is not available at the moment.
Is is likely to become available any time soon?

many thanks
Hi Nagore, looks like those are unavailable for the time being. Not sure if this is permanent (it is a discontinued binding).
Answer this question:


I have a broken heel lever (the thing that flips up and down to cover the pins). Do you know of a way to order this part?
Hi Tony, this might be a warranty issue, send in a picture and we'll see what's up. Thanks.
Answer this question:


Earn store credit by writing reviews. Learn more.