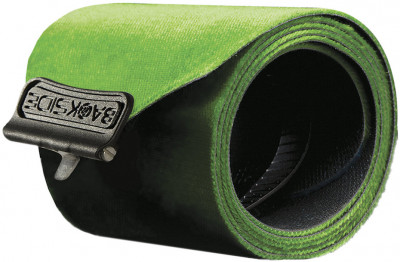 K2 Precut Skins
2 reviews
The K2 precut skins are made by Pomoca, meaning they work great. Featuring a mohair / nylon blend, the skins offer excellent glide (once broken in) and grip you can depend on in any situation. Pomoca glue is one of our favorite adhesives for all conditions, temperatures, and temperaments. The tip hook and tail clip integrate with the skin attachment holes that are installed in the K2 skis. Being ready to go out of the box, these skins are the best companions for your Wayback 88 and 106 skis.
70% mohair / 30% nylon offers the best blend of grip, glide, and durability.
Tip hook and tail clip work cleverly with integrated attachments on K2 Wayback skis.
EverDry treatment means your skins won't soak through in the spring.
Questions & Reviews
Billy, this happened to me too, were you able to get them fixed? I reached out to K2 and their response was essentially "warranty is 1 year, here's the link to buy new skins".
Answer this question:


What product is best to clean the grit and organics out of the glue? Does the hybrid cleaning wipe work? Thanks!
Rich,
The best thing to do would be to do a light reglue. Iron a side of a paper grocery bag or similar onto the glue, wait for it to cool, then rip it off. That will remove the surface layer of glue. Then, if there isn't enough glue remaining, add some more (Pomoca adhesive tube, found on the
Pomoca Skin Parts
page). These skins use hot melt glue, the hybrid wipes should only be used with layered hybrid glue.
Answer this question:


Can I send my K2 Back Sides in for repair? The tail straps have both broken off. thanks.
Billy,

We can, shoot us an email at help@skimo.co or give us a call and we can get a order put together!
Billy, this happened to me too, were you able to get them fixed? I reached out to K2 and their response was essentially "warranty is 1 year, here's the link to buy new skins".
Answer this question:


I have Wayback 88 174 cm skis and precut K2 skins. When I put them on skis there is about 13 cm uncovered space left from the tail of the ski. Do I have the right skins (167-174 cm) or are they too short (160 cm)?
Hi Robb, I have those as well, that sounds right to me!
Answer this question:


i am looking for skins for my 2010 k2 hardside 174cm
Hello Dan, at 98mm underfoot I would recommend using trim to fit skin like the
Pomoca climb 2.0
in 120 x 165 - 180cm size. These precut skins are just for the K2 Wayback 106 and 88.
Answer this question:


Haven't used the yet but they are light and packable. The glue also seems very hight quality with just enough stick without being an effort to remove.
Comment on this review:


I have the k2 wayback 174 ski and k2 skins. The pair have 3 seasons on them and I've been happy with the skins, however, yesterday, after a fairly long day of skinning, the adhesive left a sticky residue on the ski that caused severe clumping making forward motion extremely slow. Had to scrape the bases and apply wax in the field in order to descend properly. I was skiing cold powder. Is this common with Pomocas and is there any fix? I always store the skins with cheat sheets and in a cool environment. The plush is still in excellent condition. I'm guessing the adhesive has become too sticky for some reason and gums up the ski base.
Hi Cyrus,

Sorry to hear that your skins started to leave glue on your skis! To get a better idea of what your bases/skins look like, send some photos to help@skimo.co, and I am happy to help brainstorm solutions from there!
Answer this question:


I am looking for the precut skins for a 2011 pair of K2 Sidestash 188s. Any chance you could give me a deal on these? My guess is if you still have them, they are just sitting in a storeroom.
Hey Seth, we do not carry pre-cut skins for K2 Sidestashes.
Answer this question:


These are Pomoca skins, which in my opinion have the best grip/glide ratio and by far the best glue in the game. The only thing I dislike about my non-K2 Pomocas is that the tail attachment hardware is terrible. The K2 branded skins fix that problem with their proprietary attachment system.

The K2 system works quite well, with my only minor gripes being that 1) you can't rip your skins from the front (I prefer a bungee tip attachment) and 2) if you rip skins with your skis on the front clip can sometimes take a little bit of jiggling to come out. Not a major issue at all though, and if you take your skis off to transition, then I think this may be the best attachment system out there.
Comment on this review:


What skins would best work for my 174cm K2 Sidestashs for PNW conditions? They have the K2 holes for skin attachments and are 108 at the waist.
Hey Newell,
In the precut skins we have available, based on the dimensions of your ski, the Wayback 106 skin in the 171 to 179 length will probably be your best bet. It won't be a perfect fit and you'll have a little bit of base showing, but it should still work just fine for you. You could also build a skin with
material
and
parts
to fit that ski.
Answer this question:


My K2 waybacks are 160 cm long. It appears that these skins will be too long - if so, can you cut them to fit?
Hi Sones, sadly we are out of the 160 length skins. The next size up would be too long and need an overhaul, so it's probably better to just build a skin.
Answer this question:


I have some 2013 K2 Sideshow 174 (132-90-115). Am I good to think I can use the Wayback 88 167-174 skins? Thanks, Jamie.
Hey Jamie, the Wayback 88 pre-cut skins would just end up being a bit short width-wise for those K2 Sideshows. If you are okay with showing just a bit more base material they would still be doable.
Answer this question:


Hi! Will the precut skins for a 2020/21 wayback 96 in 184cm fit a 2016 wayback 96 in 184cm? Thanks
Hey Chris, the tail width is a few mm smaller in the current model, but I don't think it's enough to be an issue for you.
Answer this question:


Hey, I have the great 2012 K2 Coombacks, and just changed bindings to new Marker Dukes. So obviously need skins. Cannot find the originals anymore. What to do? Where to find? Thx!
Hey Peter,

I hate to say it but I think you'd be hard pressed to find any of the original skins for sale anywhere... however if you want to dive deep into other skin options then shoot us an email at help@skimo.co
Answer this question:


Back at you with K2 Rictor xti 90, 175 cm (tip to tail) skis. You said to go to Trim to Fit Options. The selections are daunting. I was thinking of the Contour Guide Mohair or the Hybrid in 135 169-176 size. Do you have a better choice for me. I am most interested in climbing uphill as easily as possible also, ease of removal and storing in backpack. I plan to extend the ski season with these.
Hi Albert, you are on the right track! The size would work (although you could do the 115s to save a few dollars) and the Hybrids would be the way to go for easy of removal.
Answer this question:


Hi
What skins should I get for 116 Mindbender 193cm?
Andreas- None of the K2 precut skins will work for your skis. Any skins from our from our
Trim to fit
that have a range that includes 193. I would buy width of the skin by tail width of your ski so any skin that is 135mm or wider.
Answer this question:


My skis are K2 Ricktor 90XTI, 170 cm. What precut climbing skins should I buy?
Hey Albert,
Thanks for the question! Sadly we do not carry any precut climbing skins that'll fit that ski. However I recommend that you take a look at the
trim to fit options!
Answer this question:


Will the pre-cut skins for the K2 Wayback 88 (121/88/109) in the 160 cm length fit (with a bit of trimming) on a 160 cm K2 She's Back (121/80/107)?
Thanks for your question, Eric. That should be totally fine!
Answer this question:


Can I just buy the K2 tip and tail connectors??
Hey Ross, we have some tip connectors from contour that should work for you. on the
Contour Skin Parts
page in the drop-down menu the Vario Z-Wire and Vario Frontclip will be the parts you're looking for. As far as tail clips go, we don't have the K2 attachment style but any normal tail clip will work just as well.
Answer this question:


Earn store credit by writing reviews. Learn more.