Atomic Backland Ultimate Boot - 2020/21
3 reviews
$899.95
$649.96
In Stock & Ships Today
Atomic has taken a new approach to just about everything related to ski-touring: skis, skins, bindings and boots. The Backland Ultimate is no exception. It's a skimo race boot that incorporates Memory Fit, a revolutionary molding-technology that has made Atomic famous among skiers with ugly feet. The entire boot, including the shell, can be thrown in an oven for a few minutes (do not attempt). Cold compression wraps cool the boot around the contours of your foot to create the ultimate fit profile. Memory Fit is a moldable shell design that is soft and pliable when hot, but stiff and responsive when cold. A washable sock-style liner is employed in the Backland Ultimate to provide simplicity and supple comfort throughout a day of touring or racing. A large single-throw lever dictates walk or ski mode in a simple and durable fashion. The carbon cuff and frictionless pivots allow the boot to walk like a running shoe. A grippy Skywalk rubber sole encourages booting up ridgelines. The Backland Ultimate is Atomic's proud debut into the world of race-boots and it will quickly be a favorite for some.
80° of articulation is well beyond the capabilities of the average human ankle.
Carbon Cuff adds stiffness and precision while a Grilamid shell durably handles walking duties.
Free/Lock 3.0 is one of the easiest and simplest boot closure designs out there.
Serviceable, frictionless pivots are rock solid for skiing precision and walking freedom.
Skywalk Rubber Sole summons Luke Skywalker-like traction and speed.
Update 2018/19: Atomic changed to a traditional tongue-liner instead of the previous sock-style liner, making it easier to put on and take off. They also gave the boots a new paint job and extended the built-in gaiter a bit higher on the shell to improve waterproofing. Weight went up about 60 grams (2.1 oz).
Update 2021/22: Atomic released a new version of the ultimate.
Specifications
Weight
convert to ounces
805g [27/27.5]
740g [27/27.5 - 2017/18]
Weight (pair)
1610g [27/27.5]
1480g [27/27.5 - 2017/18]
Buckles
1
Boot Sole Length
248mm [23.5]
258mm [24.5]
268mm [25.5]
278mm [26.5]
288mm [27.5]
298mm [28.5]
308mm [29.5]
Binding Compatibility
Tech only
Cuff Rotation
80°
Forward Lean(s)
13°, 15°
Specs Verified
Yes
Design
Materials
Grilamid shell, Carbon cuff
Liner
Platinum Speed
Sole
Skywalk rubber
Skimo Co Says
Usage
Racing, exploring
Notes
Fully customizable shell and liner
Bottom Line
Light race boot that can mold to your feet
Compare to other Race Boots
Questions & Reviews
Hi there, I'm a size 10 in US size, but I require a large toe box ( both feet have Morton's neromas). I'm interested in the Atomic Backland Carbons. Are they tight in the toe box? Should I go with a size 28? Thanks in advance for any advice you may have for me. Best, Chris
Thanks for reaching out, Chris. If possible, please use our
Online Bootfitter
! We'll look forward to helping you out!
Answer this question:


HAs anyone had any luck making these more waterproof? I don't always want to train in race pants.
Hi Jake,

The best option that comes to mind would be the Scarpa Alien Gaiter. However, there are a few drawbacks to this solution. The Alien Gaiter is made to accommodate a boot with a Boa, so you will not be able to adjust the instep buckle once the gaiter is on. Additionally, the Alien 1.0 has a much higher cuff height, so the gaiter will most likely be too tall. We do not currently carry Alien Gaiters, so if you are interested in this waterproofing option, either order through Scarpa directly, or reach out to us at help@skimo.co.
Answer this question:


Hello,
I have Dynafit Evo boots (289mm) and want to change with the Atomic Ultimate (288mm). Is 1mm a problem without refixing the bindings.
Thanks for your answer
Hey Jean, yes a 1mm difference could dictate a remount of the bindings. It would really come down to what bindings you have and if there's any adjustment available.
Answer this question:


Hello
Has the Backland Ultimate some Carbon in the bottom of the shoe like the scarpa alien 1.0 or only in the shaft ?
Thanks for your question, Markus! The cuff has a carbon backbone while the rest of the boot is grilamid.
Answer this question:


If I were a 26.5 in the backland carbon, should I go for a 26.5 in these as well or is it a good idea to size up due to the shorter BSL?

Or does the thinner liner make that unecessary?
Hey Tom, the thinner liner means you should be able to go with the same mondo size, I'd say stick with the 26.5!
Answer this question:


Hey I have the Atomic Hawk Ultra XTD 120 in 27/27.5. Wondering if I would be the same size in the Backland ultimate. I am also a 27.5/28 in the lasportiva syborg and Scarpa F1 if that helps. Thanks!
Hey Tim, if you're a 27/27.5 in the Hawx Ultra XTD a 27/27.5 in the Backland Ultimate could be pretty close. If you wanted to email help@skimo.co we could help you out a bit more in depth with some sizing.
Answer this question:


Hello! Just got a pair of new Backland Carbon Ultimate, and got a bit confused about not finding a sole liner and size adjuster in the box. Is it OK or Atomic forgot to put them in my box?

Also, couldn't decided which size I should have ordered because normally I wear 4.5 UK, but Backland's size chart I couldn't find it- just 4 and then straight to 5! So I ordered 24/24.5 but now I have some doubts bc it feels a little bit loose. Will double liners and thermo adjustment help me?
Hey Dasha, because these boots are sized for a performance fit with a thinner liner they come without insoles. Based on your shoe size technically you should be in a 23.5. If you want to boot to fit as intended that's the size you would want to go with, however due to the thin liners and performance fit of the boot the shell is actually sized down a full size from other atomic boots so if you put a thicker liner and after-market footbed in them they could potentially fit you fine in that size.
Answer this question:


Wife is using a pair or mens 2019 Backland Ultimates. Looking to upgrade her liner to something warmer and more plush in the upper without sacrificing room in the toe box or the foot area in general. best suggestion? thanks!
Hey Patrick, unfortunately liners that take up more space and have more padding in the cuff will take up more space throughout the boot. You may want to invest in some
boot gloves
to help with the warmth. If she needs a new liner the
Palau Tour Lite Pro Liners
should have a little extra padding in the cuff, but be aware they might take up a touch more room in the toebox at least to start. The other option would be the
Palau Ultralight Race Liners
.
Answer this question:


I love these boots! I have a pair of the 2018/19 model, and they are my everyday driver when it comes to touring, ski mountaineering, and SkiMo races! My friends HATE me for how light these boots are!

I bought these boots a year ago and they've been part of my primary touring and race setup since, I've put about 50 days on them. I've skied several volcanoes on them: Mt Hood, Mt Adams, Mt Saint Helens, Mt Bachelor. I've skied every possible kind of PNW snow imaginable in them from schmoo to chunder to ice to powder to hot pow to corn to corn chowder.

These boots are incredibly comfortable in walk mode. I could drive home in them they have so much mobility to them. The transition from walk to ski and back is effortless.

Now in ski mode, they are admittedly very soft. I don't mind this that much. I like to say I'm a pretty bad skier, so I don't notice the flex, all skiing is survival skiing with me. But the truth is I wouldn't trade the weight and flexibility in walk mode for more stiffness.

I've also used these boots on my "race setup". Truth is I'm not doing a bunch of racing, so I'm not sure these are really podium destined, but they are lighter than some of the boots my friends race in.

I do have a couple of small complaints:
- On the 2018/19 model, the liner is really light weight, and I pretty much destroyed it after a season of use. I've replaced them with the Palau Ultralight Race Liners and am really happy with that upgrade.
- With the stock liners, side hilling was often pretty uncomfortable because the hard plastic shell would dig into my ankle. I just got used to feeling the pain as a trade-off for the weight... but the Palau Ultralight Race Liners eliminated this problem.

I'm 5'4" 150lbs and I wear these boots to ski the Movement AlpTrack 94 169cm, with Black Diamond Helio 200 bindings. I also wear these boots to ski the Atomic Ultimate 65 WC 2016 163cm Skis with Dynafit PDG Autolock Bindings.
Comment on this review:


Would these boots work as a hardboot for snowboarding? Any idea which bindings for hardbooting they would work with? Thanks
Robert, Yes these will work well for snowboarding. The Ultimate is on the soft side for a ski boot, so is good if you prefer to not have a stiff boot. If you want a bit more, the Backland Carbon is popular with splitboarders. It will work with Phantom and Spark systems and most others for hardboots.
Answer this question:


I've read a few reviews about the ultimate and wanted to know about the overall durability?

Cord durability? Can these be replaced with another better cord?
Hey Joe! The Ultimate boot has gotten good reviews for durability, and if you were concerned about the cord strength on the cuff mechanism, you could definitely replace it with a different cord, such as the legendary
Amsteel Blue
as an aftermarket product, or our stock
Alien dyneema cord
. As a usage anecdote, ubermensch Mark Smiley
skied across the Alps
in a pair of Backland Ultimates, which hopefully attests to their durability!
Answer this question:


Hello!!
In the old model (White) is it possible to modified the angle of the cuff??
Thanks!!
Jaime, it is the same as the current boot. Pull out the liner, unscrew the screws on upper part of ski/walk lever. The plate it screws into on the inside, flip it around..
Answer this question:


I have had those boots for 2 years. They are pretty light and act with quite good stiffness but there is a huge problem for me with the inner boot, which is thin as a sock (and it could even work), but it has stitches in the wrong place - and near plastic part by the lower buckle, because it may dramatically damage my foot. I wrote to Atomic about this already twice but got no answer (I also wanted to buy a new inner boot). I hope that it has been improved now (I see normal type of inner boot).
You might want to check out the Palau Ultralight Race Liners, I got a pair of them to replace the stock liners, and I think they work really well.
Comment on this review:


Hey,
Do you think its possible to pair this boot with a Zag Adret 88 ski (88mm underfoot, 980grams) and use it for
endurance touring?
Hey Rikard, thanks for reaching out! Without having more experience on the Zag ski, it's hard to say whether a true race boot such as the Backland Ultimate would work well as a pairing. The Atomic is reasonably stiff by the standards of skimo race boots, but skimo race boots as a category will generally feel a bit underpowered for skis that are more than 85mm under the waist. If you're looking for a boot that would pair with touring skis in the 85-95mm waist category, I'd check out the
Atomic Backland Carbon
.
Answer this question:


Are these compatible with Atomic/Salomon shift bindings? Trying to figure out a lighter boot than the Salomon QST 120s I have currently, without switching bindings.
Hi Keith, this boot (and any other race boots on our website) are not going to be compatible with the Shift binding, or any other step-in style binding for that matter. Look for boots that have the compatibility noted as "Frame" under the Specs tab, e.g. the Atomic Hawx XTD 130, Tecnica Zero G, and Dynafit Hoji Free. These boots will also have the power needed to drive a bigger ski that you might choose to pair with the Shift.
Answer this question: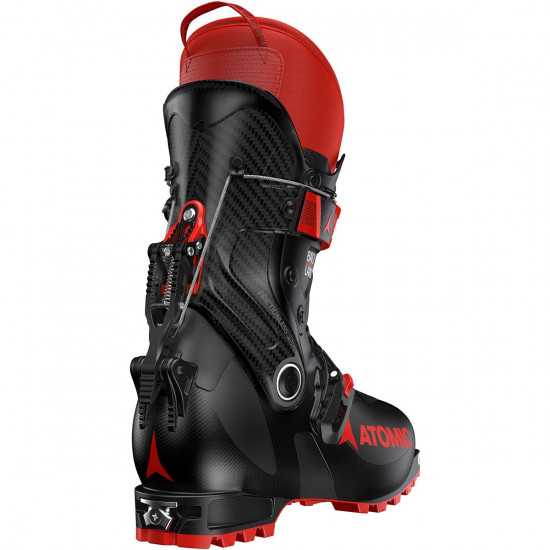 Is there a major difference in waterproofing between the 2018/19 and 2019/20 models? I've seen pictures both with and without a higher front gaiter and closed/open rear shell and I'm trying to figure out which is which. I don't really want a bunch of water/snow in my boots...
Thanks!
Tyler, good catch! We've just updated our photos. They are race boots without full waterproofing but if used with a race pants with stirrups, you would be protected. Or you can use with a gaiter.
Answer this question:


Hi! Question: While the BSL of the Ultimate (size 27/27.5) is 288, while the 27.5 PDG (not the new model of 2019, the previous one) is 299!

The Dynafit PDG (size 27.5) is my current boot.

Which size of Backland Ultimate should I choose?
Nik, You should get your size, 27.5. BSL varies by model, it is not correlated to the actual boot size.
Answer this question:


Is the BSL the same for the 2017 and the 2018 models?
Hello Kevin, They have the same BSL printed on the boot, but we have found that there is a fraction of a mm variability on some.
Answer this question:


My old Dynafit Dyna Evo boots have a problem with the rubber sole wearing out really fast on the heel part where the sole meets the binding heel flaps. I have replaced the soles already two times. It looks like that the older white Atomic Ultimate has some different (at least different colour) rubber on the heel and toe to probably address this problem. Does the new black boot also have some harder wearing rubber in toe and heel?
Hey Joel! Dang, that's not fun. Sorry to hear that. It's tough to tell if this sole is any different than the one on the Backland Carbon, but the sole on that boot is wearing standing up to a ton of abuse. We've seen some really hammered Backland Carbons and never once has the sole been the issue. One version of the Dyna was kinda known for having some sole issues so you're not alone there.
Answer this question:


Earn store credit by writing reviews. Learn more.

Model: Backland Ultimate
MPN: AE5016820