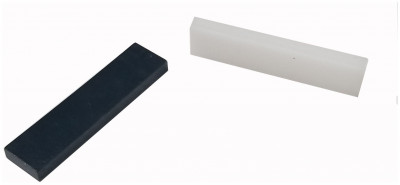 Hagan Binding Parts
2 reviews
Bindings are made of parts, it's a fact. Some last forever, some need replacing. Find our collection of Hagan (ATK) binding parts below. Philosophically, toe and heel pieces are both parts and wholes.
Ultra Crampon Receptors - The bolt-on crampon receptor for the Ultra series bindings. Includes enough hardware to mount the pair. Weighs 16g per side with screws.
Titanium Forks - Even with the fancy treatment on the titanium forks, they notch. At least they don't cost an arm and a leg. Price is for a set of two and includes screws. Works with the Ultra and older ZR bindings.
Ultra WC Rolling In Heel Forks - The rolling pins are a game-changer for wear resistance, plus help with step-in entry and release reliability.
Ultra Standard Forks - Replacement heel forks without rollers for the non-WC Ultra binding.
Heel Flaps - The bits of metal that flip onto the pins of the Ultra & ZR bindings, allowing you to ascend. Comes with the washers and screw to hold them in. Sold individually.
Core Freeride Spacers - A stomp pad with micro-adjustable thickness and an elastic anti-friction device that sits under the heel of the boot, eliminating the gap between your heel and the ski. Does not work with the newer "Pro" bindings with heel brakes, these are for the "Core" version with toe brakes. Sold in pairs, each weighing 28g.
Core Pro Freeride Spacers - Stomp pads for the Core 12 Pro freeride binding with heel brakes.
Mounting Screw 11mm - #3 Pozidrive screws with ISO standard thread pitch for mounting. Used for Ultra and ZR heel pieces.
Mounting Screw 13mm - Mounting screws for Core binding and Ultra/ZR toes.
Update 2021/22 - Please note many of these items are now available on our listing for ATK Binding Parts.
Questions & Reviews
Will the AL05 Freeride Spacer work with the crest 10 or will the brake get in the way?
Thanks for your question, Winston. The AL05 Freeride Spacer won't work with the Crest 10. While the AL05 is a "universal spacer," there needs to be between 14.5 mm to 20 mm of space between the boot sole and ski surface. The brake on the crest 10 precludes this from occurring. The spacer would work if you took the brakes off, though. Please let us know if you have any other questions!
Answer this question:


Will the Ultra WC rolling in heel forks work on the Helio 110 heelpiece?
Thanks for your question, John. The Ultra WC Rolling in Forks will work with your Helio 110 heelpiece. Please let us know if you have any other questions!
Answer this question: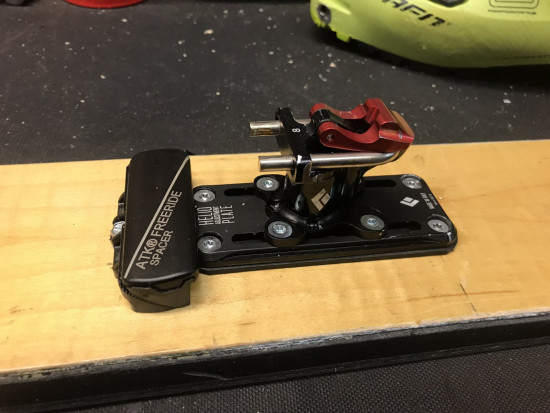 I combined the AL05 Freeride Spacer with a pair of Salomon MTNs and also ATK Trofeo Plus. Both required some modification, as the minimum height of the spacer is too high to fit under my TLT6's or Scarpa Alien RS. ( the Alien was closer to working but now quite). I removed material from the bottom of the spacer to reduce its height. Then I mounted it directly to the ski with an appropriate screw. I could immediately tell an improvement in ski feel, especially the tail of the ski in less than ideal snow conditions. For the weight, I'd definitely do it on all my skis over 90mm or so, just for improved feedback and power. The only downside is that the range of adjustment doesn't easily accommodate simple lean tech bindings very easily.
How thin were you able to get this spacer with your modifications?
Comment on this review:


I have a pair of Hagen Ultra bindings w/ notched Ti springs. Have already flipped them so both sides are notched. Can I replace with the Ultra WC Rolling In Heel Forks? It appears that this is the only difference between the Ultra and the Ultra WC. Is this right? Will these springs work on my Ultras?
Omar,

Yes, you can use the World Cup rolling springs in the previous Ultra model binding. Hope this helps!
Answer this question:


What is the release value of the Ultra WC Rolling In Heel Forks? Seems like Hagan says it's 9?
Kyle,

We have not had the opportunity to do our own testing just yet, but as soon as we do we will post it! Sorry I couldn't be more helpful at this time.
Answer this question:


Hi-
I have the black diamond helio 200 binding (with mounting plate). Is the ATK freeride spacer compatible with this?

Thanks!
Hi Brian,

Unfortunately, that freeride spacer is not compatible with a Black Diamond Helio 200 binding.
Answer this question:


I need some screws for La Sportiva RSR toes, would the 13mm ones above work? I figure since they're rebranded ATK and Hagan is as well it might be the best place to start.
Hey Michael, thanks for reaching out! If you wouldn't mind sending us a few photos of the toe pieces, we'll double-check if those are the screws you need! Also, if you have any of the toe mounting screws, let us know what the total length is.
Answer this question:


Are these compatible with the BD Helio 350?
Hey Matt!

According to our techs, they should be compatible!
Answer this question:


What is the release value on the hagan/atk springs you have available ?
Eric,

Thanks for the question! The titanium forks release vertically around 10-11, the steel forks tend to be a bit lower in the 9-10 range. Hope that helps!
Answer this question:


Would the Pro Freeride Spacers be compatible with other ATK-style bindings like the HELIO 200?
Hey Max, the Pro Freeride Spacers would not be compatible with the Helio 200 due to how they attach to the Core Pro binding base plate. The baseplate on the Helio is very different from the Core.
Answer this question:


Are these the mounting screws required for the Hagen R01 plates?
Hello Dane, the 11mm mounting screws are required with the Hagan R01 adjustable plate. All plates come with adjustment nuts & bolts but not mounting screws.
Answer this question:


Hello, several questions. Will the heel risers work on Hagan ZR bindings (as a follow up, my riser has been lifting while skinning and I have accidentally locked my heel while on the up, would new risers help?)

Second, would the titanium u springs work on zr bindings?

Thanks!
Hey Chris, thanks for reaching out! I'm not certain what is creating the flappy riser issue, but the ultra heel flaps and titanium forks should be compatible with ZR binding!
Also, if there is a threaded bolt for the heel riser axle, you might be able to tighten it up with a screwdriver.
Answer this question:


Are these Hagan heel forks and heel flaps the same as for the Movement re-branded light tech binding (https://skimo.co/movement-light-tech-binding)?

Or in other words, are the Hagan ultra heel piece and Movement light tech heel piece the same ATK heel piece? Thanks.
Andrew, Yes, the fork and heel flap will work with that Movement branded model.
Answer this question:


Crampon receptors:
They do the job, when ATK had crampon receptors permanently attached it only came at a 4 gram penalty, yet these weight 16g a piece.

Dropped a star because these should not cost as much as they do. Another note, while the aluminum of the receptors is the classic high quality alloy that ATK uses, the screws are not. The heads twist off all too easily, be careful when installing and removing.
Comment on this review:


Would the titanium forks fit the la sportiva Rsr bindings? Would one of the other springs you offer be a better fit? These seem very similar.

Thanks!
Hi Gavin, there isn't much in the way of cross-model compatibility when it comes to U springs. I don't have an RSR to verify but chances are slim.
Answer this question:


Are the freeride heel spacers sold singly or in pairs?
Thanks!
Hi Pat, I updated the description to make it more clear. They are sold in pairs.
Answer this question:


Core Freeride Spacer:
Is it technically possible to use it separately i.e. with other pin-binding models? (g3 ion lt, dynafit etc.)
If so what is the gap height range (top of ski's topsheet <-> top of stomp pad)?.

Or may be you have some other options for separate AFD/stomp pads.
Hi Vadim! I suppose in theory you could use this independently of the Core binding, but it's definitely not designed to function as a standalone part, so you might have to get a bit creative with mounting it. The height is adjustable and at the lowest height, it is 18.4mm tall. What are you looking to accomplish with this independent AFD project? There may be some other solutions, but I'd love to get a bit more info about what you're looking to do with it.
Hello Trace! Thanks for your input!
The main purpose is to experiment with adding kind of a stomp pad to the traditional pin bindings.
I had some bad experience of breaking Dynafit heel posts and also some people say that stomp pad will add "more alpine feel" while skiing. So to prevent overloading of the heel pins mainly. Leaving the noticable gap of ~5mm between the boot sole and the stomp pad I will still be able to flex the ski and eject under "normal" loading conditions.
The most simple way I see is to use measured teflon blocks mounted infront of the heel pieces (like on Plum Yak bindings). The more fancy way - ATK freeride spacers, but they are pretty unique and rare to check it out.
What is your opinion about stomp pad idea in general?
Regards
Answer this question:


Are steel forks available, or will the steel forks from other manufacturers' bindings work? I really like the design of this binding, but would love to use it for lots of training without having to worry about wearing through forks. Also, weight differences between the titanium fork and any steel alternatives would be appreciated!
Hi Eric, unfortunately not, on both counts. The titaniums last a good while though and are reasonably priced. You can also flip 'em once before retiring.
Answer this question:


Earn store credit by writing reviews. Learn more.