Dynafit TLT X Boot
0 reviews
$799.95
In Stock & Ships Today
They made it! The revered TLT boot series from Dynafit has made it all the way to X. That means the new TLT X is approximately the 10th iteration of innovative German/Italian engineering (please gloss over Dynafit's choice to skip the "nine" like they are a big tech company). However, no need to gloss over the details of the boot since, owing to them, this might be the best TLT yet.
With an entirely new mold, Dynafit has targeted the "X" for the North American masses in terms of fit. Not the Euro-fit of the 5, not as high volume and snub-nosed as the 7/8, the TLTX just seems to fit the feet. It has a great range of motion like all TLT boots (well, since the 5). It has good ski performance like all TLT boots (well, since the 6). Dynafit chose to go with a Twistfit closure over the top of the foot for a secure, precise fit. The UltraLock 5.0 closure system incorporates a decade of tweaks to the system that just works. The liners are the best yet in a TLT boot: thick enough, dense enough, and very moldable.
Finally, and perhaps best of all, Dynafit is launching a "lifetime" guarantee program for their boots to match what they have done with their bindings. In this case, a boot lifetime means five years, which is quite a bit longer than any other A/T boot manufacturer (1-2 years). The Dynafit TLT X is the best TLT yet backed by an exceptional warranty. An easy choice if you have the common foot shape to match.
Ultra Lock 5.0 is an integrated top buckle and ski/walk mechanism.
Grilamid shell and spoiler are stiff, lightweight, and workable by a fitter.
Grilamid cuff is loaded with glass fibers for excellent power transmission.
MasterStep inserts are easy to step in and supremely reliable.
Twistfit instep closure secures the foot up and down and front to back.
Pomoca soles are durable yet grippy enough for those fun scrambles.
Toe and heel welts that work with most automatic crampons.
Comfortable last width fits a lot of North American feet.
"Lifetime" guarantee of five years can't be beat.
Power strap included in the box but not installed.
Specifications
Weight
convert to ounces
1075g [27.5]
Weight (pair)
2150g [27.5]
Buckles
Twisfit + Ultra-Lock
Boot Sole Length
277mm [25/25.5]
287mm [26/26.5]
297mm [27/27.5]
307mm [28/28.5]
317mm [29/29.5]
327mm [30/30.5]
Binding Compatibility
Tech only
Cuff Rotation
60°
Forward Lean(s)
15° - 18°
Specs Verified
Yes
Design
Materials
Grilamid shell, fiberglass-infused Grilamid cuff
Liner
Dynafitter 5
Sole
Pomoca
Skimo Co Says
Usage
Ski touring & ski mountaineering
Notes
Dynafit's Twistfit boa is simple to remove and repair
Bottom Line
The best TLT yet
Compare to other Touring Boots
Questions & Reviews
Is there a TLT X carbonio planned? As a bigger kid reading the reviews it sounds like the X is coming in softer than my Sportiva Skorpius.
Answer this question:


In addition to the optional power straps, I see the goodies in the box also include a pair of short 2-3" velcro loops. Any idea what purpose those serve?
Answer this question:


I jumped on these as soon as they became available. I've been using the Scarpa F1 LT for the last two seasons. I've generally been happy but the lack of adequate forward lean was/is a problem. I notice it most in steeper terrain that dictates, for me, a more aggressive position. These boots fix that.
In terms of fit, I'm pretty low volume. I must add an Intuition Pro Tour liner to both boots to get what I want. Interestingly, that is not quite enough in the F1 LT but I still have to punch that boot for my bunion. With the Dynafit, the fit is better overall and no punch is required. Not sure how that works but I'll take it.
I think some of this has to do with the Twist Fit vs the BOA. I prefer the former by far. Much more progressive compression. Hopefully, it's durable.
The boot is a tic more forgiving (less stiff) than the LT. The flex is definitely progressive and not a hard stop like a carbon race boot.
It tours great. Overall, just more comfortable right out of the box. I have at least 10 days on them now.
Hi neighbor,

How would you compare the ROM and uphill performance to the F1? I love the F1 on the downhill but after spending a lot of the last season in a skimo race boot, the F1 feels very stiff and limiting on the skin track.

Cheers,
I've owned the standard F1 for about 4 years. It was my primary boot for 2 seasons. While the fit was great, it is one of the worst performing boots for uphill travel. Once you use a boot like the F1 LT or this new Dynafit X, you will have a hard time going back to the F1. I still use it for the odd resort day but it is painful to skin in compared to the others. The X is absolutely brilliant on the up if not a tad soft on the down.
I guess if it fits you Brian there is no way in hell it fits me
Reply to this comment:


Any particular automatic crampons you recommend for the TLT X, or that you like in general?

I have standard (ie non-automatic) Black Diamond steel crampons and an aluminum set I found used (flexlock, forget the brand). After fumbling with the straps halfway up Right Gully at Tuckerman's last month, I envied the ski boot-specific variety. For starters I was looking at the CAMP XLC 390 or Petzl Leopard (leverlock) but what do I know
Peter, Both of the crampons you picked are excellent lightweight choices.
The Leopard is the Shop favorite, it is a bit lighter and more compact. If you want/need antibots, the XLX 390 includes them.
The Flexlock model you have would be Petzl. You can get the Leverlock parts to convert them here-
Petzl Crampon parts
.
Answer this question: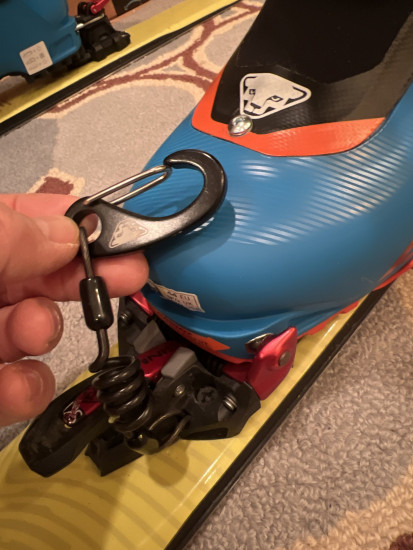 Is there a straightforward way to use a leash with the TLTX? There are no obvious eyelets, and there is no forefoot buckle.
Update: I found some eyelets and extra screws in with the extra footbeds, but no mention in the instructions. Should I undo one of the screws and install the eyelet that way?
Hey PRB, this should be possible, but you would want to be very careful with removing the screws so as not to lose the BOA guides.
Yes. You can undo one of the 3 screws in the forefoot of the boot and attach this into the screw. As Zack mentions you need to be careful that you don't let the boa cord fall apart while you do this. Not too hard if you take liner out and are slightly careful.
Answer this question:


So, if this is a non-snub nose boot.., does that mean it will be compatible with Vipec/Tecton bindings?
Hey Jeff, the TLT X should work with the Vipec. However, Fritschi has a list of boots that are compatible with the Tecton 12 and has not updated it to reflect the X yet. That one is less likely.
Answer this question:


Hi.
I'd like to change my old TLT7 for new one.
I'm thinking about TLTX vs Backland Carbon vs Dalbello 110 vs scarpa F1
Which one will be most versality?
I have one problem with boots - i have thin legs so my ankle are moving up. Which one choose?
Thanks for reaching out, Kuba. If possible, please fill out our
boot fitter
so we can better help you out!
Answer this question:


I wear a 27 Scarpa Maestrale, 28 Sportiva Racetron, any thoughts on which size TLTX I should consider?
Thanks for reaching out, Zach. If possible, please use our online
boot fitter
so we can better help you out!
Answer this question:


How do these ski compared to the atomic backland carbon? I love the fit/weight and modability of those, but hate how soft they are. After a season they now flex so easily it's hard to transfer any power through them.
Hey Yifan, since we just got the boot in stock we haven't put too much time out on them skiing yet, but we think that they will be a pretty similar stiffness. We also think that the TLT X might be just a tad bit more of a progressive flex pattern as well. I would be on the lookout for the Dynafit Blacklight boot in the fall that should have a bit more upright stiffness than the current TLT X.
Answer this question:


Currently ski a 26.5 hoji pro tour- wondering about similar fit and when 26.5s are projected to be in stock?
Kade, These three sizes are an early release, so the other sizes will be in next Fall. We don't have a more exact timeline now.
Width and volume are similar, but not the same as the previous TLT8. The Hojis had a somewhat unique Pie shape to them, narrow towards the heel, wide in the forefoot. The original Pro Tour has a particularly Low instep height. The TLT X has an average + instep height.
Kade, I wore a 26.5 in the Hoji Pro Tour and have been skiing in the TLTX in a 27 with a boot board to take up some of the excess volume. I find the extra length to be nice in my lighter (longer day) boots. It also has the added benefit of being the same BSL as my 26.5 Radical Pro (297mm).
Answer this question:


Interestingly it seems like the boot has two power straps, which should increase stiffness a bit and also result in a more snug feel. I am pretty happy with TLT8 carbonio, but out of curiosity, how the stiffness and heel box width compare between these two? Thanks.
Hi Scythian, this boot just has the one power strap plus the ski-walk strap, similar to the TLT8! Without having skied it yet, it's hard to compare the boots but I expect the stiffness will be comparable to the Carbonio and the heel box will be a touch less voluminous due to the thicker liner. Also, the boa will feel a bit different in terms of snugging up the instep and ankle.
Answer this question:


I too am in a Radical Pro which I'm very happy with size wise. Is the 27/27.5 TLT X comparable to the same size in the Radical Pro?
Thanks for reaching out, Andrew. It's our understanding Dynafit is basing the TLT X fit on the Radical Pro. Once we receive the production model, we'll be able to make the final assessment, though.
Answer this question:


What's the BSL going to be for size? similar to the TLT 6 or more like the 7/8? and what happening to 9:)
Hi Anthony, word is that the BSL of the 27 will be a 297mm, so more similar to the TLT6 unless something changes by the time they are officially unveiled next season. As for the nomenclature, it appears Dynafit has used Apple's strategy of jumping straight to Roman numerals after 8 ;)
Answer this question:


Cannot wait! I just got some Radical Pros and I'm looking to cover the speedier side of the quiver.

Also, any word on the Backlight version?
Justin, Heres the word. The Obvious is the Carbon fiber cuff. The other difference is the TLT X has a Grilamid shell. The Blacklight shell will be Grilamid with Carbon fibers added. So that should make the boot stiffer. The advertised weight difference is 40g lighter.
Answer this question:


Do we know anything about fit besides the last? I have a higher instep. The Dynafit Radical Pro's are perfect. Similar fit? Thanks!
Hi Dallin, yes we've tried them on. It is fairly accommodating over the instep with the Twistfit. Dynafit tried to match the Radical Pro shape, just scaled down a little to work with a thinner liner.
Hi Justin, not until next season for those.
Answer this question:


OK, I'll bite. When will the boot be available? Currently in a TLT 7 at 27.5. Sizing similar?
Hi gareth, yes, you should be the same size in the X as the 7. We are currently expecting these early April, but hesitate to promise anything these days.
Answer this question:


Earn store credit by writing reviews. Learn more.

Model: TLTX