Ski Trab Skin Parts
4 reviews
From $0.25
In Stock & Ships Today
Ski Trab likes to go it alone. They require uniquely sized drill bits, make 14-layer skis, and invented a whole new boot interface for the TR2 binding. Unsurprisingly, the thought-leaders of Bormio use non-standardized climbing skin attachments (not that there are any standards for such things).
Trab's latest system is called Attivo, and the skins are attached with wide, flat clasps onto the tips of Gara Aero, Maestro, Magico, Mistico, Libero, Sintesi, Altavia, and other such finely crafted skis. Trab skis often feature Duo swallow tails, which naturally require a special kit for fixing skins. We've noted your skin building troubles, and now offer these unique specimens for repairing or crafting your own rugs. All the attachments are sold in pairs.
Attivo Tip & Tail Kit - Two flat tip clasps with pull straps and two plastic & rubber knobs for swallow tails. Also included are plenty of rivets. The instruction sheet only has a few words in English, but the picture is worth 1000 of them.
Attivo.2 Tip + Tail Kit - Complete skin attachment kit for the Maestro.2 and Magico.2, with different tail attachments as compared to the standard Attivo kit. All necessary hardware included.
Attivo Tip Kit - Flat clasp with pull tab built for any of the current Attivo skis. Rivets included.
Attivo Tail Kit - Black plastic and rubber knobs built for the swallow tails of the Trab Attivo skis. Rivets included.
Attivo.2 Tail Kit - Tail kit for the Maestro.2 and Magico.2 skis with the narrower slit in the tail. Rivets included.
Duo Sint Tip & Tail Kit - Tip connection designed to fit older Trab Duo skis with a wide "V" notch in the tip. Also included is a camming tail piece to lock the skin on tight. Comes with rivets.
Duo Sint Tip Kit - The fancy tip connectors for older Trab Duo skis (including Freerando). Triangular locking mechanism spins into place in the "V" notch. Rivets included.
Duo Race Tip Kit - Same as the Duo Sint but a bit skinnier for Duo Race skis. Rivets included.
Tail Hook Kit - Simple tail clasps for skins with a flat tail and notched tip. Rivets included.
Tail Clip Kit - Adjustable tail clip kit with rivets.
Camlock Tail Kit - Black plastic tail clip that adjusts along a non-stretchy strap. Rivets included.
PVC Tips & Metal Brackets - Basic square tip buckles with a fold-over piece of PVC to securely attach to the skin. Rivets included.
Metal Tip Brackets - Square metal buckles; several widths available. To attach your skin by simply doubling the skin back on itself.
Glue Tube - 65 grams of Ski Trab's finest skin glue. Please do not huff.
Hammer Rivets - Front and back pieces designed to be hammered together. Use for affixing tips and tails to skin material.
Questions & Reviews
Got the Attivo tip set and some pomoca race skins cut off the roll for my new setup, putting the tip set on took less than 10 minutes and was super easy! I'm extremely unhandy and just like a previous reviewer said, I just cut a hole for the little metal bits, smashed them in with a hammer, and I was ready to take them out! Using in the wild is simple too, easy to pull that tip right off. I've never been a person who can take my skins off without taking my skis off, but now I'm gonna start
Comment on this review:


Which kit will work for the maximo?

Thanks!
Steve, it would be the Attivo Tip & Tail Kit.
Any parts with .2 are for the newer 2.0 skis only.
Answer this question:


Would the ski trab rivets work as replacement rivets for pomoca's front clip installation system? I messed up one of my rivets and can't seem to find replacements anywhere.
Kevin, yes they will. They're also a bit bigger and stronger.
Answer this question: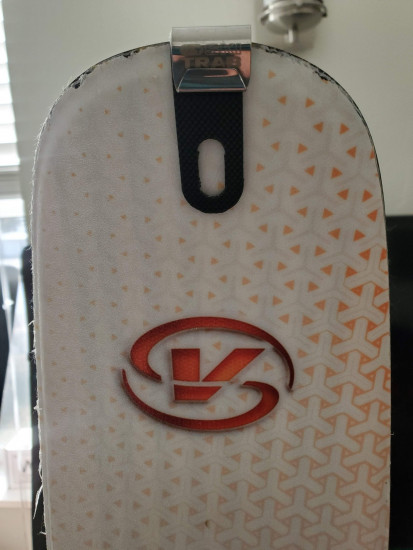 You, like thousands of ski tourers before you, have cursed the tip bars on your skins. They break. They fall off. They come out. Etc.

Trab proves their superiority once again. After exploding the Pomoca tip bar on my second skin rip, I installed the Attivo tips. They are superior. The rivets are robust and the tip a single piece of metal. I needed only scissors (to punch a guide hole) and a hammer (to bang the rivet in) to complete assembly. Just use the photos helpfully posted below for reference. You can use these attachments on non-Trab, non-ZeroG skis; In addition to the skins on my Maximos, I am using them on my Voile Hyperchargers.

The tips are also great because you can tip rip your skins without needing a race skin notch.

The Attivo tail tips (v1, at least) are not as good. The system is pretty good - I could see it keeping my skin on even with a glue failure, but assembly is horrid. I still don't know how it's done because I had to take it into Skimoco for some assistance (which Tim very helpfully provided). And then I lost one of the rubber grommets on my first run.
Comment on this review:


I saw on one of the zero g pages you recommend the attivo tip kit for the recent zero g with a detent in the tip. Do you have a good tail clip recommendation to go along with that? Mostly wondering if the simple rivet tail hooks will work, trying to get away from the silly rubber pomoca/bd/contour straps that always seem to be breaking..
Thanks for your question, Gavin. I would steer you away from using a tailhook as you would have no way to adjust tension if needed. If you want to use a tailhook, looking into converting your skis to accept a
race tip
might be the best option. Otherwise, using an adjustable tail from any of the brands might be the best option. If your tail straps keep breaking, it may be worth considering lessening the tension as you should only have a little bit of resistance when sliding the tail clip over the ski. Please let us know if you have any other questions!
Answer this question: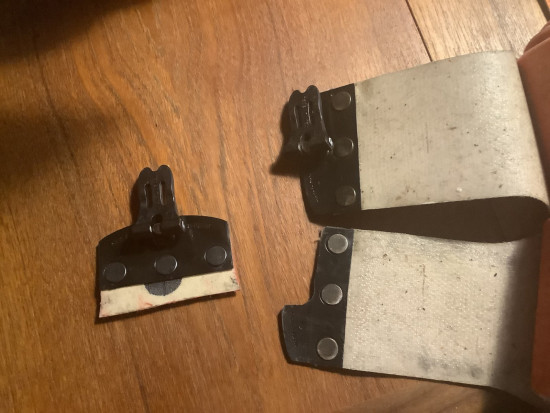 The rear lock on one of my skins are broken. I have managed to get a new one, but I am missing 3 off rivets for fixing the new one. Approx 10mm diameter. See picture.
Can I buy rivets with you?
Hi Kjell, yes you can buy rivets from us. In the drop down menu the option you want is Hammer Rivet.
Hi Kjell,
I am also searching for a new rear lock for my old Trab skins, can you tell me where you found one?
Answer this question:



Dear,

I am the owner of skis Ski Trab Piuma Evo Polvere 123-88-109 which length is 185cm.
Now I want to use Black Diamond Ascension Nylon Climbing Skins.What do you suggest me from your current offer from SKI TRAB SKIN PARTS (Tip & Tail Kit) to buy?

Best Regards,
Slobodan
Hi Slobodan, with the overhanging plastic tips you want the EVO tip kit, and with the swallow tails you want the Attivo tail kit.
Dear,

Thank you for a quick answer.Now I have one more question: When I put the proposed elements (EVO type kit and Attivo tail kit) to the skins, in which order do I stick skins on skis: first top and then tail or vice versa?

Best Regards,
Slobodan
Zdravo Slobodan, you would first slide in the tip, and then push the Attivo tail "button" into the tail slot (it should be positioned in the middle of the slot, lengthwise).
Answer this question:


I'm curious if the old Duo Sint tail cam device would work on new duo tails (Mistico, Magico, etc.)?

What I'm really wondering is whether that might be more secure than the little "push in" device that goes with the current-generation swallow-tail skis. (I haven't had problems, but I'm wanting to modify my some high-traction BD skins for my Trab Mistico skis, and wondering what the best tail connecting device would be.).

Your thoughts on this?
Hi Eric, I've tried it out on some demo skis at the shop and it appears that it would work. Whether it will be more secure is a different matter though. The attivo push-in connector is very secure. We haven't really heard of any connection problems with it. It's dead simple, and with most of this gear, the simpler the better.
That's good enough for me. I'll twice with the Attivo one. Order coming soon.
Answer this question: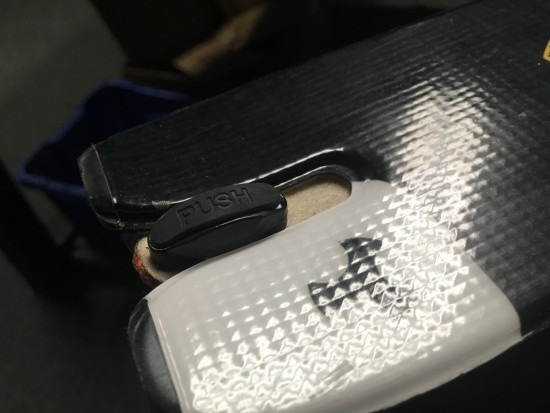 Just FYI for you guys and gals that are building/repairing/replacing Ski Trab Skin parts and have a question about what the Attivo Tail Kit should look like when it's installed, I attached a picture for reference. It should sit 2/3-3/4 of the way out of the tail notch rather than resting all the way in. If it's too far in it will be much more difficult to remove your skins while in the field.
Reply to this comment:


Which tail kit do you recommend with the Ski trab's, I have the camlock for my Ripido's and its ok used it once on Teton Pass, I want one that slots the tail for my son's Volare's.
Grazie millet.
Hey Anthony, the attivo tip kit is what the current Volares use. I'm a little bit fuzzy with my memory on exactly which year they changed the tip and tail attachment but on older models (13/14 and older would be my guess) they will use a different attachment. If you have any questions or want to clear anything up send us an email. -Trace
Hey Anthony, the little button (Attivo kit) for the swallow tails seems to work just fine. No need to cam the thing in my opinion. The glue still does most of the work holding your skins on.
Answer this question:


Will the tip hooks with 80mm metal loops fit the Trab maestros? And will you ship to the UK?
Hi Jim, yes and yes. Note we should have more Attivo tip kits in the next few days. That is the attachment designed for the Maestros.
Answer this question:


Do you have plans to get more Attivo Tips(only) in stock this year?
Hi TZed, unfortunately Trab is out of stock on those.
Answer this question:


do I need two kits for a pair of skis, or is the kit for one pair?
j
Hi Jeri, the attachments are sold in pairs so you only need one.
Answer this question:


The only thing I'll add on to Jonathan's review above is that I HAVE retrofit these onto existing skins (to work with Trab skis) and they are a breeze to install. The only tools you need are a hammer, a leather awl or hole-poker of some sort, and a small metal pole or cylinder to pound in some rivets for the tail attachment. I found that the easiest way to install was to put on the top/tip attachment, then lay the skin on the ski and attach the tail piece exactly where it should be from above. Simple.

Great skin attachment system.
Comment on this review:


I can't vouch for how easy these are to retrofit onto other brands of skins.
However, I can vouch for how well they work on Trab skis once they are already attached to attached to Trab skins: the tip is my favorite of any brand or type, and the tail works fine too.
See my review of Trab's own skins for more details, but if for some reason you want to use a brand of skins other than Trab's own for your Trab skins, then you should strongly consider retrofitting on the Trab proprietary skin attachment system.
Comment on this review:


Earn store credit by writing reviews. Learn more.