Contour Skin Parts
1 review
From $4.95
In Stock & Ships Today
Tip & tails is the name of a chute in Wolverine cirque, a prominent feature in the Wasatch range. It's also the primary concern of skiers trying to fix skins to their skis. Contour makes several such kits that could be just what you need to skin to the top of the chute.
Tip Fix with Rivets - Simple buckle holder that accepts the Vario Buckles from 75mm to 115mm. Includes hammer rivets to semi-permanently affix to the tips of your skins.
Vario Front Clips – Tip attachment system that allows you to swap in various wire buckles and notch or hole adapters. The minimum buckle width is 75mm.
Vario Buckles – 50, 65, 75, 85, 95, 105, or 115mm square-wire brackets that slide over ski tips. Snap into the Vario Front Clips for a swappable system (75mm and wider), or just fold the skin over the buckle and add rivets or a Front Clip to hold 'em on.
Vario Z-Wire – Wire clip adapter for the Vario Front Clip that fits in K2/Fischer-style tip holes.
Folding Clips – 75-115mm clips that secure metal bracket tips and reinforce the folded skin.
Rubber Top Fix – Elastic rubber tips for use with fixed tail hooks.
Velcro Tip Buckles - Replacement Velcro tip buckles for the Contour Easy skins.
Adjustable Tailclip Set – Adjustable strap & clip set with the rivets to hammer them on.
Tail Clips – Replacement tail clips for the Adjustable Tailclip set.
Slim Tail Clips - A slimmer version of the Tail Clip that works better on thin skis.
Tail Hook Set – Two flexible plastic clips and the rivets to attach them.
Shark Tail Hooks – Simple metal tail clips that can be attached by hammering teeth together.
Glue Tube – 75 milliliters of Contour's finest spreadable stick-'em. Please note this is for the traditional "Guide" skins and not the "Hybrid" skins.
Skin Cutter – Basic "letter opener" style skin cutter with a bonus ruler.
Carry Bag – Simple Polyester bag to store skin, featuring nylon webbing handles and a spot for your name.
Microfiber Stuff Sack - Storage sack for your skins that includes a microfiber cloth on one side that offers an easy way to wipe off your ski bases before re-applying skins for a second lap.
Protective Mesh – 120mm or 140mm wide skin-savers. Also called skin-pro or cheat sheets, the mesh protects your glue during storage.
Transfer Tape 125mm - The easiest way to revamp your Contour glue. Just iron on, peel away, and watch them fly. Or stick.
Questions & Reviews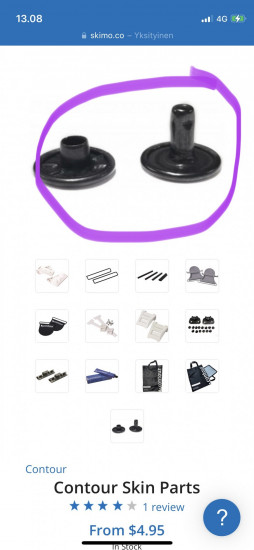 Hello, just to Make sure I purchase the right product parts as a non-English person, I would need these two for my split board, what are these called and what width? Thank you
Answer this question: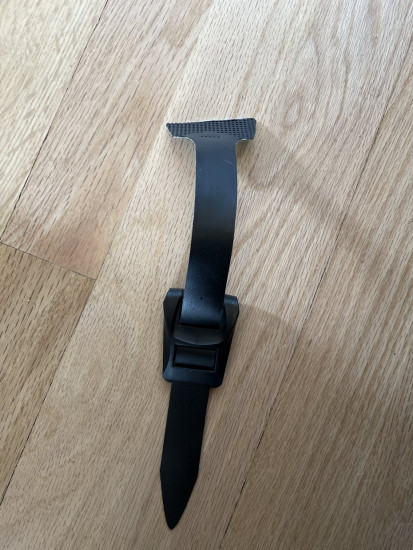 I am looking for replacement tail clips for the Hybrid Climbing skins (pictured) and can't seem to find them anywhere. Can you recommend a replacement for these clips?
Hi Sam,
Are you trying to replace the entire tail assembly or just the clip?
We are currently out of stock of the tail clips, but we should have more soon. When we have them, you can find them above in the dropdown as "Tail Clips" or "Slim Tail Clips".
If you need to replace the entire tail assembly, check out the Pomoca Back Tail Fix on our
Pomoca Skin Parts
page.
Answer this question:


I am looking at the protective mesh that keeps the skins from sticking together. I see that its 140mm wide but how long is it?
Hi Paul,
The Protective Mesh comes with two pieces that are each 1 meter (3.3 feet) long. You fold your skins as you normally would, except with the mesh in between the two halves.
Answer this question:


Do you sell just the replacement rivets?
Hey Anna, we sell some
Ski Trab hammer rivets
that are great parts to repair skins with! Note that these are sold as singles, and I'd purchase a few extra to have on hand.
Answer this question:


So I just bought the contour glue tube for my hybrid skins from skimo, and instructions on the tube say not to use on hybrid skins. I'm confused. The glue on my hybrid skins is worn out and even after cleaning, the adhesive is weak. So why does the glue tube instructions say not to use on hybrid skins?
Hey Peter, the Hybrid skins are a "glueless" adhesive where the
Contour Guide Mix skin
uses traditional glue which would be compatible with the Contour glue tube. Feel free to reach out to help@skimo.co and we can set up a return.
Answer this question:


I recently bought a set of these tail hooks. They're great.

Is it possible to just buy a pile of these rivets? I've had my eye out at hardware stores and just don't see anything similar.

Thanks.
Hi Mike,
If you have had issues tracking down hammer rivets at your local hardware store, we sell them under our
Ski Trab Skin Parts
listing.
Answer this question:


How far apart are the rivet holes on the tail strap? I want to make sure all 3 rivet holes can be used on narrow skins. And how long is the narrow section of the straps (i.e. from where the skin will end to the last buckle position)?
Thanks for reaching out, Abe. The holes are spaced about 15.5mm apart and the strap from the skin to last usable position is about 19.8cm long. Please let us know if you have any other questions!
Answer this question:


The Vario buckle description includes a 50mm option, but I can't find it in the drop-down menu. Are you out of stock or do you not stock that size in general? And if currently out of stock, do you have a sense as to when you might have more available?
Thanks!
Hi Alice, good catch, we are out of stock. Looks like we won't have more until this spring, sorry!
Answer this question:


I bent my current Pomona bent buckles and would like to replace them with these. The buckles I have measure 101mm, what size should I order to replace them and will they be identical so I can avoid recutting my skins?
Thanks for your question, Ben. Typically, wire buckles are measured using the inside width. Therefore, the 95mm should work! If you got the 101mm measurement from the inside rather than the outside, please reach out to help@skimo.co.
Answer this question:


I have a pair of used skins that I want to cut down to fit my son's 150 cm alpine skis. I've bought him the touring adapters but the kids skins are too short to use. 2 questions: Is it better to replace the tip, or the tail? This tip is a vario style buckle that'll fit his ski. Second question, which parts should I buy, based on the answer to question 1? :-) Thanks!
Hi Rich,
It will be far easier to replace the tip than the stitching in the tail. To replace the tip, drill out the rivets in the original attachment system. Then, after trimming, you can simply fold the skin material over the Vario buckle without the tip fix using three hammer rivets that can be found under the
Ski Trab Skin Parts
listing. If you fold glue to glue, you will have a stronger bond, but it will encourage snow creep under the tip. If you go plush to plush, you will still have a strong attachment, but less snow creep.
If you like the Tip Fix, drill out the rivets, trim the length, and use the Tip Fix with new hammer rivets when rebuilding the tip. If you would like any alternative methods, please reach out to help@skimo.co for details!
Answer this question:


Could you tell me a few dimensions for the rubber top fix attachments? I see they come in 75mm or 85mm - is that the width of the bar where the skin would fold over? How long are they from the tip back? how wide is the slot the fits on the ski?

I made some Pomona skins for some Voile Objectives using a fixed tail and an elastic Kohl top fix. I find the top fix doesn't work very well - the width of the top fix is too small and I am constantly getting snow under the edges of the skin where it tapers from ski width to the front to fit the top fix. I am hoping that these rubber tops would help me change the tips and avoid this. The main thing I need to figure out is if the rubber tips are long enough from the tip of the ski as I have cut the front of the skin to a narrow taper to fit the other tips.
Hi JohnB, the 75/85mm measurement refers to the buckle width. This is the metal bar that attaches to your ski. The rubber top fix itself is ~7.7cm which is the same in either buckle width.

I am not super confident that this would fix the issue you are running into, but if you send some photos to help@skimo.co we would be glad to explore further!
Answer this question:


I have a set of contour hybrid skins already, and just got a pair of blizzard zero g 95s. It looks like the standard tail clip doesn't want to play nice with the tail indent on the zero gs, and I wonder if the "slim" tail clips would work better? I couldn't find any measurements to compare the two.
Hey Kyle, the slim tail clip doesn't necessarily want to slip in super well into the tail notch either. Though, I think if you just apply some pressure to the tail clip it still should fit over the tail bar quite nicely with the standard tail clip. Give us a shout if you have anymore questions.
Answer this question: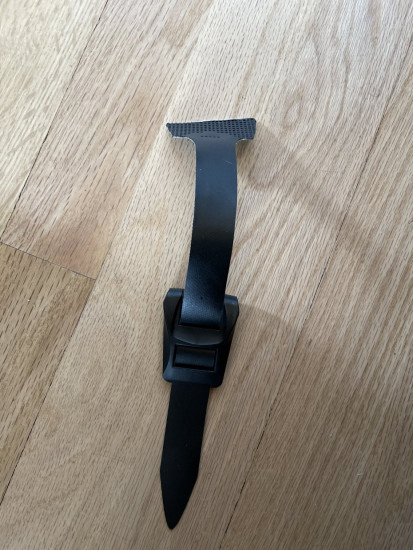 Hello - I've got a Contour Hybrid mix 115 skin bought just over a year ago. Was throwing them on my skis and the entire tail strap just disconnected from the skin. Is there a product I can get to fix this?
Answer this question:


Hello,

How long are the straps included in the tail kit set?? Thanks
Hey Matthew,

From the beginning of the straps (near the rivets) to the end of the straps is right around 24cm. Thanks for the question!
Answer this question:


Will the vario buckels fit Pomoca skins? I somehow lost one of the front buckles from my skin last weekend and it doesn't look like they are in stock in the Pomoca skin accessories. Thanks! My current one is 95mm long, so that was the one I was going to order here.
Hey Tana,

Thanks for reaching out! These buckles will work with the current Pomoca tip attachment points.
Answer this question:


For an 80mm wide ski (65mm at tip and tail) with tip holes, should I go with the Z-wires or 65mm Vario buckle attachment to be more secure? Also, for a 65mm tail with a 19mm notch should I use the slim or regular tail clip set? Thanks!
Tim- If you can use the tip hole with a z clip i would do that it will be much cleaner tip. The tail clips are 39mm wide for both the difference is the slim tail clip has a narrower opening for thinner ski tails.
Answer this question:


Is the application of the contour glue very different from the Black Diamond gold label?

Or is the process essentially the same
Hi Andrew, while the chemical formulas vary between brands, the application process remains the same!
Answer this question:


Do the contour tail clips fit the Pomoca climb skins?
Hey Christian, these Contour tail clips do not work very well on Pomoca rubber tail straps as the Pomoca tail straps are a bit thicker and wider than the Contour tail straps. However, we do have
Pomoca tail clips available
!
Answer this question:


I am interested in potentially using the Contour Kids skins but ideally would like to be able to use the skins for several different ski lengths over a few seasons as my kid grows. My understanding is that these kids skins have no tail strap, but if I wanted to add a tail strap could I use the tailclip set listed here?
Hey John, you can absolutely add the Adjustable Tailclip Set to those skins, and going without a tail strap will make it able to be used with more ski lengths!
Answer this question:


Earn store credit by writing reviews. Learn more.