Plum Heel Pieces
3 reviews
From $79.95
In Stock & Ships Today
Maybe you need a replacement. Maybe you're building a franken-binding. Maybe you just want to lighten up your heels. We won't ask what you do with them, but we will take your money. These are Plum binding heel pieces, priced & sold INDIVIDUALLY. If you buy two, they come in a boxed set. If you buy one, we'll just put a stamp on the top and hope for the best. We'll even loosely tape the 4 included screws to the bottom of the heel. The French instruction sheet will get mailed to the person who buys the other one.
For matching toes, see our toes listing.
Update 2018/19 Race Heels – Please note the heel pedestals starting this model year are ~2mm taller than previous years.
Questions & Reviews
Any PLum 165 heels (new or used) around that you can sell?
Hi Dane, those are long discontinued but are really the same thing as the 170s. Only the stack height changed by +2mm.
Answer this question: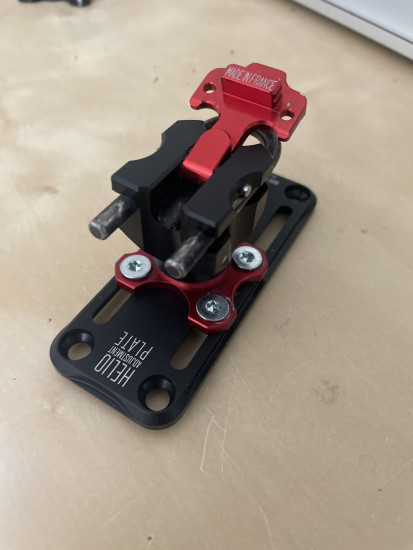 Experimenting in my garage the other day, I discovered that I can mount my Race 150 heels (20.5 x 26mm hole pattern) on to my BD Helio adjustment plates (which have the 25mm wide slots) if I turn the heel unit 90 degrees (so the holes are 26 x 20.5mm). Would I be crazy to ski on the Race 150 heels configured this way?
Answer this question:


Hey guys, do you have 2x of the Plum Guide heels in black? Thanks!
Hi Jack,

We've only got silver ones at the moment, unfortunately.
Answer this question:


What is the difference for plum race 150 heel piece 2017/18 vs new? Is the new one has the 8 for forward and lateral? But not the previous ? The mounting pattern supposed to be the same, right? How to tell which one is new visually?
Hi Liming, the only difference is that the pin height on the new version is about 2mm higher. The springs, materials, and mounting pattern are all the same between the versions.
Answer this question:


Would I be able to replace a pair of Guide heels with Oazo 8 heels without having to redrill? I'm finding conflicting answers as to whether they share a screw pattern or not.. Would an older/different model of the Oazos, and/or on a different adjustment plate, fit?
Hi Hayden, they don't match out of the box, but you can get "Wide Rail"
adjustment plates
to make it work.
Answer this question: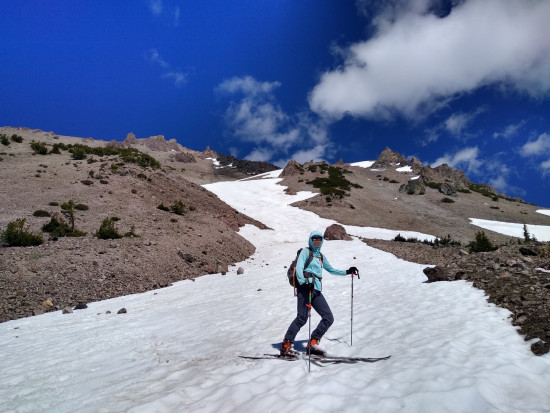 My wife digs the R170 matched with Dynafit speed turn toes for a nice lightweight frankenbinding on her skinny volcano crusher skis. We haven't adjusted the length much, but it seems easy enough.

Photo: about to ski to the end of the snow after skiing through butterfly storms on Mt Lassen W face, June 21, 2020.
Comment on this review:


I have an old pair of Plum Race 185's with a broken fork, but I snapped the heel piece while trying to knock out the pin that holds the fork, so....I need a new heel piece that will screw into my existing Plum adjustment plate (original with the 185's).
I am a 200# skier and will use the above on spring peak descents.
Hi Scott,
The Race 150 heel piece will work with the plate you have. It is the updated 145 heel you had.
Answer this question:


Any word on when the Oazo 8 heel pieces will be back in stock? Looks like y'all only have one left :(
Thanks for your question, Chris. It looks like we won't be getting any in until the Fall. Sorry about that! Please send us an email to help@skimo.co if you want to be notified when they come back in!
Answer this question:


I currently own the Race 150. Is there a compatible plate I can buy so I can mount them on a wider ski? Currently have them on Objectives.
Hi Greg, you don't necessarily need a wider mounting pattern, but the
Kreuzspitze
14mm & 18mm plates are a bit wider.
Answer this question:


Hi. What is the din setting equivalent ? How long is the adjustment in mm please? Thanks
Hi Juraj, the Guide and Yak have an adjustable vertical and lateral release with 30mm of adjustment. The Race 150/170 are fixed-release with the latter having 17ish mm of adjustment.
Answer this question:


Do the heel risers from the oazo 8s fit into the Plum Race170s heel piece fitting?
Hey Grant, the oazo risers will not fit with the race 170.
Answer this question:


I'm selling some older Plum 170 heels to a friend in need. I'm thinking of replacing them with the newer Oazo. All my skis have inserts so the change over should be painless as long as the drill pattern is the same. Will these two line up?
Hi Brian, you got it! The Oazo uses the same hole pattern as the Race 170.
Answer this question:


looking to replace the heel pieces on my dynafit beast 14, would the Plum Guide be a good replacements?
Hey Taylor, thanks for reaching out! We have not tested that combination before, but it might be a good option for you! Note that the heel unit must be rotated for each different riser position, so you could also consider the
Dynafit Speed Radical heel
for flipping risers.
hi Teddy, thanks for the reply. The speed radical heel look like a good option. do I need to be concerned about the height on the new heel piece compared to the height of the old beast heel piece?
Answer this question:


As I ponder a boot to replace my Scarpa RS, I need to consider the impact of a different BLS on my race ski binding position. I have Plum Race 150. Back in the day, Plum offered off-set pedestals to account for these subtle changes. Do you still have these?
Answer this question:


I've had Plum 165 heel pieces for several years. Are the Plum 170 heel pieces identical? Specifically, is the pin height off of the ski identical?
Hi Josh, the initial batch was identical, though starting in 18/19 they bumped up in height by 2mm to compensate for a toe redesign. The current height is on our list of
pin heights
.
Oh interesting! Do you know if there is any way to identify them, other than measuring the pin heights? I'd like to find a pair from the original batch with the lower pins if that is possible.
Hi Josh, there is a visible 2mm gap between the pedestal and the housing on the newest version. Looks like we only have 150s in stock with the lower pins.
Answer this question:


I bought a pair of Yaks with brakes and when I received them I found out they didn't have a high heel riser! Do the replacements you offer have a riser? Based on the picture it looks like they do! And are they compatible with the breaks?
Hi Peter, yes these are the regular Yak heels and not the "S". These are brakeless Yaks, but you can move the tower to a braked baseplate. It might be easier just to put some
Guide Roofs
on.
Answer this question:


Thought I saw something about PLUM updating their bindings next year. Any insight on this? I'm looking at getting some but if they are releasing an updated version, well with descent updates. I will just hold of a year, if I can resist.
Hi thomas, they are release a couple new models, but the tried and true heels did not get an update.
Answer this question:


Seeing that the Plum 170 heel piece has 1) the pedestal and 2) the adjustment plate:

Is it possible to buy a separate extra pair of just the adjustment plates (the idea being that you could swap a single pair of pedestals between different pairs of skis)?
Hi Yann, unfortunately those are not sold separately. Further, it's not an easy task to swap the pedestals.
Answer this question:


What is the recommended spacing for the heel piece (i.e. the space between the boot and the heel piece when in ski mode)?
Hey Yann! Should be a 4mm gap!
Thanks Trace. In the meantime, I found your 'heel gap' page that gives a table for a bunch of them. All great timely info!
Answer this question:


I have used both the Race 170 and 185 Plum heels and I can definitely recommend them. So far they have been very reliable, easy to adjust for different sizes, light, and at a good price. I like to mount them with now a beefy Dynafit Speed Radical toes as I like the security and reliability of those. Both times, this setup was mounted on ~80mm skis for ski mountaineering missions and long spring tours.
Comment on this review:


Earn store credit by writing reviews. Learn more.